One Puerto Vallarta
Aeropuerto
One Puerto Vallarta Aeropuerto
If you're visiting this tropical paradise on the Pacific Coast, choose to stay at the One Puerto Vallarta. This affordable hotel is strategically located close to all the main attractions and offers the security and comfort you need to rest, recharge and stay productive.

The hotel is located on one of the main thoroughfares of Puerto Vallarta, just 2 minutes from the International Airport, 8 minutes from the International Convention Center, and 12 minutes from the Central Bus Station. Next to the hotel is the Plaza Marina business and shopping center, with a variety of restaurants, craft shops, boutiques, banks, beauty salons, medical clinics, and corporate and government offices. Three blocks away is the Marina del Puerto recreational marina, with more than 500 luxury yachts and boats from around the world, plus a wide range of international restaurants, golf course, tennis courts, mall, water sports center and nightlife. The hotel is also conveniently located to the city's industrial parks, home to many large corporate distribution centers.

One Puerto Vallarta proves that traveling to this great city for business or pleasure doesn't have to be expensive. Guests at the One enjoy secure surroundings, comfortable facilities and modern style, plus efficient and helpful service to help make your visit even easier.

We remind you that the check-in time is from 3:00 PM. Check-out is at 12:00 PM. We suggest you use our express check-out service.
Services
The hotel offers 126 guest rooms, a restaurant serving complimentary hot breakfast and open from 6am to 10pm during the week and from 7am to 11pm on the weekend. It's a 100% smoke free hotel. Hotel services include:
Business center
Free local calls
100% smoke free hotel
Guests access with guide dogs
Outdoor pool
Free Wi-Fi access
Safe in reception
Breakfast Only
Outdoor parking
Handicapped access
Meeting Room
Pets are not allowed
Laundry service
Qualified:
x
One Puerto Vallarta Aeropuerto
Location #58 of 133 hotels in Puerto Vallarta
GreenLeader Bronze
Summary of qualifications
Best comments
"Great!"
Walking distance from the airport! Very efficient service. Simple but attractive and clean room. Close to restaurants and stores. Reasonable price. What else can you wish for? Nothing. Tried to book for the way back but they were full.
" Downtown Puerto Vallarta 2nd visit. "
I got here on December 23 2019 in the late Afternoon .I had booked this package deal the Hotel to Jan 3 2020 & Air Transat Flights with Expedia.This Hotel is very close to The Airport a few hundred feet away you turn right into the pavement and it's instantly noticeable building because of the vivid blue color scheme.It's in a Mini Plaza that has other businesses there as well.To access you go up an escalator then take an elevator to the first Floor Lobby to book in.I liked the fact that you could bypass a the Front Desk to get to The bottom level PB.The Lobby Staff are informative and helpful The nice Hotel Swimming Pool 🏊 is also there behind The Front Desk which you access through an Electric Sliding door plus The Morning Breakfast is served in This Computer/Canteen Area.This Hotel has 5 levels of Rooms I stayed on the second Floor at first in room 226 then moved to 203 because of a noise problem 203 looks out onto a Track & Field plus you have a view of Jets taxing on the runway waiting their turn to take off.My room was fairly small in size & basic with a small Flat screen LCD hung on the ceiling the bed is comfortable with ceiling and wall lights plus a small Shower Bathroom & Shower 🚿 so it was okay & suited my needs for The Trip.I would recommend this Hotel it's very convenient especially for people who have a short layover that want the benefit of The PV Airport close by.I liked The Hotel stay there and would probably stay there in the future.As for staying Downtown Puerto Vallarta itself it was alright but I found Cartegna Colombia on my October 2019 Trip to be far more charming & captivating.I have 2 Trips coming in 2020 to Countries far South of here this maybe the only time I stay in Mexico in 2020 just because it's good to switch things up and see new places.
"Ok for a one-night stay"
There are a few things that need improvement such as the cleanliness and details. I requested for a crib and it look dirty and they didn't bring sheets, pillows or blankets with it. I stayed there for a layover so it was ok. The fan for the air conditioning was super loud and it didn't cool down quickly.
"Convenient, clean, modern, breakfast included"
Very convenient hotel if you need to be near the airport for a night...you can even walk there if you wish (I did, it's right next door). Buffet breakfast is included. Bus stops are nearby. Car rental offices, 2 restaurants and a pharmacy on the street level ground floor. Nothing luxury but a good clean modern hotel conveniently located along the main road next to the airport.
"One Puerto Vallarte Review"
I was in a business trip and for me the location near to airport and the buss station was excelent, the service and hospitality of the personal is good and I was good for me that the breakfast is including in teh stay price and also the time they open the buffet... It was a good stay for me and for my work partner
Top-rated Attractions Nearby
Malecon Boardwalk
Vallarta Food Tours
Vallarta Eats Food Tours
PV Ocean Tours
Estigo Tours
Outdoor Adventure by Vallarta Adventures
Acqua Spa
Holistic Bio Spa
Los Veranos Canopy Tour
Banderas Scuba Republic
Photos hotel and surroundings (151)
Rooms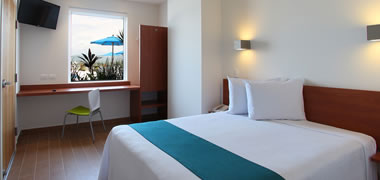 Accessible Room
This room is specially equipped with wheelchair access and hand rails throughout the restroom to help guests feel comfortable. It offers the same amenities and security as other guest rooms, with a Queen bed, restroom with shower and tub, cable TV, work desk, climate control, wireless Internet access and telephone with voicemail. This room is located on the first floor of the hotel and can be connected to a single room via an interior door.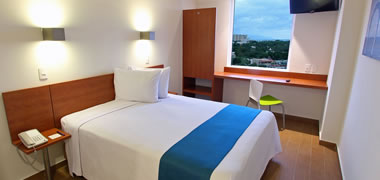 Superior Room, 1 Queen
These comfortable and secure rooms allow guests to rest and recharge for their next activity. They are equipped with a Queen bed, cable TV, work desk, climate control, closet, wireless Internet access and telephone with voicemail.