Please be advised that from now on, an official Sanitation tax of $26.06 mxn per night will be charged in our hotels located in Solidaridad, Quintana Roo (Playa del Carmen).
Enjoy the Caribbean Sea and the Mayan Riviera with its stunning flora and beautiful beaches. Playa del Carmen, a popular tourist destination strategically located between Cancun and Tulum, is one of the most beautiful spots in the region. Choose to stay at One Playa del Carmen, an affordable hotel that guarantees a safe and comfortable stay.

One Playa del Carmen is located within the Xop Inn Shopping Center on Calle 12 Norte (12th North Street), behind the ADO Alternate bus station, only a few streets away from Playa Mamitas and four blocks from la Quinta Avenida. A fabulous location that will let you easily discover the most beautiful spots in the city.

The hotel is located on a street that connects to Playa del Carmen's most popular restaurants, bars, and night clubs. The ferry to Cozumel, an island that's a water-sport destination, is also located very close by.
ABC Medical Center, our protocols ally. A leader in medical best practices for more than 130 years, ABC Medical Center, dedicated to caring for their patients' health, has assisted POSADAS in the development of prevention, hygiene, and disinfection protocols that allow the group to guarantee the safety of their staff and guests.

We remind you that the check-in time is from 3:00 PM. Check-out is at 12:00 PM. We suggest you use our express check-out service.

100% smoke free hotel

Services
The hotel offers 108 guest rooms, hot breakfast included from 7am to 11am everyday. It's a 100% smoke free hotel. Hotel services include:


Business center
Free local calls
Guests access with guide dogs
100% smoke free hotel
Indoor parking with cost
Safe in reception
Free Wi-Fi access
Breakfast Only
Handicapped access
Meeting Room
Pets are not allowed
Laundry service
Qualified:
x
Location #111 of 265 hotels in Playa del Carmen
GreenLeader Gold
Certificate of Excellence 2020
Summary of qualifications
Best comments
"Clean, convenient and friendly"
Stayed here one night at the end of a tour. For a hotel that's meant to be basic, functional would be a better word as it is super clean, in a convenient location (ADO bus opposite for the airport) and the staff on reception very helpful.
"First and last place I stay at before or after arriving or leaving Cancun"
I love staying here, it is very spartan and utilitarian. There is a TV and a remote, and air conditioning. The reason I like it so well is its location to 1) ADO bus depot. 2) Mega supermarket. 3)Taqueria El sabrosito aol fogon. The first one is where I buy a ticket to the Airport when I leave Mexico. Just walk across the street and pay about 10.00 US. Buses arrive about every 30 minutes to the airport, there is one stop at Puerto Morelos, then you hit the airport terminals next. For number two, if you want to buy Tequila at the local price, why not do it at the cheap grocery store? There are two next to this hotel within walking distance. The third reason, is one of the best taqueria stands is just across the street from the second supermarket. You can tell it is good because; tour vans will stop here, the locals eat here, and they cook the food using actual charcoal, or a hot grill where you can see it. The food is good, not overpriced, and I love eating a good local place that is representative of the local culture without paying a lot of money.
"Affordable, convenient and clean"
I agree completely with previous poster. Accommodations are very acceptable, breakfast will keep you going for better part of the day, walls are thin. Service is great, cafe next door has very decent coffee, accessible to the best parts of PdC by foot. Walmart, grocery store and ATM are all a walk across the street or same block. The bus station is directly across the street from the lobby making arrival and departures very easy. Money well spent for a place to sleep and unload.
"Affordable"
This a super basic hotel. Affordable. Free breakfast comes with scramble eggs mixed with mushrooms or some times ham. There's also chips, shredded meat, tortilla , cheese, grilled peppers, bread, muffins, waffles, apple juice, orange juice, tea, coffee, fruit, yogurt, and cereal. Is the same each day. There's a coffee shop next door who sells some food, pastries, smoothies, frappe and of course coffees. Citi bank is located within the same block but on the other side. Wal mart is super close like 2 blocks away. Congo bongo, the clubbing zone and 5th Avenue is 4 blocks away. There's even a Fed Ex nearby and the ADO bus station is across the street! It's a convenient location. It's been a quiet stay for me for the last nights. The walls are thin. You can hear people walking especially if they wear heels. You can hear people's conversations even though they're not talking loud. I even heard a pen drop on the floor from above. The room is basic. A bed, TV, blow dryer, a small shower and AC. You need to slide you room key into this pocket on the wall to turn on your electricity. If you take it out then your electricity will shut off... I guess it's a dont come home without it type of deal. There's no refrigerator, no gym, no pool and no safe. There's computers in the lobby and there's a washer and dryer on the floor that I was on. It's a convenient location but I prefer to have a refrigerator and safe in the room.
"Very acceptable option at a great price"
The One hotel is about 10 minutes walk from 5th Avenue, the long strip of restaurants, bars and shops where it all happens in Playa. It's next to a local bus station but surprisingly quiet at night. Very clean, modern and comfortable, it's a bit like a UK Premier Inn. A basic breakfast is included and served till 11.00am. It offers a 'do it yourself' free laundry service and check out isn't till 13.00. There's no bar but there's vending machines for soft drinks and a decent little coffee shop attached (10% discount for hotel guests). Oh and if you arrive and need an ATM, don't go searching about downtown, just walk round the back of the block the hotel's in and you'll find 2 or 3 banks with lobby ATMs (safer than the on-street options on 5th Ave).
Top-rated Attractions Nearby
Photos hotel and surroundings (199)
Rooms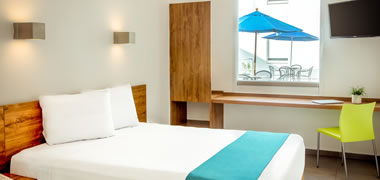 Accessible Room
This room has been specially equipped to provide comfort to our special guests. These rooms have the same amenities as standard rooms but are wheel-chair accessible and provide safety rails for the shower, toilet and tub. They also have cable TV, Internet, a work desk and a queen size bed.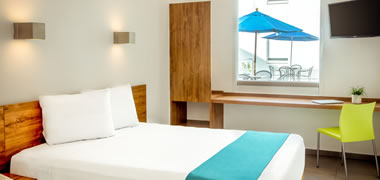 Superior Room, 1 Queen
A modern and comfortable room, ideal for recharging your energy and starting anew. It has one queen size bed, work desk, independent air-conditioning unit, wireless Internet, phone with voicemail and cable TV.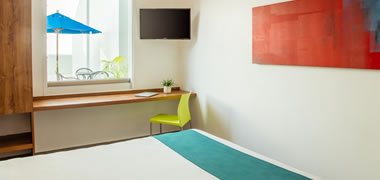 Superior Room, 2 Double
Relax in your room, featuring a modern design, two double beds, work desk, an independent air-conditioning unit, wireless Internet, a phone with voicemail and cable TV.