When you visit Guadalajara, one of the cities most full of tradition and folklore in Mexico, stay at One Guadalajara Centro Histórico. An affordable hotel that guarantees your safety and comfort, just what you need to work or rest.

Discover the Mexican culture of this city, with its cowboys, tequila and mariachi. In addition to being the heart of Jalisco, this modern city in continually more and more important, both in Mexico and internationally, thanks to its infrastructure of convention centers and the incredible growth of industry and commerce.

An affordable hotel that provides only what you need in your travels. It's prime location is in the Historic Center, near the Teatro Degollado (Degollado Theater), the Cathedral, the Hospicio Cabañas (Cabañas Hospice) and more. Your stay here will allow you to be fully immersed in Guadalajara's traditions.
We remind you that the check-in time is from 3:00 PM. Check-out is at 12:00 PM. We suggest you use our express check-out service.

100% smoke free hotel.

Services
The hotel offers 146 guest rooms, complimentary hot breakfast from 6am to 10am during the week and from 7am to 11am on weekends. It's a 100% smoke free hotel. Hotel services include:

Business center
Free local calls
Guests access with guide dogs
100% smoke free hotel
Indoor parking with cost
Safe in reception
Free Wi-Fi access
Breakfast Only
Handicapped access
Meeting Room
Pets are not allowed
Laundry service
Qualified:
x
Location #40 of 130 hotels in Guadalajara
GreenLeader Silver
Summary of qualifications
Best comments
"moisture & lack of fresh air"
I spent one night there in September. The location is a super, but the hotel itself it's terrible, can't recommend it to anyone. The hotel lack of fresh air and the air very moistureinside the hotel. The windows inside the hotel room is layered of moist. After few hour sleep I could not stay in the room, just needed to go out and some other place to stay and breath. I am sure there is mold in that building. I could not get the wifi working for my computer. They offered help from one computer skilled guy however, it was kind, but I find a working wifi another place in cafeteria nearby. Somewhat hard to find the entrance because of the construction work around.
"LA PEOR EXPERIENCIA QUE HE TENIDO"
the rooms are to small and clean is not something that they have, super difficult to get there, unpolite people every where, there was a hair on my food. habitaciones sucias y muy pequeñas el personal es pesimo y no hay estacionamiento.
"Acceptable"
Very clean room, did not have unnecessary extra furniture, beautiful view of the city especially at night. Personnel polite and efficient, they help us with particular needs. Room price was very good taking into consideration I made reservations in short notice. My only complaint was that a the time of my stay there was a construction zone right outside the hotel with very odd hours of activity ( I was told the fast train or transportation station under construction)
"Trip to Guadalajara"
We stayed here 5 days. The rooms were small about clean, beds were comfy, equipt with hair dryer.there is a room in the 2nd floor you can do laundry in and a table and iron available. the people that work were very helpful. The hotel was walking distance to most of the cities icons and must see.the viwe was beautiful
"unexpected experience"
My husband and I were very excited to visit the city of Guadalajara based on the location of the hotel it seemed like it was going to be a great experience. But my surprised started as soon as I got off the taxi when we were left almost 2 blocks away from the Hotel Entrance. Due to major construction I was told by locals it has been over 4 years in construction. Therefore, if you are looking for something near the Church or surrounding this is not a great choice. Back to the hotel experience, as soon as I walked the 2 blocks with our luggage we had to walk up 2 floors due to the hotel had No Power. When we reached the front desk there were 3 guest asking for refunds due to the light power went out since the night before and there was no air from what I heard no one was going to be reimbursed for that night. Other guest were just sitting in the lobby due to they were told, the hotel was in process of buying a power generator. Seeing all the chaos we left to another hotel walking and again due to all the construction around it seemed for ever to find a Hotel and we finally did. We did walked by the hotel the next day during the day and from the outside it seemed they didn't have any power yet due to some guest had their windows or slide doors open and we could see the curtains. If you are trying to book in this hotel remember there is construction everywhere I was here on May 24, 2018 and I can guarantee the construction will take at least 2 years to complete the construction again based on what the locals said. P.S. I do want to say once the construction is finished this hotel will be a great place to stay due to the location of it.
Top-rated Attractions Nearby
Tequila Tour by Mickey Marentes
Instituto Cultural Cabanas
Expiatory Temple
Fox in a Box
Teatro Degollado
Tlaquepaque and Tonala Artisans Tour
Plaza Andares
Guadalajara Cathedral
Bosque Colomos
Estadio Omnilife
Photos hotel and surroundings (172)
Rooms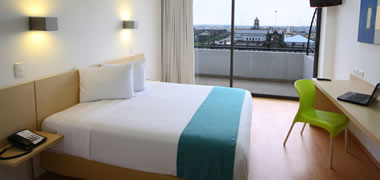 Superior Room, 1 Queen
These practical and basic rooms feature a modern decor, making them welcoming and enjoyable. Rooms feature a queen size bed, work desk, closet, air conditioning and heat, wireless Internet, phone, voicemail and cable TV.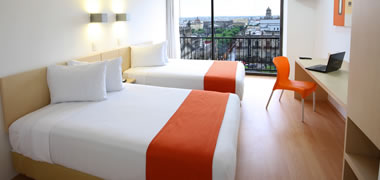 Standard Room, 2 Double
Take a break, rest and recharge in this comfortable and practical room. Featuring two beds, work desk, closet, air conditioning and heat, wireless Internet, phone, voicemail and cable TV.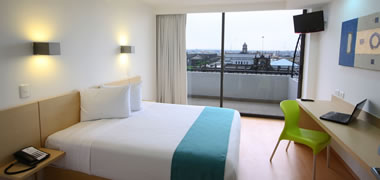 Accessible Room
This room has been specially-equipped to provide comfort to our special guests. These rooms have the same amenities as standard rooms but are wheel-chair accessible and provide safety rails for the shower, toilet and tub. They also have cable TV, Internet, a work desk and a queen size bed. This room connects with another room and has two beds.