If you're visiting Silao, Guanajuato, for a business trip or just to enjoy the city's tourist attractions, choose to stay at the One Silao.
This affordable hotel offers the security and comfort you need to rest, recharge and stay productive. The hotel offers a strategic location at Km 153+500 of the Leon Highway, one of the primary thoroughfares of the central Mexico valley. It is just 4 minutes from the airport and close to several local industrial parks (7 minutes from the Puerto Interior, 10 minutes from Las Colinas, and 15 minutes from Fipasi). It is also 32 minutes from downtown Leon, 21 minutes from the capital city of Guanajuato, and 30 minutes from Irapuato. Other area attractions include Cubilete Hill, the highest point in Guanajuato, and site of the Christ King statue, plus the magical towns at the surrounding foothills.
One hotels prove that business or leisure travel doesn't have to be expensive. Guests at One Silao enjoy secure surroundings, comfortable facilities and modern style, plus efficient and helpful service to help make your visit even easier.

100% smoke free hotel.
We remind you that the check-in time is from 3:00 PM. Check-out is at 12:00 PM. We suggest you use our express check-out service.
Services
The hotel offers 126 guest rooms and a restaurant serving complimentary hot breakfast from 6am to 10pm during the week and from 7am to 11pm on the weekend. It's a 100% smoke free hotel. Hotel services include:
Business center
Free local calls
Guests access with guide dogs
100% smoke free hotel
Safe in reception
Free Wi-Fi access
Breakfast Only
Handicapped access
Meeting Room
Outdoor parking
Pets are not allowed
Laundry service
Qualified:
x
Location #4 of 17 hotels in Silao
Certificate of Excellence 2019
Summary of qualifications
Best comments
"Basic hotel, minimal amenties"
"Ecohotel" on busy highway close to BJX. No lunch or dining facilities onsite or nearby. Economical and very simple. Comfortable enough, clean, bare bones.You can eat at OXXO or Starbucks. If you want a real meal, probably should stay elsewhere.
"Nice Hotel But In Remote Remote Location"
Nice room, friendly staff, but nowhere to eat lunch or dine. Room menu not very appealing and of unknown quality. Breakfast was aobut norla and decent quality. Wifi worked very well. My problem here is the remote location which did not suit me.
"Good Hotel near Leon Airport"
One Silao is perfect for those who need a place to stay near the Leon Airport when coming to or leaving Mexico. It's only 5 minutes from the airport, quiet and has a good breakfast. The staff are helpful and friendly and the rooms, though small, have comfortable beds and nice bath.
"Simple, very clean airport hotel"
One Silao was very clean, with all parts in working order. It has very simple rooms for a night or two. It's an airport hotel. The bed was the most comfortable bed I have slept on in Mexico! The staff was maravilloso. I was ill while there, and they helped me get what I needed, including finding a farmacia and obtaining some meds that I needed. Very friendly. A few down sides, but not too serious: It is out on the highway outside of Silao and there are no restaurants near it, except for a Starbucks and an Oxxo store next door. So you need a car or taxi or to take a bus to Silao or Leon if you need dinner while there. They do serve a basic breakfast (including eggs), which was fine.
"Could have been five stars, but..."
There is Limited access on the highway, so you feel kind of stuck most of the time. Taxis have to take you down to the airport to turn around in order to bring you back to the hotel. That gets kind of expensive if using taxis, especially if you're a Gringo, and you factor in the Gringo factor, where the taxis like to over charge for their services, and I speak relatively fluent Spanish. Uber would be the better alternative, at about half the cost of a taxi, but I couldn't get Uber to work there, some kind of location rejection issue on both my cell phones, my mexico phone, and my US phone. I had a taxi charge me 300 pesos for a short trip to the Applebees restaurant, maybe 5 minutes away from the hotel, probably mainly due to the gringo factor, but also because he had to run me all the way down to the airport to bring me back to the hotel, due to limited exit access on the highway. The rooms and bathrooms are small. The hotel reminds me of a cross between a Hostel, like you find in Europe and Asia, and a small economy hotel. Very clean rooms, good air conditioning, and very comfortable beds/pillows. Modest hot breakfast, toast, donuts, fruit, yogart, cereals, etc...You have to use your key to turn the lights on in the room, and to go to your room in the elevator, which is good security. But, it is kind of a pain to have to use your key to keep the lights on in the room, navigate the elevator, etc...A platoon of Mexican Federal Police were staying there too, so their 8-9 vehciles were parked in back, and they have machine gun toting guards stationed at the front door, and watching their vehicles in back, for their own security, not yours. I don't know if this is an ongoing thing...The ratio of Federales to regular guests is probably 10 to one, and many officers are often in the eating area for meals, breakfast etc... They are very polite officers, etc...so no problem there...It's just that some might call this reassuring security. But, in Mexico, being in constant close proximity to the Federales isn't the safest bet, as they are sometimes the target of drug cartels, as is indicated by their own alertness and attentiveness to their own security. Me, I'm a concealed carry guy, but if you don't like guns, this may not be the place for you. Frankly, I was more concerned with my close proximity to the Federales and not having my gun, as guns are illegal in Mexico for civilians.
Top-rated Attractions Nearby
Cerro del cubilete
Parque Bicentenario Guanajuato
Templo de Maria Reina
Ce Kalli Temazcal Spa
Photos hotel and surroundings (68)
Rooms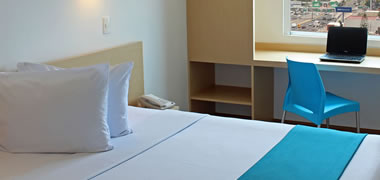 Accessible Room
This room is specially equipped with wheelchair access and hand rails throughout the restroom to help guests feel comfortable. It offers the same amenities and security as other guest rooms, with a Queen bed, restroom with shower, cable TV, work desk, climate control, complimentary wireless Internet access and telephone with voicemail. A room with two single beds can be connected through an interior door.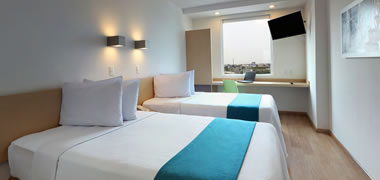 Superior Room, 2 Twin
These modern and simple rooms offer the comfort and security you need during your stay. They offer a restful space with two twin size beds, closet, cable TV, work desk, climate control, complimentary wireless Internet access and telephone with voicemail.