Derramadero is a very important industrial area in Saltillo, especially for automotive sector businesses, and is a destination for many business travelers. One Saltillo Derramadero offers you a safe and confortable stay, including free transportation to the Derramadero industrial area

In addition to its proximity to this industrial area, the hotel is thirty-five minutes from the city of Saltillo, a city that offers a traditional cathedral, museums, parks, avenues and several shopping centers with restaurants, movie theaters, boutiques and book shops.

If you're traveling to Derramadero on business, choose One Saltillo Derramadero, and be pleasantly surprised by the comfortable, safe and modern facilities and practical service. It's a perfect place to rest and recharge before your next appointment.

We remind you that the check-in time is from 3:00 PM. Check-out is at 12:00 PM. We suggest you use our express check-out service.

100% smoke free hotel.

Services
The hotel offers 126 guest rooms, hot breakfast included from 6am to 10am during the week and from 7am to 11am on weekends, snacks and sandwiches are available throughout the day. It's a 100% smoke free hotel. Hotel services include:


Business center
Gym
Free local calls
100% smoke free hotel
Guests access with guide dogs
Safe in reception
Free Wi-Fi access
Breakfast Only
Outdoor parking
Shuttle service (subject to availability)
Handicapped access
Meeting Room
Pets are not allowed
Laundry service
Qualified:
x
Location #19 of 32 hotels in Saltillo
Summary of qualifications
Best comments
"At Least We Felt Safe With A Fleet of Policia Parked in Front"
We are driving through northern Mexico and stayed in One Hotel rather than attempt to navigate to downtown Saltillo. It was easy to find the hotel, but there were several problems. WiFi was very weak in the room - I had to go to the lobby. There are no restaurants nearby and the hotel restaurant was poor - it appears they cook one or two standard meals for dozens of factory workers staying there. Sleep was poor - pillows were awful and the AC was loud. On a positive note, the receptionist did print several pages of information for me, free of charge.
"Great hotel"
Great beds, clean, friendly, fantastic breakfast. Good value. Good location when traveling & just need a place to stay & have breakfast, not in the heart of the city. Would stay here again. Highly recommend it.
"Use just in case no more options available due to distance"
There was a massive event at Saltillo when I tried to book and all hotels were full, the only option was this one hotel, so I booked. It is far away from the Saltillo city, at the higway, and it looks uninhabited and kind of dangerous. Price is cheap, rooms are very small, but comfortable just to spend one night there. Rooms are clean. front desk personel are not very good or familiar with the check in / check out process. Just consider it if there are no more options at saltillo city.
"medio"
lo que menos me gusto es sus climas no funcionan bien o no enfrian y se reporto y nunca nos hicieron caso, en la liempieza del hotel no siempre dejan botellas de agua, en todo lo demas estuvo pasable el servico
"MAL SERVICIO EN RESERVAS"
Tenia reserva por 7 dias, NO Cumplieron a los 2 dias me dijeron que no habia lugar sin antes avisar, las instalaciones del hotel han caido mucho, el hotel esta muy sucio le falta personal de mantenimiento y limpieza, a veces ya no te ponen toallas para las manos y las del cuerpo estan en las ultimas, las sabanas lo mismo muy experiencia por el precio pagado.
Top-rated Attractions Nearby
Museo del Desierto
Catedral de Santiago de Saltillo
Museo de las Aves
Alameda Zaragoza
Museo del Sarape y Trajes Mexicanos
Centro Cultural Casa Purcell
Museo de la Revolucion Mexicana
Museo de la Cultura Taurina
Iglesia San Juan Nepomuceno
Museo de Los Presidentes Coahuilenses
Photos hotel and surroundings (28)
Rooms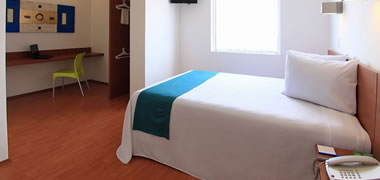 Accessible Room
This room has been specially equipped to provide comfort to our special guests. These rooms have the same amenities as standard rooms but are wheel-chair accessible and provide safety rails for the shower, toilet and tub. They also have cable TV, Internet, a desk and a queen size bed.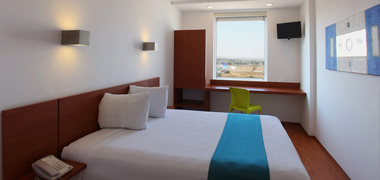 Superior Room, 1 Queen
A perfect room for rest and relaxation, just what you're looking for and exactly what you need. It has one queen size bed, desk, independent air-conditioning unit, wireless Internet, phone with voicemail and cable TV.