One Reynosa Valle Alto is strategically located on the Reynosa-Monterrey Highway and a few steps from Plaza Periferico, an ideal location for business travelers. It is also three minutes from the city's main industrial parks including the Parque Industrial del Norte, Villa Florida, Reynosa; Colonial, Reynosa Center, El Puente, Maquipark and Stiva, and fifteen minutes from the airport.

Enjoy the comfort and originality of its amenities, in addition to efficient service that provides a welcoming atmosphere and fits your budget. An affordable hotel that offers you only what you need to rest and recharge. With the Plaza Periferico located very close by, you'll have a variety of entertainment options available, including restaurants, movie theaters, high-end boutiques and more.

We remind you that the check-in time is from 3:00 PM. Check-out is at 12:00 PM. We suggest you use our express check-out service.

100% smoke free hotel.

Services
The hotel offers 135 guest rooms, hot breakfast included from 6am to 10am during the week and from 7am to 11am on weekends, snacks and sandwiches are available throughout the day. It's a 100% smoke free hotel. Hotel services include:


Business center
Free local calls
100% smoke free hotel
Guests access with guide dogs
Free Wi-Fi access
Safe in reception
Breakfast Only
Outdoor parking
Shuttle service (subject to availability)
Handicapped access
Meeting Room
Pets are not allowed
Laundry service
Qualified:
x
Location #3 of 15 hotels in Reynosa
GreenLeader Bronze
Certificate of Excellence 2018
Summary of qualifications
Best comments
"Just another business hotel"
This is just another business hotel, the rooms are too little, individual beds instead of full size, the TV its a like 20". The bath its the same, really small. Breakfast it's actually pretty good. I wouldnt recomend this hotel if youre planning to be in the room for more than sleep and take a shower.
"Good, but need to fix the cards"
Overall, it's a good affordable hotel, but need to work on fixing the card access. I used 3 different cards, and could use the elevator, enter the rooms. It was chaotic. Overall service was good, specially from Yolanda, the cleaning lady.
"Excellent Choice in Reynosa"
Spent another night at the Hotel One in Reynosa. This is an excellent pick for a place to stay the night before an early morning flight out of the Reynosa airport. The rooms continue to be extremely clean and well maintained. They still have not upsized the tiny flat screen TVs in the rooms, but that and the lumpy pillows are about my only complaints. The internet signal in the room is strong and there are two desktop computers in the lobby for general use (probably a printer, too, though I didn't use it). The breakfast was complete with nearly everything you could want, including juice and coffee. For other meals, it's just a matter of crossing the street to the shopping center where there's a food court and a large Soriana supermarket. I would definitely stay here again.
"Very Good Pre-flight Hotel in Reynosa"
With a morning flight booked to Mexico City out of the Reynosa airport, we decided to spend the night prior in the Hotel One in Valle Alto. Of all the McAllen-area bridges, this hotel is probably most convenient to the Anzalduas bridge from Mission. The hotel is located in a recently developed lodging/commercial section of western Reynosa, nearby the industrial park area. The 20-minute ride to the Reynosa airport will cost about $15 by taxi. I was pleased with the quality of the accommodations. The room is small/compact but everything is there: queen-size bed, TV, desk/working area, space to hang clothing, and the bathroom. The wireless internet signal was very strong in the room; no problems connecting. The bed was very comfortable, though the pillows a bit lumpy. The room was immaculate; absolutely spotless. I think this is the perfect budget place to spend a night, or even more for an executive visiting one of the nearby factories where all that you need is a comfortable place to sleep and a clean, working bathroom with a good shower and hot water. There is a restaurant area serving an attractive buffet breakfast: scrambled eggs, refried beans, chilaquiles, sausages, breads, cereals, yogurt, juice, and coffee; all included in the price of the room. Our double cost $60, taxes included. For other dining needs it looks like Applebees is their room-service provider as a menu is placed in the room. But if you just walk across the street to the large shopping center you can go to the food court where there is a tremendous variety or go into the Soriana supermarket and pick and choose food and beverage items, including fruit, snacks and alcoholic beverages at supermarket prices. Only a couple of complaints: 1. In the shower (Room 409) the drain plate was only held in place by one screw (the two others missing) and that screw head stuck out about 5mm. Easy to cut a foot on that. And the center tile of the shower floor was somehow pockmarked (all the others were smooth and intact). The surface was rough and, again, I think it would be possible to cut a foot on that. 2. The flat screen TV is very, very small; maybe about a 19" screen. I really think they might have found a bit more money in the capital budget to install 32" TVs in the rooms for the small difference in price. In summary, we enjoyed our stay at Hotel One in Reynosa and I would definitely stay there again if I was using the Reynosa airport for a flight.
"Hard to review!"
Well, I am thinking in writing a review and I trying to be objective about it; number one: if you are claustrophobic do not stay here, the rooms are very small, the brand probably call it minimalist but have more the appareance of a hospital room, all in white a none piece of decoration, from the moment I made the check in I knew was not the type of hotel I normally stay ( HIG) there is not tv screen but a small type flat computer monitor. 14" mounted on a wall, cleaness im certain is not an issue, linens are the best quality but clean, matress comfortable as well, breakfast free, every day the same and not higth quality products, good A/C, good reception of internet, but if you like to be pampered and good quality amenities this is not your place; when you know you will pay only 50 per night , you would probably expect less, for the rate is not bad at all.
Top-rated Attractions Nearby
Parque Cultural Reynosa
Parroquia de Nuestra Senora de Guadalupe
Cinepolis VIP Plaza Periferico
Juego&aprendo
Flexzone Jumping Park Reynosa
La Ciudad De Las Familias Felices
Yin Spa
La Casa de la Miel
Tembleque Gitano
Camito Splash
Photos hotel and surroundings (47)
Rooms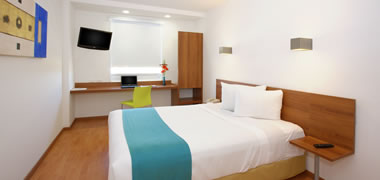 Accessible Room
This room has been specially equipped to provide comfort to our special guests. These rooms have the same amenities as standard rooms but are wheel-chair accessible and provide safety rails for the shower, toilet and tub. They also have cable TV, Internet, a work desk and a queen size bed. This room connects with another room.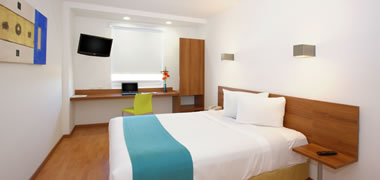 Superior Room, 1 Queen
A pleasant and comfortable room with one queen size bed, work desk, independent air-conditioning unit, wireless Internet, phone with voicemail and cable TV.