Please be advised that from January 1st 2017, an official Sanitation tax of $20.00 mxn per night will be charged in our hotels located in Solidaridad, Quintana Roo (Playa del Carmen).
Enjoy the Caribbean Sea and the Mayan Riviera with its stunning flora and beautiful beaches. Playa del Carmen, a popular tourist destination strategically located between Cancun and Tulum, is one of the most beautiful spots in the region. Choose to stay at One Playa del Carmen, an affordable hotel that guarantees a safe and comfortable stay.

One Playa del Carmen is located within the Xop Inn Shopping Center on Calle 12 Norte (12th North Street), behind the ADO Alternate bus station, only a few streets away from Playa Mamitas and four blocks from la Quinta Avenida. A fabulous location that will let you easily discover the most beautiful spots in the city.

The hotel is located on a street that connects to Playa del Carmen's most popular restaurants, bars, and night clubs. The ferry to Cozumel, an island that's a water-sport destination, is also located very close by.

We remind you that the check-in time is from 3:00 PM. Check-out is at 12:00 PM. We suggest you use our express check-out service.

100% smoke free hotel

Services
The hotel offers 108 guest rooms, hot breakfast included from 7am to 11am everyday. It's a 100% smoke free hotel. Hotel services include:


Business center
Free local calls
Guests access with guide dogs
100% smoke free hotel
Indoor parking with cost
Safe in reception
Free Wi-Fi access
Breakfast Only
Handicapped access
Meeting Room
Pets are not allowed
Laundry service
Qualified:
x
Location #115 of 243 hotels in Playa del Carmen
GreenLeader Gold
Summary of qualifications
Best comments
"Close to be a top hotel "
This hotel it's a great option if you want to save money... it's little far from the 5th Av. 9 blocks, has a nice Bed, it's clean, a descent shower and a good breakfast. I worth every penny you pay ... What they need, to be one of the best? 1. Increase the pressure in the shower 2. Put a better quality towels 3. Offers free transportation to the 5th Avenue. Make a join venture with hotels with pool I think this could put in another lever
"Very friendly staff, Nice breakfast, Good location, Clean"
Pros Very friendly staff, Nice breakfast, Really tasty Good location, between Walmart and Mega mart Clean. Cons Tiny room size, Tiny bath room size, Too small if 4 people(2 adults and 2 kids) stay together AC noise.
"Be alert and watch out"
One of my bags was stolen while we were waiting for check-in in the lobby. It's not a big lobby, the front desk is only meters away and the hotel employee was right behind the front desk watching people come and go, it makes you feel safe but don't be fooled. They allow anyone to come in and steal luggage in bright day light. After we found out that bags were stolen, we reviewed the security camera footage, it shows that it's a group of 2 men and a women, working as a team, one man came in the lobby first, check the situation, then he went out, after a while he came back with another man and a women, one after another they walked in the lobby, the woman caused a distraction by patting on my shoulder and handed over some flyers, as I and other bystanders looked her way, the other 2 men using a pool towel as disguise quickly took 2 bags away, out the door they went.. the whole thing happened in seconds, those thefts are professionals. We asked the hotel management if there is anything they can do, unfortunately the answer was not much, they called a taxi to send us to the police station to report this incident. Also they send 2 employees to go with us to provide translation as we don't speak Spanish. Oversall, the staff memebers are nice and friendly, especially the 2 employees who company us to the police station. I can tell they really went out their way trying to help us. The hotel room is very small, cleanliness is okay, location is good as it is close to the 5th ave and Walmart. The airconditioner is kind of loud, wake me up every time it kicked in.
"Totally worth it!"
Great choice if you are traveling on a budget, you do not have to pay for an all inclusive, and the hotel is very close to 5th Avenue, the beach and the town's wal-mart... very clean rooms, breakfast included as well, you get your money's worth.
"Stop over or Pit stop "
We fly into this area the night before we check into our timeshare resort yearly . We changed up hotels this year and found this gem . This will be our new layover/pitstop . Just a couple blocks away from Walmart and a nice stroll down the street to the night life on fifth. This hotel has a European flair, the rooms are very small however, that is very soon overlooked. the rooms were clean, the beds are only doubles but are very comfortable. The bathrooms are clean and the shower actually gets you wet . Wi-Fi comes with the room and the TV has plenty of channels in English . Free breakfast was your typical hotel breakfast i.e. Super8, Holiday Inn Express only with the Mexican flair . We will definitely be back next year . Check-in was a breeze. If you are planning on taking a bus anywhere this hotel is located just a block down the street to the bus station.
Top-rated Attractions Nearby
Photos hotel and surroundings (199)
Rooms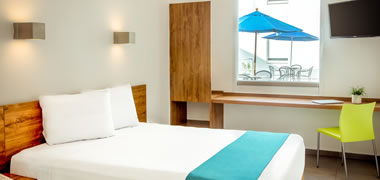 Accessible Room
This room has been specially equipped to provide comfort to our special guests. These rooms have the same amenities as standard rooms but are wheel-chair accessible and provide safety rails for the shower, toilet and tub. They also have cable TV, Internet, a work desk and a queen size bed.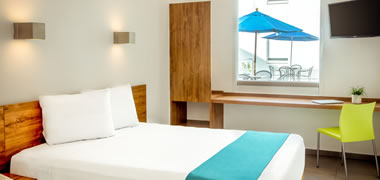 Superior Room, 1 Queen
A modern and comfortable room, ideal for recharging your energy and starting anew. It has one queen size bed, work desk, independent air-conditioning unit, wireless Internet, phone with voicemail and cable TV.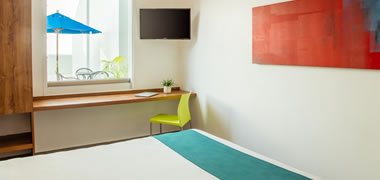 Superior Room, 2 Double
Relax in your room, featuring a modern design, two double beds, work desk, an independent air-conditioning unit, wireless Internet, a phone with voicemail and cable TV.