Please be advised that from January 1st 2017, an official Sanitation tax of $20.00 mxn per night will be charged in our hotels located in Solidaridad, Quintana Roo (Playa del Carmen).
Enjoy the Caribbean Sea and the Mayan Riviera with its stunning flora and beautiful beaches. Playa del Carmen, a popular tourist destination strategically located between Cancun and Tulum, is one of the most beautiful spots in the region. Choose to stay at One Playa del Carmen, an affordable hotel that guarantees a safe and comfortable stay.

One Playa del Carmen is located within the Xop Inn Shopping Center on Calle 12 Norte (12th North Street), behind the ADO Alternate bus station, only a few streets away from Playa Mamitas and four blocks from la Quinta Avenida. A fabulous location that will let you easily discover the most beautiful spots in the city.

The hotel is located on a street that connects to Playa del Carmen's most popular restaurants, bars, and night clubs. The ferry to Cozumel, an island that's a water-sport destination, is also located very close by.

We remind you that the check-in time is from 3:00 PM. Check-out is at 12:00 PM. We suggest you use our express check-out service.

100% smoke free hotel

Services
The hotel offers 108 guest rooms, hot breakfast included from 7am to 11am everyday. It's a 100% smoke free hotel. Hotel services include:


Business center
Free local calls
Guests access with guide dogs
100% smoke free hotel
Indoor parking with cost
Safe in reception
Free Wi-Fi access
Breakfast Only
Handicapped access
Meeting Room
Pets are not allowed
Laundry service
Qualified:
x
Location #111 of 220 hotels in Playa del Carmen
GreenLeader Gold
Summary of qualifications
Best comments
"worse experience in rooms ever"
very small rooms, smelly like bus station. the rooms I understand it is a cheap hotel , but likes like a prision room, not recomendable if you are a frequent traveler or likes to rest on your travels. looks like a worse experience
"Comfortable and practical hotel."
I have stayed in One La Paz. I think this one is one level up and price wise lower. Facilities and the building are new and modern. Very clean. Location is great. Close to bus, 5th, colectivo station, also that big street Constituyente with popular restaurants. Mega, Walmart and Banamex are nearby. Breakfast is good, always with some hot dishes including vegetables and meat. They also have free laundromat open from 9 to 7. Bring your own detergent. If there is something to complain, I would say the air vent is too small that air condition needs to be used even in the cool nights. Also the design is too "open". There is nothing like a closet or drawers, only open shelf. But that's the general design of this chain. Overall, I like it and will stay again if back to PDC.
"Great Location and Good Value!"
This is a business hotel which is located right behind the main Bus Station in Playa del Carmen. It is 4 blocks away from the 5th avenue but it is really just a short walk. The room is simple but clean and it has everything you need. Good wifi, excellent beds and overall it was comfy and quiet. Staff is nice and breakfast is alright. I think this is a perfect hotel for a short stay, specially if you´re traveling the day after. You get what you pay for, so to wrap this up, I would recommend this hotel for sure.
"Confusion"
First, the hotel. It's decent. It's not far from La Quinta and the beach (15minute walk) and right next door to Walmart, which was quite convenient. There were four ATMs in Walmart, which also contributed to the convenience factor. The room was tiny; two people moving around is a little tricky. The bathroom and shower were fine and an OK size, more so than the bedroom. The included breakfast was great; hot dishes (scrambled eggs, quesadillas, breads), fruit (fresh cantalope and papaya), and coffee. Now the administrative. We booked two rooms through Reservations.com for 9 nights with a one-night penalty in the event of a change. When we arrived, we learned that my sister-in-law would have to leave two days early, so I informed the desk clerk (Jero). He told me to advise them again the day before she was to leave. That day came, and he told me we would have to call Expedia (even though I didn't use Expedia, he kept saying Expedia; I guess they must get a lot of Expedia bookings), so I called Reservations.com. They advised me that the hotel would probably charge me a one-night penalty. I told him I was aware of that, so I was only expecting a one night refund. He said he would have to get the hotel's approval,and that he would call them. Ten minutes later, he calls me back and tells me that the hotel won't approve any refund. We were in the lobby watching the telephone conversation from a distance, so had not heard what had been said. When we went to ask Jero why he was not approving the refund, he told us that "since you paid Expedia, you have to get the refund from Expedia". We told him that they were just calling to get his approval and they would process the refund. He kept insisting that we had to get our refund from Expedia and the hotel had nothing to do with that. It was as if he believed that if you got your reservation through Expedia (which we didn't, btw), the hotel didn't get any of that money, that Expedia kept it all, which is pretty illogical. We asked why would the hotel give away free rooms to people coming through Expedia; that went way over his head! He fell back on his go-to "you made this deal with Expedia, you have to get your refund from Expedia". By that time I was so exasperated, I just said to heck with it. I told him that since that $70 meant so much to them, keep it and give it to the housekeeping staff (who btw were great). So my advice to you is make sure if you reserve through a 3rd party website that you don't have reason to change it. You could have a problem.
"Ok business hotel"
I stayed at this hotel for one night with a group tour. The rooms were smaller than most of the other places we stayed but it was very clean. The air-conditioning didn't work great I would've tried to change rooms if I was staying from more than one night. They have a free breakfast from 7 AM to 11 AM it was OK. The Wi-Fi works great it's located one block from the bus station and a few blocks from the main streets in playa. All in all it was a decent hotel.
Top-rated Attractions Nearby
Photos hotel and surroundings (171)
Rooms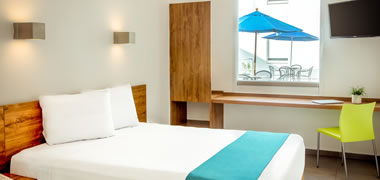 Accessible Room
This room has been specially equipped to provide comfort to our special guests. These rooms have the same amenities as standard rooms but are wheel-chair accessible and provide safety rails for the shower, toilet and tub. They also have cable TV, Internet, a work desk and a queen size bed.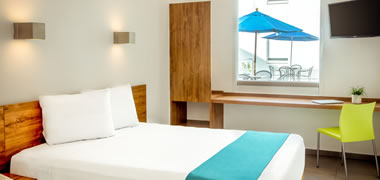 Superior Room, 1 Queen
A modern and comfortable room, ideal for recharging your energy and starting anew. It has one queen size bed, work desk, independent air-conditioning unit, wireless Internet, phone with voicemail and cable TV.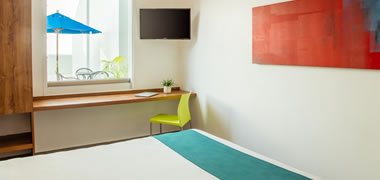 Superior Room, 2 Double
Relax in your room, featuring a modern design, two double beds, work desk, an independent air-conditioning unit, wireless Internet, a phone with voicemail and cable TV.