When visiting Mexicali, don't miss the opportunity to stay with a hotel chain that is budget-friendly, safe, welcoming, and practical while offering the amenities you need for a great visit.
One Mexicali is strategically located on one of the city's main avenues, just 15 minutes from Mexicali Industrial Parks and PYMSA, 15 minutes from downtown. It is only 5 minutes away from Las Águilas baseball stadium. It is also near the southern industrial area and the entrance to the Calexico border crossing.
Whether traveling for business or pleasure, hitting the road doesn't have to be expensive anymore. One Hotels meet the needs of any traveler's budget while at the same time ensuring a safe, reliable, comfortable stay while providing efficient service so that you can stay focused on the goals of your trip.
Services
Modern facilities with 120 rooms on 7 floors: 60 single, 59 double rooms and 1 room for people with disabilities, which communicates with another single room, American breakfast on weekdays from 6 to 10am, Saturdays and Sundays from 7 am-11am a bussiness corner with 2 computers, coffee and tea available 24 hrs, wireless internet access anywhere in the hotel, parking, personal items and goodies in reception, without surveillance and ironing service, smoke detectors and fire sprinklers .
Business center
Free local calls
100% smoke free hotel
Guests access with guide dogs
Indoor parking
Safe in reception
Free Wi-Fi access
Handicapped access
Meeting Room
Outdoor parking
Pets are not allowed
Qualified:
x
Location #7 of 26 hotels in Mexicali
Summary of qualifications
Best comments
"Perfect stay"
Very clean and comfortable, bright room. Check-in was perfect, friendly, and charming. Recommend wholeheartedly. Safe area as well, if not the most convenient. Need taxi to go most anywhere else in town but the safe neighborhood made it worthwhile.
"More like Number ONE hotel"
Everything was great, from reservation to the check out. Great friendly staff, delicious free breakfast and clean comfortable rooms. We will definitely be back every time we head to Mexicali and will absolutely refer our friends.
"First time travel to San Felipe "
Great place to stay that we found .Close to border and at a affordable price. They were very hospitable here as well as security that patrols the grounds. This room has small hair dryer . On the floor we are staying in there is a laundry room for your convenience.
"Very safe"
My first concern was safety. This hotel is very safe and my mother and I were very comfortable. There was a security guard in the parking garage and he walked us to the entrance. Elevators require a key card to enter. I was very pleased with our stay. Breakfast was free and very tasteful. Room was clean and very nice.
"Restful stay "
I arrived at this hotel and found plenty of parking outside. Staff was friendly and made checking in quick and easy. Elevator key cards and security guard made me feel safe. I found my room on the fourth floor modern looking and basic. Room hotel provided all I needed to relax: cold ac, comfy bed, Black out curtain, and never heard anyone outside even though my room was located next to the elevator. Breakfast is provided really good food and impressive selection. Will return again and highly recommend.
Top-rated Attractions Nearby
Museo Sol del Nino
Centro Estatal de las Artes, Mexicali
Catedral de Nuestra Senora de Guadalupe
Arenia Casino
Adixion Tour
Canon de Guadalupe
Plaza la Cachanilla
Instituto de Investigaciones Culturales - Museo UABC
Cinepolis
Cerro Prieto
Photos hotel and surroundings (71)
Rooms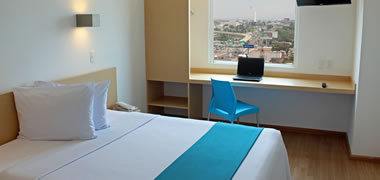 Superior Room, 1 Queen
Rest and load energies to continue in this practice and simple room decorated with modern touches and feeling of freshness and light, equipped with a Queen size bed, work desk, closet, air conditioning and heating, wireless internet, telephone with voice mail and cable television.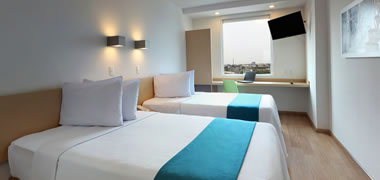 Superior Room, 2 Twin
Enjoy the comfort with just enough for a good rest. This room is ideal for work or rest. Account with two twin size beds, work desk, closet, air conditioning and heating, wireless internet, telephone, voice mail and cable television.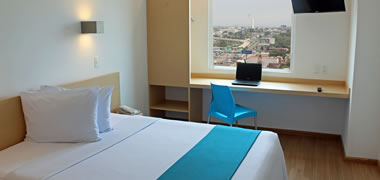 Accessible Room
This room has been specially equipped to provide comfort to our special guests. These rooms have the same amenities as standard rooms but are wheel-chair accessible and provide safety rails for the shower, toilet and tub. They also have cable TV, Internet, a work desk and a queen size bed. This room connects with another room and has one bed.