When visiting Irapuato, don't miss the opportunity to stay in a hotel chain that offers you security, friendly service, functionality, and benefits, all at accessible prices. One Irapuato is located close to the main industrial parks and corridors as well as the city's most important plaza.

Situated in the most prestigious residential area, One Irapuato is a convenient hub that offers guests an easy commute to any point of business, university, or attraction in the city. It is a quick 40 minutes from the airport, 15 minutes from the bus terminal, 10 minutes from the historic center, and just 3 minutes from Plaza Cibeles, where you'll find department stores, banks, and cinemas, amongst other services. It is also located close to industrial parks such as El Venado and Parque Tecnoindustrial Castro del Río.

Whether visiting for business or pleasure, the hotel will fit your budget and provide you with a safe, reliable, and comfortable stay coupled with efficient service.

100% smoke free hotel.
We remind you that the check-in time is from 3:00 PM. Check-out is at 12:00 PM. We suggest you use our express check-out service
Services
The hotel offers 126 guest rooms, hot breakfast included from 6am to 10am during the week and from 7am to 11am on weekends. It's a 100% smoke free hotel. Hotel services include:

Business center
Free local calls
Guests access with guide dogs
Free parking
100% smoke free hotel
Safe in reception
Free Wi-Fi access
Breakfast Only
Handicapped access
Meeting Room
Pets are not allowed
Laundry service
Qualified:
x
Location #6 of 26 hotels in Irapuato
GreenLeader Silver
Summary of qualifications
Best comments
"Excelente"
Un lugar satisfactorio, limpio, cómodo e incluye desayuno buffet. No esta muy cerca del centro histórico, ni de la central de camiones; sí esta cerca de la plaza cibeles. A good place to sleep, clean, comfortable and also includes buffet breakfast. It is not very close to the historic center, nor the central bus station; However, it is near the Plaza Cibeles.
"One Irapuato Hotel Review"
Staff was friendly and efficient. Breakfast was really good and out of the ordinary for a first timers to Mexico. The rooms are very noisy you can hear everything through the walls. It's a no frills place to hang your hat. Wifi was surprisingly excellent.
"It was ok"
The Hotel was ok, the breakfast was also ok. Sadly I got every day the same breakfast... There arent many options to choose. For 2 weeks its hard, but who cares, I dont actually know if this is normal in Mexico. The receptionists didnt speak a good English, but with some Spanish words they understood what we wanted. The roomservice was also ok. The AC in my room was also ok, bit loud but ok. Sadly the window was not able to open up. Overall it was ok for a business trip. Tip: Dont ask the receptionists to call a taxi, they call there favorite buddy to pick you up. This might take instead of 15 minutes they said 1 hour and is totally overpriced. Get yourself a own taxi passing by on the street.
"Great place to stay"
I have to say that I`m satisfied with the service and the friendly staff, the rooms ware clean and everything was alright, i highly recommend this hotel. The staff of the front desk are polite and work really fast. the cleaning staff it`s also friendly and does a fine work cleaning.
"Bare Bones Basics "
Somehow, I expected way more from this hotel because it was the Number 1 rated hotel in Irapuato at the time we booked our stay. You done me wrong, TripAdvisor! Mind you, there is nothing wrong with this hotel, it is just a no-frills, basic hotel room. In Mexico, when they say "business class", they mean just somewhere to sleep, an efficient place to store your suitcase on a short trip. This hotel perfectly fits that bill. Unfortunately for American tourists, you hear "business class " and are thinking it's like on an airline, one step under "first class", so you are expecting something more luxurious. This ain't it. Floors are hardwood or laminate in the rooms, we heard no noise at all from the neighboring rooms. Halls are tile and the noise echoes quite a bit, especially if there are kids running down them screaming. The rooms themselves are on the small side, not tiny, just small. We chose a Superior Queen room and it was a bit small for us. Same thing with the bathroom, a wee bit small. The toilet is behind the door, thank heavens there's a door stop to prevent your spouse/SO from slamming the door into your knees, lol. They did design the glass shower door with double hinges so that you can open it towards the shower. My husband wanted to leave immediately and stay elsewhere, but we ended staying here for the whole 4 days. The housekeeping service did not clean our room at all on the first day. I did not realize that the small door hanger that said something about dreaming about the future was actually the Do Not Disturb sign. They woke us up early after being at our family event until 4 a.m., so I sent them away and apparently they never came back, even though we didn't leave the room that late. I spoke to the reception about it and the next day they called us ( again, early in the morning after being up late) to ask us what time we wanted them to clean the room. This hotel is a little off the beaten path, so keep that in mind if you don't rent a car. When we had the reception call us a taxi, it took around 20 minutes to arrive. On one occasion, we got fed up waiting for the taxi and walked to the main road and hailed our own. They are introducing Uber service to Irapuato in August, so that will be very helpful. The breakfast buffet is adequate, with cereals, yoghurt, fresh fruit, eggs, etc. The bread and muffins are the store-bought Bimbo brand. So nothing exciting, but will keep you going.
Top-rated Attractions Nearby
Plaza Cibeles
Cinepolis MacroXE Plaza Cibeles
Los Mojitos Tropical Club
Plaza Jacarandas
Inforum Irapuato
Dirty Martini Irapuato
Kilkee Irish Pub
Irapuato Convention Center
La Choperia
Estadio Sergio Leon Chavez
Photos hotel and surroundings (33)
Rooms
Accessible Room
This room has been specially equipped to bring comfort to guests with special requirements. The room has all the same amenities as our standard rooms, but is wheelchair accessible and provides safety rails for the shower, toilet, and tub. It also features cable TV, Internet, a desk, and a queen size bed. It is connected to a single room with a bed.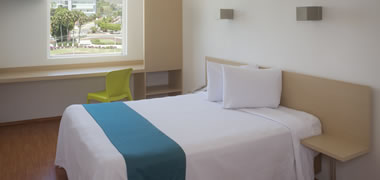 Superior Room, 1 Queen
Rest, recharge, and get ready for more activity in this practical and simple room decorated with modern touches designed to provide a sense of freshness and light. The room features a queen size bed, desk, closet, air conditioning and heating, wireless Internet, a phone with voicemail, and cable TV.