Saborear un rico pescado a la talla, ir a una boda en la playa, admirar el paisaje de una de las bahías más hermosas del mundo o ser parte de una emocionante vida nocturna.
Estamos seguros de que encontrarás muchos motivos para desconectarte de tu día a día para ir a Acapulco, y ahora te damos una razón más: disfrutar del ambiente relajado de one Acapulco Diamante.
El hotel está ubicado cerca del Forum Mundo Imperial, a cinco minutos del aeropuerto y 15 minutos de la Costera Miguel Alemán. Aquí puedes escaparte de todo para descansar, trabajar o divertirte en espacios cómodos y funcionales, donde también podrás desayunar rico y sin costo, y descubrir una que otra sorpresita; por supuesto, sin olvidarte de lo que hay a tu alrededor para conocer mejor el destino.
¡Viaja más! Con one puedes.
Centro Médico ABC, nuestro aliado en procesos. Líder por más de 130 años en las mejores prácticas médicas, el Centro Médico ABC, institución dedicada al cuidado de la salud de sus pacientes, asesoró a POSADAS en la aplicación de protocolos de prevención, higiene y desinfección, que permiten garantizar la seguridad de colaboradores y huéspedes.
Te recordamos que el horario de check-in es a partir de las 15:00 horas. El horario de check-out es a las 12:00 horas. Te sugerimos utilizar nuestro servicio de check-out express.
Hotel 100% libre de humo.
Services
The hotel has 126 guest rooms and a restaurant serving complimentary hot breakfast, open from 6am-10am Monday to Friday and 7am-11am on weekends. Guests can also enjoy a deli counter, high-speed wireless Internet, work spaces, meeting room, self-service laundry and ironing, and parking. Service dogs are permitted.
Please note that check-in begins at 3pm, subject to availability. Check-out is at 12pm. Express check-out is recommended. 100% smoke-free hotel.
Business center
100% smoke free hotel
Guests access with guide dogs
Outdoor pool
Free Wi-Fi access
Handicapped access
Outdoor parking
Meeting Room
Laundry service
Rooms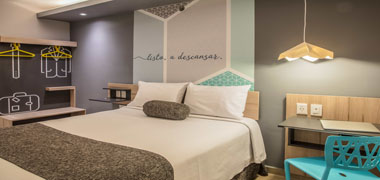 Accessible Room
This room is designed to provide unmatched comfort to our guests with special needs. It is wheelchair-accessible and equipped with safety rails in the shower and bathroom, as well as a queen bed, desk, closet, telephone with voicemail, wireless Internet access, HDMI and USB ports, and heating and air conditioning. It is located on the first floor for maximum accessibility and is connected to a single bedroom.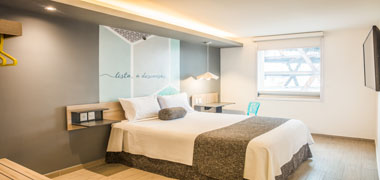 Superior Room, 1 Queen
The time has come for some much-needed rest and relaxation, and this modern room is the perfect venue. It comes with a queen bed, closet, work desk, telephone with voicemail, cable TV, wireless Internet access, HDMI and USB ports, and heating and air conditioning.