Banner one Xalapa las Ánimas
ComPosadasCalificacionTripadvisor
Qualified:
ComPosadasTripadvisorModal
x
Location #1 of 48 hotels in Xalapa
GreenLeader Bronze
Summary of qualifications
Best comments
"Excellent costumer service, housekeeping at 100%,"
Excellent costumer service, housekeeping great, very good continental breakfast, Internet works great, all equipment working excellent, the hotel has very sophisticated safety equipment for your safe and very close to the malls and downtown.
"Great stay"
Great stay customer service the best very friendly answered all my questions. Very clean smells very good and you can have a great nap very quiet. Breakfast need so much improvement, didn't have taste or the same eggs with peas. Other then that was such a very good stay.
"Very racial people"
If you are From the United States they do not like you I came through The lobby to go to my room one night they made racial remarks will not stay here anymore The room was nice and clean the maid came every day when I got back the room was nice but the people at the front desk some of them very very rude.
"ONE"
the hotel is not worth the price and the television is to small the staff do not speak english and they dont think of international business people they should have offered a refund but nothing not even a sorry nothing
"Much better than I thought!!"
First of all, knowing this is an express kind hotel, all things said must be taken according to this. The room is good and comfy, all things are very clean and pretty functional... so if you are looking for a place to stay over the night, this is it. Service from the personal can be improved, but still good, no need for anything greater! Also you get a breakfast "buffet", although there isn't too much to choose. I would definitely stay there again.
Top-rated Attractions Nearby
Photos hotel and surroundings (54)
If you seek a modern, simple and functional space, one Xalapa Las Animas gives you everything you need for your business or pleasure trips, at very affordable rates.Thanks to its excellent location in the Golden Zone, near major shopping malls, 10 minutes away from the Bus Station and 20 minutes away from Xalapa Airport, you can enjoy the colonial charm of Xalapa, called the "City of Flowers" and recognized for its high level of culture.one Xalapa is an excellent choice for your business trip, as it is very close to the most important government offices: Palace of Justice, Foreign Affairs and the Ministry of Economy.100% smoke free hotel.ABC Medical Center, our protocols ally. A leader in medical best practices for more than 130 years, ABC Medical Center, dedicated to caring for their patients' health, has assisted POSADAS in the development of prevention, hygiene, and disinfection protocols that allow the group to guarantee the safety of their staff and guests.We remind you that the check-in time is from 3:00 PM. Check-out is at 12:00 PM. We suggest you use our express check-out service.
Services
The hotel offers 126 guest rooms, hot breakfast included from 6am to 10am during the week and from 7am to 11am on weekends, snacks and sandwiches are available throughout the day. It's a 100% smoke free hotel.Hotel services include:
Guide Dog
Smoke Free Hotel
Free Indoor parking
Shuttle Service Extra Cost
Breakfast
Digital Check-in
My Stay
My Cast
Meeting Room
This comfy work area offers private work stations for guests that need to stay productive during their visit. Each desk has a computer with complimentary high-speed Internet access, so you can easily take care of your business. There's also a private meeting room located in the hotel lobby. We know that your time is valuable. That's why we do all we can to help you achieve the objectives of your trip.
Rooms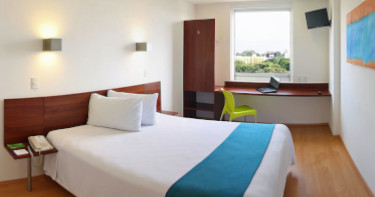 Superior Room, 1 Queen
Relax and enjoy this room, which is ideal to relax and continue with your projects. It is equipped with a Queen Size bed, a desk, air conditioning and heating system, wireless Internet, telephone with voice mail and cable TV.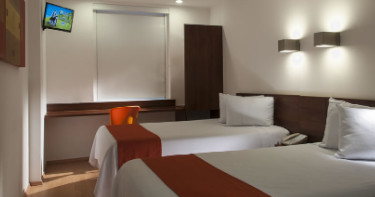 Superior Room, 2 Twin
The cozy atmosphere of this room ensures a deep rest. It has two twin size beds, a desk, a closet, air conditioning and heating system, wireless Internet, telephones with voice mail and cable TV.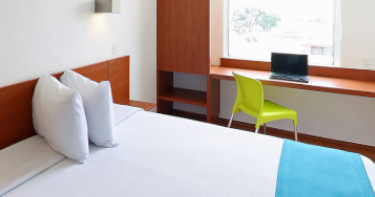 Accessible Room
A comfortable and functional space for special guests. It provides the same services as the standard rooms but with easy access for wheelchairs, safety rails in the shower, toilet and tub, as well as two beds, a desk, a closet, air conditioning and heating system, wireless Internet, telephones with voice mail and cable TV.