ComPosadasCalificacionTripadvisor
Qualified:
ComPosadasTripadvisorModal
x
Location #3 of 51 hotels in Villahermosa
GreenLeader Silver
Summary of qualifications
Best comments
"Excellent hotel."
Hotel confortable. Room clean. Very quiet. Staff very friendly. Perfectly located in the center in the center of Villahermosa. Breakfast included in the price. Very good quality. I recommend this hotel.
"Very clean rooms, no frills and worth the price!"
Surprisingly a very clean hotel. The rooms were small but modern and very clean! Hot showers! Comes with free breakfast and free parking. Friendly service so worth the price. We totally didn't expect how nice it was for that price.
"no frills business hotel, clean and efficient"
kind front office staff, very lean but sufficient hotel room, perfectly clean. The room rate include a complementary breakfast. Somewhat American budget style with styrofoam coffee cups and juice from concentrate. But it was free and apparently many other guest enjoyed it. For me the quality of the room was critical and that was all I needed for one night.
"Great Hotel"
Had the opportunity to stay at this hotel for over 2 weeks. The Quality of Service never let up. They were able to handle the group of about 50 quite well. They learnt our names, and our likes and dislikes. It was quite refreshing to receive that level of service. Amazingly it tends to be a hotel that mostly houses business people, but they were super accommodating to a large mission group. Even the little kids had fun there. By the way they also offer free use of a laundry. Which was amazing since it was a long stay. Even if its just a short stay, being able to pack clean laundry is always a great idea. Its also located in the very center, while you might have as many comforts near, IE. Starbucks, TGI Fridays. These are all 15 minutes away. You have a bunch of things in walking distance. The Hotel will also cater to getting you a taxi service which is super secure, they often note with what cab you went. just in case.The Security at the hotel is on point. The access to floors is Card restricted which is great. So you feel safe. Overall would recommend this hotel to anyone. And I am planning on staying there sometime in the future.
"Find another place"
Positives---good breakfast and clean. Negatives--no wi-fi, hair dryer ran for 30 seconds and quit for 30, than ran again for 30 seconds. Room wasn't ready even though we had a reservation and didn't arrive until after 6 PM.
Top-rated Attractions Nearby
Photos hotel and surroundings (74)
If you're visiting Villahermosa for a business trip or just to enjoy the city's tourist attractions, choose to stay at the one Villahermosa Centro, an affordable downtown hotel that offers the security and comfort you need to rest, recharge and stay productive.The hotel offers convenient access to the main attractions of Villahermosa, known as the Emerald of the Southeast.The hotel has a privileged downtown location, just 14 minutes from the Villahermosa International Airport, 10 minutes from the bustling new Tabasco 2000 district, and just minutes from the the attractions of the historic downtown, the Zona Luz (Zone of Light) and the government palace.one Villahermosa Centro proves that traveling to this great city for business or pleasure doesn't have to be expensive. Guests at the one enjoy secure surroundings, comfortable facilities and modern style, plus efficient and helpful service to help make your visit even easier.ABC Medical Center, our protocols ally. A leader in medical best practices for more than 130 years, ABC Medical Center, dedicated to caring for their patients' health, has assisted POSADAS in the development of prevention, hygiene, and disinfection protocols that allow the group to guarantee the safety of their staff and guests.We remind you that the check-in time is from 3:00 PM. Check-out is at 12:00 PM. We suggest you use our express check-out service.
Services
The hotel offers 110 guest rooms, a restaurant serving complimentary hot breakfast and open from 6am to 10pm during the week and from 7am to 11pm on the weekend. It's a 100% smoke free hotel. Hotel services include:
Guide Dog
Smoke Free Hotel
Indoor Parking Extra Cost
Shuttle Service Extra Cost
Breakfast
My Stay
My Cast
Rooms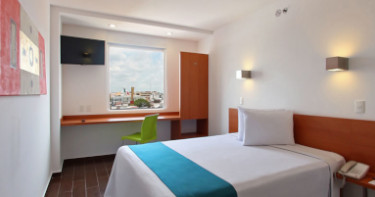 Superior Room, 1 Queen
These comfortable and secure rooms allow guests to rest and recharge for their next activity. They are simple and practical and equipped with a Queen bed, cable TV, work desk, climate control, complimentary wireless Internet access and telephone with voicemail.
Accessible Room
This room is specially equipped with wheelchair access and hand rails throughout the restroom to help guests feel comfortable. It offers the same amenities and security as other guest rooms, with a Queen bed, restroom with shower and tub, cable TV, work desk, climate control, complimentary wireless Internet access and telephone with voicemail. This room is located on the first floor of the hotel and can be connected to a room with two single beds via an interior door.