ComPosadasCalificacionTripadvisor
Qualified:
ComPosadasTripadvisorModal
x
Location #7 of 51 hotels in Villahermosa
GreenLeader Platinum
Summary of qualifications
Best comments
"Very good hotel."
Good relation between price and benefits. People were very friendly at the front desk and I loved to swim at the pool by the end of the day. They coffee at the loby was free and available during the whole day. I recommend.
"Modern and convenient hotel"
I found very useful this hotel because it was in the new hotel area where I needed to be at a very good price with all the services I needed. Nice decoration, wifi, even breakfast buffet included. I think is a good deal.
"A good place to stay in Villa"
The One Hotel is a great place to sleep. It is clean, and the included breakfast makes it convenient. As always, all the people at the hotel were very kind. That is why this place is cozy and a true home when you are far away.
"It's O-Kay"
Okay... let me start this review by acknowledging the good service I got from Richard most of the time and some of the girls the rest, there was no issue there. The hotel was also clean, so, there's also that. Now, I stayed in this hotel for close to two weeks... and the first most importan issue is the internet... This is a business hotel, and as such it should have a flawless internet service, with a meager 10 MB/s it's not nearly enough to sustain such a large amount of rooms, I barely could hold VoIP meetings through skype, let alone Video Calls, I tried uploading a report my boss needed ASAP and the internet kept droping, I've been in several business hotels in the country, and any place with less than 50 Megs it's not a good "business" hotel. The second great issue about this place was the services available, there is no restaurant, there is no room service, you have to order delivery to get something in the evening, however, there are a lot of good options all around and there are handy menus in the room so you can order something... you have to take into account though, that when the delivery arrive, you have to go downstairs to receive it, the delivery person can't go upstairs. The third great issue about the hotel are the access keys, I was there for 10 days in a span of two weeks... I had to re-program my key 10 times, once a day, it doesn't matter where I kept it, in my wallet, in my pocket, even in my backpack, it will always need to be re-programmed. Those are my most important issues with the hotel, now to the other stuff. The shower is alright, however, the crystal door doesn't always close properly so when you step out its just all wet. The quality of the toilet paper is not the best, very stiff, other than that, the bathroom is really clean and big enough to be comfortable. The bed is your standard bed, nothing special to note about it. The hotel oversees the "La Choca" Park, one of the biggest, if not the biggest recreational park in the city, if there are rooms available, you should always pick one that has a good view. The area around the hotel is one of the nicest in villahermosa, and one of the safest as well, just don't get too comfortable and keep a low profile and you will be just fine, I definetly recommend getting a ice cream in the park in the evening. The hotel has an outdoor pool that is nice, I've only used it once, but it's a nice difference from the competition that mostly doesn't have one. The parking lot is shared with a couple restaurants that are next door and it can get really dark at night, so if you have a car, try not to keep anything there as it could be an easy target for a thief. Anyway... this hotel is almost what you expect it to be, a bed, a nice bathroom, A/C, it has internet, just not a good one, you can start using it properly at around 10 or 11pm. I give it a 3 star review, and I would probably change my mind if they gave a little more freedom to the food delivery guys, fixed the de-programming of the cards and had a good "high speed internet" as they announce with a wired connection option in the room.
"Fishing trip"
Every single day we were THERE, our room cards deactivated. Could not go to rooms because elevators are activated by cards. So annoying, 3 days in a row. The lobby coffee was not great, why not brew local coffee, promote LOCAL. The Accommodations were simple, adequate. No extras here.
Top-rated Attractions Nearby
Photos hotel and surroundings (92)
During your next visit to Villahermosa, stay at this affordable hotel offering the security, comfort and services you need to rest, recharge and stay productive.The one Villahermosa 2000 hotel is easy on your budget and offers a strategic location in the city's fastest-growing area, near La Choca Park and many popular restaurants. It is just 5 minutes from the main offices of Pemex and the Galerías Tabasco shopping center.Guests at the one hotel enjoy secure surroundings, comfortable facilities and modern style, plus efficient and helpful services to help make your visit even more enjoyable and productive.100% smoke free hotelABC Medical Center, our protocols ally. A leader in medical best practices for more than 130 years, ABC Medical Center, dedicated to caring for their patients' health, has assisted POSADAS in the development of prevention, hygiene, and disinfection protocols that allow the group to guarantee the safety of their staff and guests.We remind you that the check-in time is from 3:00 PM. Check-out is at 12:00 PM. We suggest you use our express check-out service.
Services
The hotel offers 126 guest rooms and a restaurant serving complimentary hot breakfast. It is open from 7am to 10am during the week and from 7am to 11am on the weekend. 100% smoke free hotel. The hotel features 2 meeting rooms for 8 and 15 people. Hotel services include:
Guide Dog
Gym
Smoke Free Hotel
Free Outdoor Parking
Shuttle Service Extra Cost
Outdoor Pool
Breakfast
My Stay
My Cast
Rooms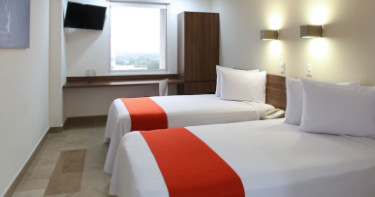 Superior Room, 1 Queen
These comfortable and secure rooms allow guests to rest and recharge for their next activity. They are simple and practical and equipped with a queen bed, closet, cable TV, work desk, climate control, wireless Internet access and telephone with voicemail.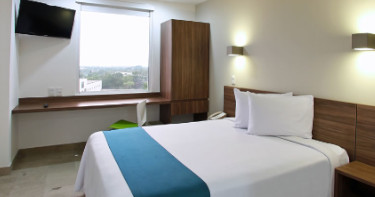 Accessible Room
This room is specially equipped with wheelchair access and hand rails throughout the restroom to help guests feel comfortable. It offers the same amenities and security as other guest rooms, with a queen bed, restroom with shower and tub, cable TV, work desk, climate control, wireless Internet access and telephone with voicemail. This room is located on the first floor and can be connected to a queen size bed room via an interior door.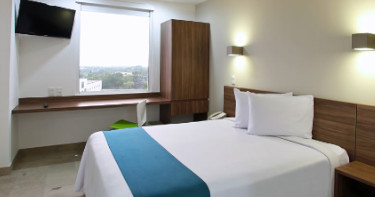 Superior Room, 2 Twin
Whether you're traveling for work or play, these modern and simple rooms offer the comfort and security you need during your stay. They offer a peaceful space to work or rest, with two twin size beds, closet, cable TV, work desk, climate control, wireless Internet access and telephone with voicemail.