Banner one Toluca Aeropuerto
ComPosadasTripadvisorModal
x
Location #10 of 31 hotels in Toluca
Summary of qualifications
Best comments
"Fair option for price for quick stay"
I only booked this hotel for 1 night to fly out next morning from Toluca Airport and it was as expected. The price can't be beat with breakfast included and the aproximity to the airport. Having stayed in One Hotel in Acapulco, I did expect the rooms to be tiny (like Ibis Hotel style tiny) just beds, no rooms for luggages open or anything else. I was suprised that I did manage to have all luggages open on the built-in desk by the window. Beds were comfortable and the bathroom was okay but would soon need some renovation. Breakfast was okay for the price. They have brewed coffee, tea, fruits, cereal, yogurt, chilaquiles, eggs, sausages, although waffle dough was never ready.
"Great value for money with optimum facilities"
Great stay. Clean decent compact smart rooms. Cleanliness good. Breakfast served early and has decent options. Fast check-in and checkout process. Courteous staff. Good location for people coming to Pegaso Dinamico test track
"Don't stay here !!!!"
Room .... Not Clean Area ... Poor Shuttle ... Cancelled after being reserved Breakfast ... Poor Customer Service ... Poor Made a reservation through a website and was told that because of that I wasn't as important as those that booked direct with the hotel After asking to check out I was told I would not get a refund for three to six months Will never stay here again
"Fair hotel better options on the area"
It is a fair hotel for the price paid needs reparations, the pillows were miserable, few tv Chanel options and hotel staff is a bit unkind when busy, great parking do! And good wifi One great thing is the breakfast is delicious and great options hot and cold! Saludos
"Avoid at All Costs "
I made this review 2 weeks in advance for a "deluxe queen suite". When we checked in we received 2 single beds. I went to the front desk and asked about my queen reservation and was told they had already assigned them to others instead of us. We then asked for a refund, booked on bookings.com, since we did not use the room. They said wait for a while while they checked. This went on until another staff came and said to cancel the credit card change. They finally got around to cancelling the charge after I showed them the bookings guarantee. The room was so small that you needed to step into the bathroom just to close the door. Ridiculous.....
Top-rated Attractions Nearby
Photos hotel and surroundings (50)
ComPosadasCalificacionTripadvisor
Qualified:
With an open concept and a refreshing and lively atmosphere, one Toluca Aeropuerto is the best option for business travelers and those visiting the city of Toluca. This affordable hotel will fit your budget and has an excellent location.Located on Miguel Aleman Avenue, it's just three minutes from the Toluca International Airport, five minutes from Plaza Sendero, thirty minutes from the artisan village of Metepec, twelve minutes from San Mateo Atenco (where high-quality shoes are made) and fifteen minutes from the city's historic center.Important companies are located near the hotel, including: Chrysler, Nissan, Nestlé, GM, Alpla, Femsa, Cervecería Cuauhtémoc, Bayer, Bimbo, Henkel and Pfizer, among others.ABC Medical Center, our protocols ally. A leader in medical best practices for more than 130 years, ABC Medical Center, dedicated to caring for their patients' health, has assisted POSADAS in the development of prevention, hygiene, and disinfection protocols that allow the group to guarantee the safety of their staff and guests.We remind you that the check-in time is from 3:00 PM. Check-out is at 12:00 PM. We suggest you use our express check-out service.100% smoke free hotel.
Services
The hotel offers 126 guest rooms, hot breakfast included from 6am to 10am during the week and from 7am to 11am on weekends, snacks and sandwiches are available throughout the day. It's a 100% smoke free hotel. Hotel services include:
Guide Dog
Smoke Free Hotel
Free Outdoor Parking
Free Shuttle Service
Breakfast
Digital Check-in
My Stay
My Cast
Rooms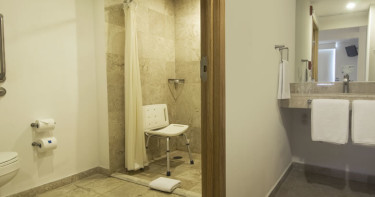 Accessible Room
This room has been specially equipped to provide comfort to our special guests. These rooms have the same amenities as standard rooms but are wheel-chair accessible and provide safety rails for the shower, toilet and tub. They also have cable TV, Internet, a desk and a queen size bed. Located on the second floor and connected to a single room with a queen size bed.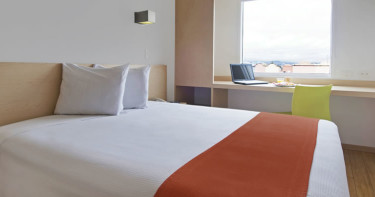 Superior Room, 1 Queen
Enjoy the comfort of this modern room, perfect to rest and recharge for future projects. It has one queen size bed, desk, independent air-conditioning unit, wireless Internet, phone with voicemail and cable TV.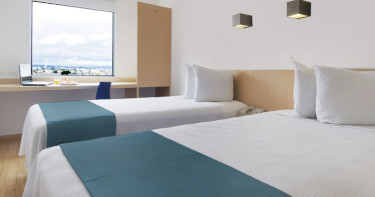 Superior Room, 2 Twin
Plan your upcoming projects from the comfort of this modern room. The room is a safe environment and is equipped for your comfort: two twin beds, desk, independent air-conditioning unit, wireless Internet, phones with voicemail and cable TV.