ComPosadasCalificacionTripadvisor
If you are looking for a destination that has it all in Northern Mexico, Saltillo is the place for you. Come to one for a surprising, uncomplicated, and safe stay. Each of our 139 guest rooms offers a pleasant, private atmosphere with functional spaces, where you can do whatever you want, whenever you want, at an affordable rate with breakfast included.Located just six minutes from the International Airport, and close to the city¿s main commercial areas, one Saltillo Aeropuerto puts you in a strategic location that allows you to head to the city¿s most important industrial areas and tourist sites.We are practical, just like you, and we want you to make the most of your time with our approachable technology and self-service concept. Check yourself in with our Digital Welcome, and get your room key at our digital kiosk whenever you want to (reservation required). And if you are a Fiesta Rewards member, download the app to get exciting rewards and benefits. Need to wash your clothes? Head to the laundry and borrow an iron if you need it. Here, you make your travel experience, because you can.
Rooms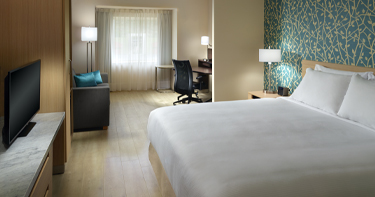 Junior Suite, 1 King
There is nothing like stepping into a room and feeling comfortable thanks to its design, space, and furnishing, just like it happens with this studio-style option that will surprise you with its services and amenities. Enjoy and relax on a King size bed, make the most of its functional spaces and all of the amenities that will make your business or leisure trip a more relaxing experience.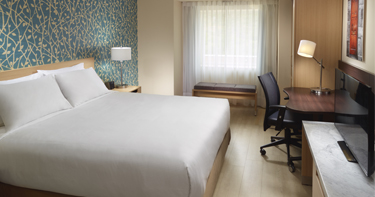 Superior Room, 1 King
We want you to achieve total relaxation in this unique room with a King Size bed. Its distribution makes it ideal for sharing ¿it is very comfortable and pleasant. It also features everything you need, including high-speed WiFi and a desk, in case you have work to do or adventures to plan.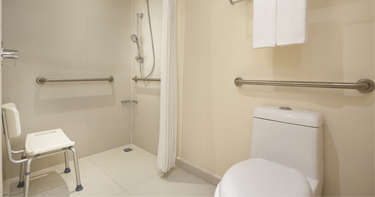 Accessible Room
We care about all of our guests¿ comfort and safety, and this practical room guarantees them. It's equipped with special wheelchair access, handrails in the bathroom and shower, and a comfortable double bed. If you wish, you can request connecting rooms for extra safety.
Master Suite, 2 Double
This is the perfect room for a trip with friends, where everyone can enjoy their own space, as it features an independent living room. This room offers twice the fun in every way: a bedroom with two double beds, two comfortable convertible sofas, and of course, two screens. To complement the experience, find a stocked minibar and a microwave oven to make your days even more practical.
Superior Room, 1 Queen
Let this room surprise you with all of its features. Practical and functional, it has everything you need to make the most of your trip. With comfortable spaces and a double bed, enjoy privacy for resting and great amenities, as well as a desk and good lighting if you need to work a bit longer.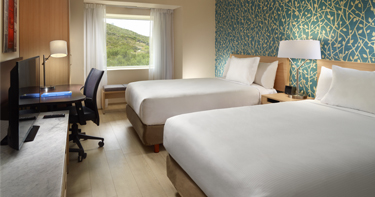 Superior Room, 2 Double
Traveling in good company makes everything more exciting. Share your fun with the practical amenities you¿ll find in this pleasant room: you will find two double beds, a TV screen, plus the space, lighting, and distribution you need for a comfortable stay during your days of rest. And if you are here for work, you will also find everything you need to organize your days with a spacious desk, an ergonomic chair, and outlets for your devices.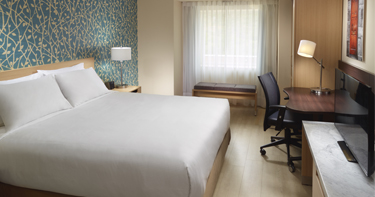 Master Suite, 1 King
Because you can, you choose how to enjoy your stay in this room that offers two ideal options for your needs and tastes: both have an independent living room, King Size bed, minibar, and microwave oven. The first room is equipped with a modern dining room for four, while the second one has a comfortable convertible sofa ¿everything in a surprising, cozy environment.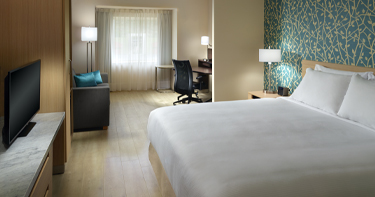 Junior Suite, 2 Double
Get ready to share your trip and multiply your fun in this comfortable room with two double beds. Its studio-style setting makes it perfect for extending your vacations or work sessions with everything you and your travel partners need to stay connected, rest, and enjoy a practical and very functional space.