ComPosadasCalificacionTripadvisor
Qualified:
ComPosadasTripadvisorModal
x
Location #24 of 120 hotels in Queretaro City
GreenLeader Platinum
Summary of qualifications
Best comments
"Near the bus terminal"
A very basic hotel with small rooms (the bathroom door blocks the toilet). Maintenance could be improved (water damage to wood floor). Everything worked and the WiFi was pretty good. They have a shuttle to the airport but not the bus terminal which seemed odd to me.
"Poor in all ammenities"
No iron in the room. No kitchen. No gym. No closet for the clothes. Small room. Door key has to be reset every day. Breakfast wasn't bad. I did not use a parking but it did not look to have many spots. It looks like to be an lower rate option of Fiesta Inn hotel right next door.
"Great Place To Stay"
I have stayed here a few times, It is a very comfortable pleasant plant to stay. The rooms are nice and it has decent WIFI, The breakfast buffet is free, pretty good, and above average. The staff are very friendly and helpful. My only complaint really is that the coffee dispenser did not work at all, or was empty for the three nights I stayed there. Also, the restaurant next door at the Fiesta Inn gives 15% discount (down from 20%) the quality of food and service has been steadily declining since my fisrt stay and I recommend dining elsewhere.
"CHEAP HOTEL, SMALL, NOISY AND POOR LEVEL OF SERVICE"
Is a cheap hotel, ideal for single travelers or business, non ideal for families. The rooms are very small and you can hear all noises from next rooms if you have a noise, drunk or night activities neighbor, you certainly could past a really bad night. In my last visit in chek in gave me the keys for an occupied room, was so embarrassing, and check out was terrible.
"Great for work or short stay"
Lets break this review down: -Location: Hotel is located in the outskirts of Queretaro. The place is VERY quiet. Because it's not in the downtown, it's close to the industrial parks, which (for me) was great. As it was close to the reason I went to Queretaro. -Facilities: Hotel offers free breakfast and a common laundry room. You can save on laundry service by just doing it yourself (you need to buy detergent). At least for me, this was perfect. Because this is the affordable option, it doesn't have much. But, you can go to the hotel next door (Fiesta) from the same chain and use its facilities: pool, gym. -Room: It was very clean. Maids go every day to clean it up. You get free water in the room. The downside for it is that it's a bit small (it serves the purpose for "work only"), it doesn't have fridge neither safety box. You can ask for one at the front desk, if you need. -Staff: The best. VERY friendly and eager to help your stay be very comfortable!
Top-rated Attractions Nearby
Photos hotel and surroundings (82)
If you're visiting Querétaro for a business trip or just to enjoy the city's tourist attractions, choose to stay at the one Querétaro Centro Sur. This affordable hotel is strategically located and offers the security and comfort you need to rest, recharge and stay productive.The hotel offers a privileged location for business travelers and is only 5 minutes from the city's major industrial parks, including Querétaro, Benito Juárez, Bernardo Quintana and El Marques. It is less than 20 miles from the Querétaro International Airport and is close to the downtown district with its nightlife, restaurants and tram service to the area's historic sites.The hotel offers private parking, guest loyalty program, laundry and ironing service, hot breakfast, wireless Internet access and Business Corner to stay productive during your stay.one Queretaro Centro Sur proves that traveling to this great city doesn't have to be expensive. Guests at the one enjoy secure surroundings, comfortable facilities and modern style, plus efficient and helpful service to help make your visit even easier.100% smoke free hotel.ABC Medical Center, our protocols ally. A leader in medical best practices for more than 130 years, ABC Medical Center, dedicated to caring for their patients' health, has assisted POSADAS in the development of prevention, hygiene, and disinfection protocols that allow the group to guarantee the safety of their staff and guests.We remind you that the check-in time is from 3:00 PM. Check-out is at 12:00 PM. We suggest you use our express check-out service.
Services
The hotel offers 126 guest rooms, a restaurant serving complimentary hot breakfast and open from 6am to 10pm during the week and from 7am to 11pm on the weekend. It's a 100% smoke free hotel. Hotel services include:
Guide Dog
Smoke Free Hotel
Free Outdoor Parking
Shuttle Service Extra Cost
Breakfast
My Stay
My Cast
Meeting Room
This comfy work area offers private work stations for guests that need to stay productive during their visit. Each desk has a computer with complimentary high-speed Internet access, so you can easily take care of your business. There's also a private meeting room located in the hotel lobby. We know that your time is valuable. That's why we do all we can to help you achieve the objectives of your trip.
Rooms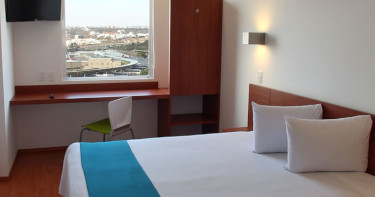 Superior Room, 1 Queen
These comfortable and secure rooms allow guests to rest and recharge for their next activity. They are simple and practical and equipped with a Queen bed, cable TV, work desk, climate control, wireless Internet access and telephone with voicemail.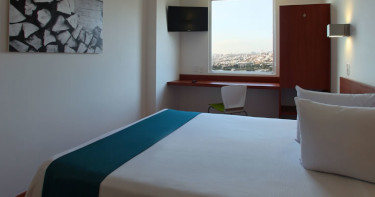 Accessible Room
This room is specially equipped with wheelchair access and hand rails throughout the restroom to help guests feel comfortable. It offers the same amenities and security as other guest rooms, with a Queen bed, restroom with shower and tub, cable TV, work desk, climate control, wireless Internet access and telephone with voicemail. This room is located on the first floor of the hotel and can be connected to a single room via an interior door.