one Puerto Vallarta Aeropuerto
ComPosadasCalificacionTripadvisor
Qualified:
ComPosadasTripadvisorModal
x
One Puerto Vallarta Aeropuerto
Location #61 of 159 hotels in Puerto Vallarta
GreenLeader Bronze
Summary of qualifications
Best comments
"Perfect airport hotel!"
Stayed here for one night due to a flight change (we came a day earlier than planned) booked on Expedia for ) $54! Bfast was included so that was a plus! No complaints. The room was clean, hot when we first came in but it got cold fast ( the a.c is 💯) they had two small water bottles for us ( 🙌) and the water pressure was great! The shower has your standard shampoo, conditioner and bathroom had soap, and other personal care stuff. Overall if I ever find myself in need on a last minute stay near the Vallarta airport I would definitely come back! I do recommend booking through Expedia or online rather than just showing up and getting a room because that would be a lot more expensive! Also you can definitely walk from the airport!! Do NOT get a taxi! We did and it was a WASTE of money! Room was small but for the price it was heavenly lol. Also sorry for the bad pics I only recorded a video so I had to screenshot
"You can see airport from hotel, nice pool area"
Strong wifi, good breakfast buffet (eggs, tortillas, bread for toast, fruit, coffee, tea and juice), good pool deck with few people, walk to airport (five minutes), walk to marina (ten minutes), walk to beach (twenty minutes). It is quiet compared to other Mexican hotels. Ice machine which is unique for Mexican hotels.
"States Non Smoking Hotel"
Peole are smoking around the pool, no ashtray's in sight! Smoker's, put their cigarette butts out, around pool deck and around table's, and chair's. It doesn't look nice, as it is not sweep up, recently. When you state A Non-Smoking Hotel, it should mean that!
"Certainly convenient to airport"
Adequate for a night or two when necessary to be close to airport. The room is stark, but if you just want to sleep is fine. It's quiet, even though it's close to airport, the bathroom is tiny but nice, the hot breakfast was good except for the coffee which was terrible, the main thing lacking is service. There was one person checking guests in, slowly. There definitely needs to be better customer service. There are many restaurants and bars within a couple of blocks at the marina and bus transportation was just in front of the hotel. There was a pool that looked inviting but I didn't use it. Priced fairly. Adequate.
"Basic Good Enough Airport Hotel"
Booked due to the decent reviews and location to the airport (we walked from our room). Very inexpensive, room was small but very clean. Lots to do in the area as far as shopping and food. Nice rooftop pool though it was not that warm when we were there so we didn't partake. Breakfast in the AM was huge and had a lot of variety. Filled us up good before our flight back to the states. I would not stay here more than a night or two, but it was a great stop for a night before flight hotel.
Top-rated Attractions Nearby
Photos hotel and surroundings (166)
one Puerto Vallarta Aeropuerto
If you're visiting this tropical paradise on the Pacific Coast, choose to stay at the one Puerto Vallarta. This affordable hotel is strategically located close to all the main attractions and offers the security and comfort you need to rest, recharge and stay productive.The hotel is located on one of the main thoroughfares of Puerto Vallarta, just 2 minutes from the International Airport, 8 minutes from the International Convention Center, and 12 minutes from the Central Bus Station. Next to the hotel is the Plaza Marina business and shopping center, with a variety of restaurants, craft shops, boutiques, banks, beauty salons, medical clinics, and corporate and government offices. Three blocks away is the Marina del Puerto recreational marina, with more than 500 luxury yachts and boats from around the world, plus a wide range of international restaurants, golf course, tennis courts, mall, water sports center and nightlife. The hotel is also conveniently located to the city's industrial parks, home to many large corporate distribution centers.one Puerto Vallarta proves that traveling to this great city for business or pleasure doesn't have to be expensive. Guests at the one enjoy secure surroundings, comfortable facilities and modern style, plus efficient and helpful service to help make your visit even easier.ABC Medical Center, our protocols ally. A leader in medical best practices for more than 130 years, ABC Medical Center, dedicated to caring for their patients' health, has assisted POSADAS in the development of prevention, hygiene, and disinfection protocols that allow the group to guarantee the safety of their staff and guests.We remind you that the check-in time is from 3:00 PM. Check-out is at 12:00 PM. We suggest you use our express check-out service.
Services
The hotel offers 126 guest rooms, a restaurant serving complimentary hot breakfast and open from 6am to 10pm during the week and from 7am to 11pm on the weekend. It's a 100% smoke free hotel. Hotel services include:
Guide Dog
Smoke Free Hotel
Free Outdoor Parking
Outdoor Pool
Breakfast
My Stay
My Cast
Rooms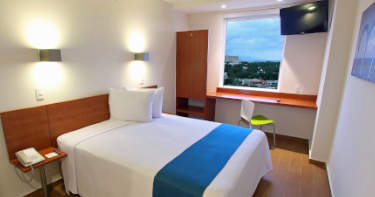 Superior Room, 1 Queen
These comfortable and secure rooms allow guests to rest and recharge for their next activity. They are equipped with a Queen bed, cable TV, work desk, climate control, closet, wireless Internet access and telephone with voicemail.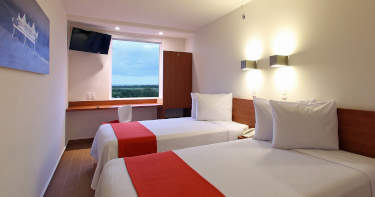 Superior Room, 2 Double
These modern and simple rooms offer the comfort and security you need during your stay. They offer a restful space with two double beds, closet, cable TV, work desk, climate control, wireless Internet access and telephone with voicemail.
Accessible Room
This room is specially equipped with wheelchair access and hand rails throughout the restroom to help guests feel comfortable. It offers the same amenities and security as other guest rooms, with a Queen bed, restroom with shower and tub, cable TV, work desk, climate control, wireless Internet access and telephone with voicemail. This room is located on the first floor of the hotel and can be connected to a single room via an interior door.