AdressPosadas
one Puerto Vallarta Aeropuerto
ComPosadasCalificacionTripadvisor
Qualified:
ComPosadasTripadvisorModal
x
One Puerto Vallarta Aeropuerto
Location #62 of 152 hotels in Puerto Vallarta
GreenLeader Bronze
Travelers Choice 2021
Summary of qualifications
Best comments
"Basic Good Enough Airport Hotel"
Booked due to the decent reviews and location to the airport (we walked from our room). Very inexpensive, room was small but very clean. Lots to do in the area as far as shopping and food. Nice rooftop pool though it was not that warm when we were there so we didn't partake. Breakfast in the AM was huge and had a lot of variety. Filled us up good before our flight back to the states. I would not stay here more than a night or two, but it was a great stop for a night before flight hotel.
"getting home to canada"
in the crises of the virus the hotel did a wonderful job of cleaning,hand sanitized every where room very small .But able to walk to airport ,We are seniors and managed the elevators with ease.The roof top pool looked lovely very good breakfast
"For Us, Perfecto!"
Very small exceeding clean rooms with great showers, fast internet, and within walking distance of the airport and many restaurant choices. Even a full service grocery store about a block away! Very friendly staff willing to put up with my bad Spanish and help me speak better. For our purpose, perfecto! The part we don't care for is the eggs and sometimes odd meat at breakfast. Waffles are great! But our preference is bacon or sausage. We fly into PV then bus to other destination in Mexico. So we typically stay here for a day or two at the start and end of our winter in Mexico. See you guys next year!! Hasta proximo ano!
"One night, and one night only"
This hotel is very close to the airport in Puerto Vallarta however, the rooms are incredibly small. They are clean but we requested additional pillows (we had 2) and were told they ran out. We had 2 towels and when requested an additional towel we never got it. They also had run out of ice buckets. There's no real closet, sitting space is a plastic chair at a ledge. It was clean but not accommodations I would chose to stay at for more than one night.
"A great location "
This hotel is perfectly located adjacent to the airport. It's a very brief walk to access the hotel. A delicious buffet breakfast is included. There is an outdoor pool found just outside of the lobby.
Top-rated Attractions Nearby
Photos hotel and surroundings (162)
one Puerto Vallarta Aeropuerto
ComPosadasDesWeb
If you're visiting this tropical paradise on the Pacific Coast, choose to stay at the one Puerto Vallarta. This affordable hotel is strategically located close to all the main attractions and offers the security and comfort you need to rest, recharge and stay productive.The hotel is located on one of the main thoroughfares of Puerto Vallarta, just 2 minutes from the International Airport, 8 minutes from the International Convention Center, and 12 minutes from the Central Bus Station. Next to the hotel is the Plaza Marina business and shopping center, with a variety of restaurants, craft shops, boutiques, banks, beauty salons, medical clinics, and corporate and government offices. Three blocks away is the Marina del Puerto recreational marina, with more than 500 luxury yachts and boats from around the world, plus a wide range of international restaurants, golf course, tennis courts, mall, water sports center and nightlife. The hotel is also conveniently located to the city's industrial parks, home to many large corporate distribution centers.one Puerto Vallarta proves that traveling to this great city for business or pleasure doesn't have to be expensive. Guests at the one enjoy secure surroundings, comfortable facilities and modern style, plus efficient and helpful service to help make your visit even easier.ABC Medical Center, our protocols ally. A leader in medical best practices for more than 130 years, ABC Medical Center, dedicated to caring for their patients' health, has assisted POSADAS in the development of prevention, hygiene, and disinfection protocols that allow the group to guarantee the safety of their staff and guests.We remind you that the check-in time is from 3:00 PM. Check-out is at 12:00 PM. We suggest you use our express check-out service.
Facilities
Services
The hotel offers 126 guest rooms, a restaurant serving complimentary hot breakfast and open from 6am to 10pm during the week and from 7am to 11pm on the weekend. It's a 100% smoke free hotel. Hotel services include:
Guide Dog
Smoke Free Hotel
Free Outdoor Parking
Outdoor Pool
Breakfast
My Stay
My Cast
HabitacionesMinisite
Rooms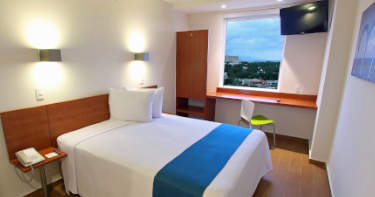 Superior Room, 1 Queen
These comfortable and secure rooms allow guests to rest and recharge for their next activity. They are equipped with a Queen bed, cable TV, work desk, climate control, closet, wireless Internet access and telephone with voicemail.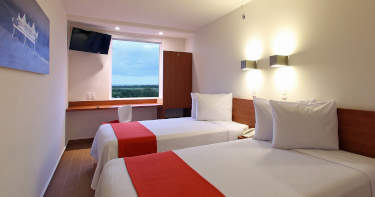 Superior Room, 2 Double
These modern and simple rooms offer the comfort and security you need during your stay. They offer a restful space with two beds, closet, cable TV, work desk, climate control, wireless Internet access and telephone with voicemail.
Accessible Room
This room is specially equipped with wheelchair access and hand rails throughout the restroom to help guests feel comfortable. It offers the same amenities and security as other guest rooms, with a Queen bed, restroom with shower and tub, cable TV, work desk, climate control, wireless Internet access and telephone with voicemail. This room is located on the first floor of the hotel and can be connected to a single room via an interior door.