ComPosadasCalificacionTripadvisor
Qualified:
ComPosadasTripadvisorModal
x
Location #118 of 333 hotels in Playa del Carmen
GreenLeader Gold
Summary of qualifications
Best comments
"Short stays"
- a nice hotel near the busy area of playa del carmen. Their concept is exactly like the IBIS Hotels in Europe. Perfect secured free parking. - the breakfast was not a good one and not a lot of choices. It is good if you need to stay for one or two nights, but I would not recommend it for long stays. The window was revealing an interior patio and if the curtain was pulled up, everyone could see inside the room.
"Ok to spend a night or two."
There was no safe in our room. I left some pocket money on the table and it "disappeared" while I was having breakfast and the room was being cleaned. I didn't feel comfortable leaving my belongings in the room after that incident. For that reason, I told them I didn't want my room to be cleaned anymore, but the next morning someone knocked on the door while I was still sleeping, and simply opened it without my permission. Again, not a pleasant experience. The OM and housekeeper looked into the matter, and they eventually gave the money back at the check-out. The room was small like a cruise ship cabin, and it had a small T.V. In my opinion it is ok just to spend a night or two, or for business travel, but there are way better/bigger options in the area with kitchenettes for half the price for long term stays. The location is convenient. Relatively close to the beach and a block away from two supermarkets. Breakfast chilaquiles were included and good.
"Noisy A/C and no hot water"
Even after turning it off in the room the noise level from the central A/C was terrible , so much so that I changed rooms at 2 am. Second room was not much better. In the morning I tried to get hot water for a shower but after 10+ minutes I gave up. The "free " breakfast was very basic and un-appealing. Room was clean and staff were friendly , but there are other options near the bus terminal that I will use next time. I have stayed here at least 3 times but the obvious lack of any serious attempt at maintenance means this was my last visit
"Clean, convenient and friendly"
Stayed here one night at the end of a tour. For a hotel that's meant to be basic, functional would be a better word as it is super clean, in a convenient location (ADO bus opposite for the airport) and the staff on reception very helpful.
"First and last place I stay at before or after arriving or leaving Cancun"
I love staying here, it is very spartan and utilitarian. There is a TV and a remote, and air conditioning. The reason I like it so well is its location to 1) ADO bus depot. 2) Mega supermarket. 3)Taqueria El sabrosito aol fogon. The first one is where I buy a ticket to the Airport when I leave Mexico. Just walk across the street and pay about 10.00 US. Buses arrive about every 30 minutes to the airport, there is one stop at Puerto Morelos, then you hit the airport terminals next. For number two, if you want to buy Tequila at the local price, why not do it at the cheap grocery store? There are two next to this hotel within walking distance. The third reason, is one of the best taqueria stands is just across the street from the second supermarket. You can tell it is good because; tour vans will stop here, the locals eat here, and they cook the food using actual charcoal, or a hot grill where you can see it. The food is good, not overpriced, and I love eating a good local place that is representative of the local culture without paying a lot of money.
Top-rated Attractions Nearby
Photos hotel and surroundings (207)
TripAdvisor_one Playa del Carmen
Please be advised that from now on, an official Sanitation tax of $28.87 MXN per night will be charged in our hotels located in Solidaridad Quintana Roo (Playa del Carmen)
Enjoy the Caribbean Sea and the Mayan Riviera with its stunning flora and beautiful beaches. Playa del Carmen, a popular tourist destination strategically located between Cancun and Tulum, is one of the most beautiful spots in the region. Choose to stay at one Playa del Carmen, an affordable hotel that guarantees a safe and comfortable stay.one Playa del Carmen is located within the Xop Inn Shopping Center on Calle 12 Norte (12th North Street), behind the ADO Alternate bus station, only a few streets away from Playa Mamitas and four blocks from la Quinta Avenida. A fabulous location that will let you easily discover the most beautiful spots in the city.The hotel is located on a street that connects to Playa del Carmen's most popular restaurants, bars, and night clubs. The ferry to Cozumel, an island that's a water-sport destination, is also located very close by.ABC Medical Center, our protocols ally. A leader in medical best practices for more than 130 years, ABC Medical Center, dedicated to caring for their patients' health, has assisted POSADAS in the development of prevention, hygiene, and disinfection protocols that allow the group to guarantee the safety of their staff and guests.We remind you that the check-in time is from 3:00 PM. Check-out is at 12:00 PM. We suggest you use our express check-out service.100% smoke free hotel
Rooms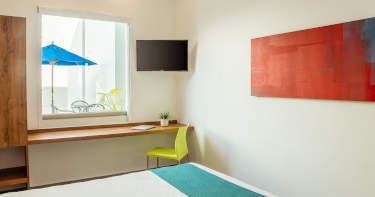 Superior Room, 1 Queen, 1 Twin
The room has one queen and one twin size bed, a work desk, wireless Internet, an independent air conditioning unit, phone with voicemail and flat screen TV with cable.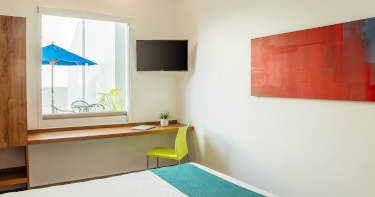 Superior Room, 2 Double
Relax in your room, featuring a modern design, two double beds, work desk, an independent air-conditioning unit, wireless Internet, a phone with voicemail and cable TV.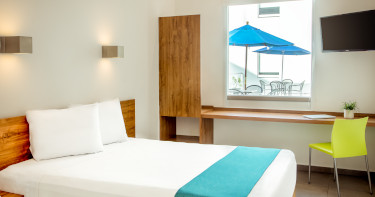 Accessible Room
This room has been specially equipped to provide comfort to our special guests. These rooms have the same amenities as standard rooms but are wheel-chair accessible and provide safety rails for the shower, toilet and tub. They also have cable TV, Internet, a work desk and a queen size bed.