Banner one Monterrey Aeropuerto
ComPosadasCalificacionTripadvisor
Qualified:
ComPosadasTripadvisorModal
x
Location #9 of 21 hotels in Apodaca
GreenLeader Platinum
Summary of qualifications
Best comments
"Refreshing Suprise from weary foreign traveler!"
After a long day of travel by car to El Paso. Then crossing border in Juarez. Immigration, cab ride to airport . 5 hour wait for flight to Monterrey to catch connection next day I was pleasantly surprised by the One Monterrey Aeropuerto. Very close to the airport. I took a cab 10 bucks. Quick check in. Safe,modern,Very clean rooms , comfortable beds ,I woke up refreshed had a great breakfast next morning and Shuttle ride to airport. Edgar was great. They were very gracious with my very poor Spanish. Price very reasonable .
"not to my liking"
the room amenities were lacking and the room was not clean enough for my liking. I found hairs all over and the toilet wasn't flushing. The air conditioner was unable to keep the room cool and the smoke detector was beeping from a low battery.
"Pretty good for an overnight"
The staff was friendly, booking was easy and cheap, very close to the airport, shuttle available for pick up and drop off, we had no incidents at all. The shuttle driver was friendly and fast to pick up us.
"Everyhing OK, but space of shower, too narrow"
Room, breakfast, staff attention to details, very good, only negative is shower size, too small, I know that this aspect is imposible to change once building is built, but it is something to have in account for next hotel to be built
"overpriced and plain!"
this boutique (aka for small) is good for one night, the photos are probably from its grand opening, the front desk service are not professional, they seem like high school girls running the hotel. there's no restaurant on site, the common areas have 2 small couches, the wifi is super slow or won't connect, the rooms are tiny!, the bathroom is very small & shower only. They advertise themselves as a business hotel but have very limited business services. No dollar exchange services. Not a pleasant stay, If you can afford it, spend a little more and stay next door at the Crown Plaza or Holiday Inn. The crown plaza is so elegant & they have an awesome restaurant there. I wish we had stayed there.
Top-rated Attractions Nearby
Photos hotel and surroundings (82)
TripAdvisor_one Monterrey Aeropuerto
When visiting Monterrey, don't miss the opportunity to stay with a hotel chain that is budget-friendly, safe, welcoming, and functional while offering a number of additional benefits.Strategically located just three minutes from the airport and 25 minutes from Cintermex, one Monterrey Aeropuerto gives you exactly what you need: spacious rooms and common areas where you can work, relax or have fun.Whether you travel for business or pleasure, staying somewhere nice doesn't have to be expensive. one Hotels meet the needs of any traveler's budget while ensuring a safe, reliable, comfortable stay and providing efficient service so that you can stay focused on your trip.one Monterrey Aeropuerto offers free transportation airport - hotel - airport: Monday to Friday: from 5:00 a 23:00 hrs, Saturday: 05:00 to 12:30 hrs, Sunday: 16:00 to 23:30 hrs. American breakfast buffet included and laundry self-service.ABC Medical Center, our protocols ally. A leader in medical best practices for more than 130 years, ABC Medical Center, dedicated to caring for their patients' health, has assisted POSADAS in the development of prevention, hygiene, and disinfection protocols that allow the group to guarantee the safety of their staff and guests.
Services
The hotel has 126 guest rooms and a restaurant serving a complimentary hot breakfast from 6am-10am Monday to Friday and 7am-11am on weekends. Guests can also enjoy high-speed wireless Internet, room service, self-service laundry and ironing, parking lot and a meeting room. Please note that check-in begins at 3pm. Check-out is at noon. Express check-out is recommended. The hotel is 100% smoke-free.
Guide Dog
Smoke Free Hotel
Free Outdoor Parking
Free Shuttle Service
Breakfast
Digital Check-in
My Stay
My Cast
Rooms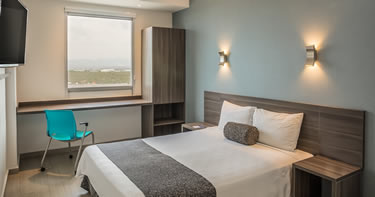 Accessible Room
This room has been carefully designed to provide our guests with special needs with the comfort they need and deserve. It is equipped with wheelchair access and safety handrails in the bathtub and bathroom, a raised toilet with safety handrails, and an extra-wide door. It also includes a queen bed, work desk, 32" TV, and wireless Internet access, plus all the amenities of our standard rooms. The room is located on the third floor and can be connected to a double room.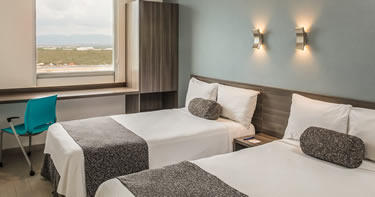 Superior Room, 2 Twin
This functional room is designed for our practical guests who wish to have everything they need to rest, work, or relax. It includes a queen bed or two double beds, 42"LED TV with 21 channels via satellite, LED lighting, porcelain tile floors, wardrobe, hair dryer, work desk, high-speed wireless Internet, outlets with USB adapters, double electronic door locks, and individually controlled heating and air conditioning.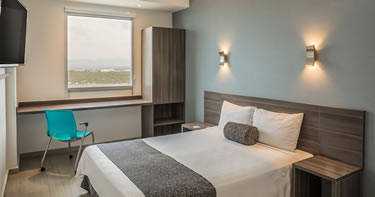 Superior Room, 1 Queen
Guests looking for quality and warmth will feel at home in this practical and modern room designed to ensure a pleasant stay in Monterrey. It comes equipped with Queen Size bed, as well as a 42" LED TV with 21 channels via satellite, LED lighting, porcelain tile floors, wardrobe, hair dryer, work desk, high-speed wireless Internet, outlets with USB adapters, double electronic door locks, and individually controlled heating and air conditioning.