ComPosadasCalificacionTripadvisor
Qualified:
ComPosadasTripadvisorModal
x
Location #1 of 13 hotels in Monclova
GreenLeader Silver
Summary of qualifications
Best comments
"There are better options"
Bad customer service. The breakfast is below average. The rooms are a like an IBIS but badly kept. The rooms and halls are impregnated with cigarette smoke even though is supposed to be smoke free... Is an economy hotel which is fine and I am used to it, but with poor maintenance and bad customer service. There are better options in town, try to avoid...
"ONE hotels is one of the best for the money"
Staff is very friendly and helpful at any time of the day. This hotel is laid out in such a manner that everything is accessible and not far at all from you. This hotel is also well located with all kinds of stores, pharmacies, restaurants, etc. all around and within walking distance. AE
"Super Clean, Great Breakfast & Wifi"
This hotel was fairly quiet for being so close to the main street. The staff was friendly and spoke English, which was nice. The room was super clean, the shower was divine, and the wifi was fast. The complimentary breakfast the next morning was plentiful and delicious. We parked our motorcycles outside the front door and although I don't think they closed their gates at night, it felt safe. There are also plenty of decent restaurants within an easy walk.
"Mr Hernandez"
Very good hotke, good rates, there is just for sleep and light breakfast, if you are with family I recommend Fiesta Inn and uppers categories. There is well located, with good numbers of parking units. The price are just ok. I appreciate so much the emplyees attitud always concern about you. Very clean. Just right to rest and ligth breakfast.
"Reasonably priced stopover"
The hotel is fairly new, and has a clean new feel. The accommodations are pretty minimal but okay for a stopover night. The hotel is near several restaurants. The morning breakfast is pretty good and comes with the room. Reasonable price.
Top-rated Attractions Nearby
Photos hotel and surroundings (44)
If you're visiting Monclova for a business trip or just to enjoy the city's tourist attractions, stay at this affordable hotel offering the security, comfort and services you need to rest, recharge and stay productive.The hotel is easy on your budget and offers a strategic location just five minutes from the city's main industrial district . Guests at the one enjoy secure surroundings, comfortable facilities and modern style, plus efficient and helpful service to help make your visit even easier.ABC Medical Center, our protocols ally. A leader in medical best practices for more than 130 years, ABC Medical Center, dedicated to caring for their patients' health, has assisted POSADAS in the development of prevention, hygiene, and disinfection protocols that allow the group to guarantee the safety of their staff and guests.We remind you that the check-in time is from 3:00 PM. Check-out is at 12:00 PM. We suggest you use our express check-out service
Services
The hotel offers 66 guest rooms, a restaurant serving complimentary hot breakfast and open from 6am to 10pm during the week and from 7am to 11pm on the weekend. It's a 100% smoke free hotel. Hotel services include:
Guide Dog
Smoke Free Hotel
Free Outdoor Parking
Shuttle Service Extra Cost
Breakfast
Digital Check-in
My Stay
My Cast
Rooms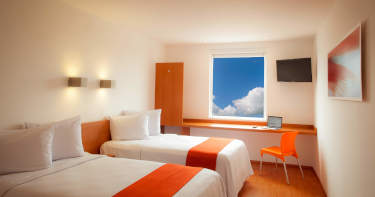 Superior Room, 2 Twin
These modern and simple rooms offer the comfort and security you need during your stay. They offer a restful space with two twin size beds, closet, cable TV, work desk, climate control, wireless Internet access and telephone with voicemail.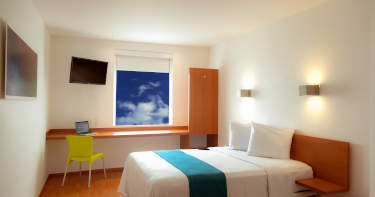 Accessible Room
This room is specially equipped with wheelchair access and hand rails throughout the restroom to help guests feel comfortable. It offers the same amenities and security as other guest rooms, with a Queen bed, restroom with shower and tub, cable TV, work desk, climate control, wireless Internet access and telephone with voicemail. This room is located on the third floor of the hotel and can be connected to a double room via an interior door.