ComPosadasCalificacionTripadvisor
Qualified:
ComPosadasTripadvisorModal
x
Location #9 of 32 hotels in Mexicali
Summary of qualifications
Best comments
"you can hear everything"
Me and my family aren't fans The staff is nice, the rooms have a good size but you can hear everything. the walls are thin. the bathroom is small, and the breakfast was not great. the parking is small, we had to leave the car out of the hotel.
"Not what expected"
This hotel was recommended by a few people. There are not a lot of places to stay in Mexicali so we stayed there. Rooms are ok not new like people are saying. They are ok nothing to write home about. The worst thing was that my wife had surgery the following day. We left the hotel at 5am that morning to the hospital and during prep they found a tick on my wife's hand. No we do not have pets and the only place for this to have happened would be the hotel as the elevators are not really watch and anyone can sneak a dog inside. We called the hotel and ask for a supervisor to call but of course 3 days after staying there no calls.
"quick business trip"
great place to stay. undercover parking, good internet, breakfast included. very clean. great location for international dining choices. 5 minutes from border crossing. fast food 100 meters away. StarB across the street.
"Horrible service"
Just don't stay here, the hotel has a good price, a nice location but the service was terrible, the breakfast was cold and doesn't have too many options like another one hotels i've stayed, i really recommend to look for another option if you plan to stay in Mexicali.
"Don't stay here"
Location is ok, however, do not get a room that is along the street, there are approximately five to six dogs on a property across the street, they barked ALL night long. The walls between the rooms are paper thin, you can hear everything and I mean everything in the adjacent rooms. I did not sleep at all. I will never, ever, ever, ever stay in a One Hotel again.
Top-rated Attractions Nearby
Photos hotel and surroundings (70)
When visiting Mexicali, don't miss the opportunity to stay with a hotel chain that is budget-friendly, safe, welcoming, and practical while offering the amenities you need for a great visit.one Mexicali is strategically located on one of the city's main avenues, just 15 minutes from Mexicali Industrial Parks and PYMSA, 15 minutes from downtown. It is only 5 minutes away from Las Águilas baseball stadium. It is also near the southern industrial area and the entrance to the Calexico border crossing.Whether traveling for business or pleasure, hitting the road doesn't have to be expensive anymore. one Hotels meet the needs of any traveler's budget while at the same time ensuring a safe, reliable, comfortable stay while providing efficient service so that you can stay focused on the goals of your trip.ABC Medical Center, our protocols ally. A leader in medical best practices for more than 130 years, ABC Medical Center, dedicated to caring for their patients' health, has assisted POSADAS in the development of prevention, hygiene, and disinfection protocols that allow the group to guarantee the safety of their staff and guests.
Services
Modern facilities with 120 rooms on 7 floors: 60 single, 59 double rooms and 1 room for people with disabilities, which communicates with another single room, American breakfast on weekdays from 6 to 10am, Saturdays and Sundays from 7 am-11am a bussiness corner with 2 computers, coffee and tea available 24 hrs, wireless internet access anywhere in the hotel, parking, personal items and goodies in reception, without surveillance and ironing service, smoke detectors and fire sprinklers .
Guide Dog
Smoke Free Hotel
Free Indoor parking
Shuttle Service Extra Cost
Breakfast
My Stay
My Cast
Rooms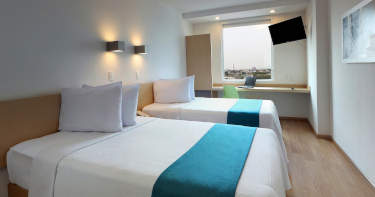 Superior Room, 2 Twin
Enjoy the comfort with just enough for a good rest. This room is ideal for work or rest. Account with two twin size beds, work desk, closet, air conditioning and heating, wireless internet, telephone, voice mail and cable television.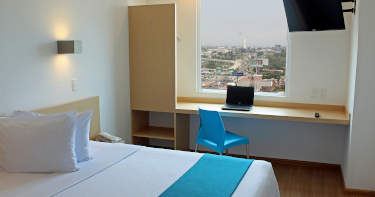 Superior Room, 1 Queen
Rest and load energies to continue in this practice and simple room decorated with modern touches and feeling of freshness and light, equipped with a Queen size bed, work desk, closet, air conditioning and heating, wireless internet, telephone with voice mail and cable television.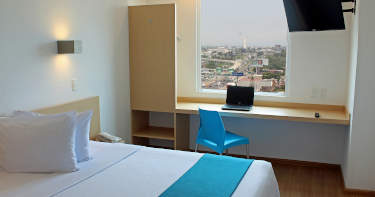 Accessible Room
This room has been specially equipped to provide comfort to our special guests. These rooms have the same amenities as standard rooms but are wheel-chair accessible and provide safety rails for the shower, toilet and tub. They also have cable TV, Internet, a work desk and a queen size bed. This room connects with another room and has one bed.