ComPosadasCalificacionTripadvisor
Qualified:
ComPosadasTripadvisorModal
x
Location #9 of 90 hotels in Leon
Summary of qualifications
Best comments
"Quiute acceptable"
It is nice, clean and the staff were quite polite; however the breakfast wasn't the most delicious exactly. They could have more variety. The room was comfortable, my mom anjoyed the shower so I broadly recomend staying at this hotel
"SATISFACTION"
Liked everything about this place, friendly staff, good locacion, clean location, very helpful staff at the front desk rooms very clean. nicely decorated, security at premisses, continental breakfast very fresh and tasty, plenty of selections to choose from.
"Left item in room"
I forgot my iPad in my room. Called within hours when I got to my destination. Was told it was not found. Realize it was an expensive item however I would have hoped for more honest employees. I have offered a reward as there was a lot of personal information on it
"Make your reservation in advance"
During the third weekend of November, City of Leon organizes a hot-air balloon festival, so it is really hard to find accommodation. After many calls, I got a place in this hotel, but the room was too expensive (it was the equivalent for a Boutique Hotel). It is a business style one, so don't expect any special feature. Although, it is clean and the staff is very friendly. The breakfast is good, you get scramble eggs, sausages, a Mexican dish, fruit, coffee and not natural juice.
"Charged me double and haven't refunded yet after 3 months"
I booked with them 3 rooms. On arrival we payed separetly each room per family. 1 on debit card, 1 on credit card and 1 in cash. Due to poor administration and bad service, the front desk lady didn't mark one of the rooms form the reservation and registered it in someone else's name, which caused my credit card a "no show" charge, even though all rooms previously booked were payed for. I've been in e-mailing the front desk and Mr. Alberto Guzmán credited as General Manager with no response whatsoever. I've sent them my credit card statement with the extra carge, my debit card statement, and the other credit card statement where the charge was made for the "no show" room. 3 months after, and I have no refund and no response. No Hotel is worth this kind of time wasting problems, plus the interest fee charged for 3 months of this hotel's mistake.
Top-rated Attractions Nearby
Photos hotel and surroundings (41)
TripAdvisor_one Leon Poliforum
If you're visiting Leon for a business trip or just to enjoy the city's tourist attractions, stay at this affordable hotel offering the security, comfort and services you need to rest, recharge and stay productive.The hotel is easy on your budget and offers a strategic location just five minutes from Polifórum León, the Forum Cultural Guanajuato, the Guanajuato Museum of Art and History, and Leon Stadium. It is also just 10 minutes from the city's main bus station and less than 30 minutes from the airport. Guests at the one enjoy secure surroundings, comfortable facilities and modern style, plus efficient and helpful service to help make your visit even easier.ABC Medical Center, our protocols ally. A leader in medical best practices for more than 130 years, ABC Medical Center, dedicated to caring for their patients' health, has assisted POSADAS in the development of prevention, hygiene, and disinfection protocols that allow the group to guarantee the safety of their staff and guests.We remind you that the check-in time is from 3:00 PM. Check-out is at 12:00 PM. We suggest you use our express check-out service
Services
The hotel offers 126 guest rooms, a restaurant serving complimentary hot breakfast and open from 6am to 10pm during the week and from 7am to 11pm on the weekend. It's a 100% smoke free hotel. Hotel services include:
Guide Dog
Smoke Free Hotel
Free Outdoor Parking
Shuttle Service Extra Cost
Breakfast
My Stay
My Cast
Rooms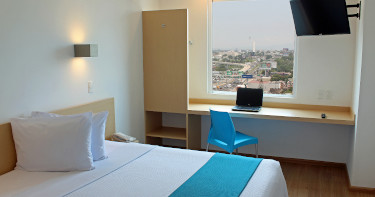 Superior Room, 1 Queen
These comfortable and secure rooms allow guests to rest and recharge for their next activity. They are simple and practical and equipped with a queen bed, cable TV, work desk, climate control, wireless Internet access and telephone with voicemail.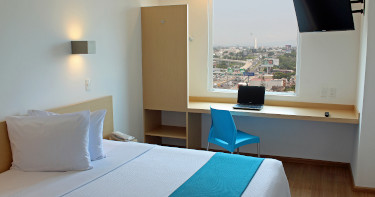 Accessible Room
This room is specially equipped with wheelchair access and hand rails throughout the restroom to help guests feel comfortable. It offers the same amenities and security as other guest rooms, with a Queen bed, restroom with shower and tub, cable TV, work desk, climate control, wireless Internet access and telephone with voicemail. This room can be connected to a single room via an interior door.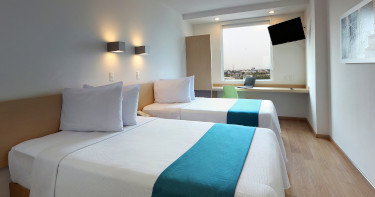 Superior Room, 2 Twin
Whether you're traveling for work or play, these modern and simple rooms offer the comfort and security you need during your stay. They offer a restful space with two twin size beds, closet, cable TV, work desk, climate control, wireless Internet access and telephone with voicemail.