ComPosadasCalificacionTripadvisor
Qualified:
ComPosadasTripadvisorModal
x
Location #7 of 46 hotels in La Paz
GreenLeader Platinum
Summary of qualifications
Best comments
"Fantastic Place"
I really enjoyed my stay - I booked really last minute and I arrived and was greeted so warmly and with so much respect. The front desk staff were kind and funny and respectful - everything you hope for. The room itself was perfectly clean. I really loved the bedding - it was that old school high-end hotel bedding which you don't find so much anymore. I just loved it. Fantastic service. Fantastic room. Thanks OneHotel La Paz.
"Good value for the price"
This hotel is located about 20 minute walk from the main city center. Rooms are basic. Clean bathroom. Acceptable breakfast but due to COVID they serve you. Free good quality WI-FI. Staff was very friendly, helpful and smiling.
"Hotel stay"
Good hotel for 1 to 2 nights and reasonably priced , great breakfast in the morning. Great view of La Paz and of the marina, very clean place to stay . Would stay there again next time we go back. Professional staff!!
"Nice hotel, good location and service!"
We are a group of 9 persons was booking this hotel at New Year holidays! Nobody was disappointed! Very nice hotel, good location (about 10 min by walk till Malecon), friendly and helpfull stuff, clean modern rooms, hot water, and perfect bed linens. We will back next time!
"Clean and modern"
Very clean, 15 minute walk from the malecon. Ample breakfast included. Geraldo at the front desk is a super star of helpfulness and friendliness. Very modern place. They're always cleaning! No stairs, only elevator. No safe in room. Room is small, clean, simple. Overall, perfect for our week long stay.
Top-rated Attractions Nearby
Photos hotel and surroundings (159)
If you're visiting La Paz for a business trip or just to enjoy the city's tourist attractions, choose to stay at the one hotel. This affordable hotel is strategically located and offers the security and comfort you need to rest, recharge and stay productive. The city of La Paz is located along the shores of Mexico's Gulf of California and has become a hotspot for national and international tourism. The city is served by the Manuel Marquez de Leon International Airport, with regular flights from Los Angeles, Guadalajara, Monterrey, Mazatlan, Culiacan, Tijuana, Mexico City and other gateway cities across the U.S. and Mexico.The hotel offers a privileged location in the city's historic downtown district and offers easy access to the region's key points of interest. It is just 6 miles from the city's major industrial parks and 10 minutes from the airport. one La Paz proves that traveling to this seaside city doesn't have to be expensive. Guests at the one enjoy secure surroundings, comfortable facilities and modern style, plus efficient and helpful service to help make your visit even easier. 100% smoke free hotel.ABC Medical Center, our protocols ally. A leader in medical best practices for more than 130 years, ABC Medical Center, dedicated to caring for their patients' health, has assisted POSADAS in the development of prevention, hygiene, and disinfection protocols that allow the group to guarantee the safety of their staff and guests.We remind you that the check-in time is from 3:00 PM. Check-out is at 12:00 PM. We suggest you use our express check-out service.The hotel offers free shuttle service to the airport from Monday to Saturday at 10:00 am only.
Services
The hotel offers 126 guest rooms, a restaurant serving complimentary hot breakfast and open from 6am to 10pm during the week and from 7am to 11pm on the weekend. It's a 100% smoke free hotel. Hotel services include:
Guide Dog
Smoke Free Hotel
Free Outdoor Parking
Free Shuttle Service
Outdoor Pool
Breakfast
My Stay
My Cast
Rooms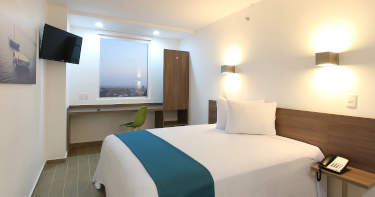 Superior Room, 1 Queen
These comfortable and secure rooms allow guests to rest and recharge for their next activity. They are simple and practical and equipped with a Queen bed, cable TV, work desk, climate control, wireless Internet access and telephone with voicemail and city view.
Accessible Room
This room is specially equipped with wheelchair access and hand rails throughout the restroom to help guests feel comfortable. It offers the same amenities and security as other guest rooms, with a Queen bed, restroom with shower and tub, cable TV, work desk, climate control, wireless Internet access and telephone with voicemail. This room is located on the first floor of the hotel and can be connected to a single room via an interior door.