one Guadalajara Periférico Poniente
ComPosadasCalificacionTripadvisor
Qualified:
ComPosadasTripadvisorModal
x
One Guadalajara Periferico Poniente
Location #5 of 37 hotels in Zapopan
Summary of qualifications
Best comments
"Very dirty place"
The staff was friendly. Breakfast was average. The rooms are very small and not clean. They dont have a basic facility like Ironbox in each room. Not a recommended place to stay. There are better options around the same area.
"Not a good hotel"
Small rooms, small bed that is very uncomfortable. Not willing to help guests. Breakfast is adequate at best. Air conditioner hardly works. Only cools at night. No drawers had to stay out of our luggage.
"Terrible experience, 0 recommended ❌"
Staff is very rude and disrespectful. I'd spent like an hour finding a parking space because this awful hotel share parking lot with food business and another hotel... unbelievable. There's no communication with managers or personnel that might take a cancellation, pure and simple unprofessional staff.
"Well Done"
We were getting our son settled back into university in GDL. I took our 7 year old grandaughter along for the ride from PV. The rooms were great, the staff was wonderful. Thank you, we will return for sure
"Too expensive for what is offered "
This is the worst hotel from the posadas brand I ever stayed. I was handicapped and surprise No parking!! You need to use one in a warehouse besides without paved floor !!! Checking in a nightmare! Too slow and with a smile on their face they reject all my requests inclusive my change to another hotel, checking is on the first floor you need to wait a lot for the elevator!! Only two flat pillows in the room. Noise in the room is terrible 59 db from the outside with the window and courtain closed. Washroom very dirty and towels from the dollar store.
Top-rated Attractions Nearby
Photos hotel and surroundings (110)
TripAdvisor_one Guadalajara Periférico Poniente
If you're visiting Guadalajara for a business trip or just to enjoy the city's tourist attractions, choose to stay at the one Guadalajara Periferico Poniente. This affordable hotel is strategically located and offers the security and comfort you need to rest, recharge and stay productive.The hotel offers a privileged location on Periferico Poniente, between Guadalupe and Vallarta on one of the city's main west-side thoroughfares, and offers easy access to the region's key points of interest. It is across from the University of Mexico Valley and Judicial City, 3 minutes from Omnilife Stadium, 5 minutes from the Zapopan Bus Station, 7 minutes from Plaza Galerias Mall, 8 minutes from Technology Park and other industrial parks, 25 minutes from the historic downtown district and the airport, and just 44 minutes from the Magical World of Tequila complex. The hotel offers private parking, guest loyalty program, laundry and ironing service, hot breakfast, wireless Internet access and Business Corner to stay productive during your stay.one Guadalajara Periferico Poniente proves that traveling to this great city doesn't have to be difficult or expensive. Guests at the one enjoy secure surroundings, comfortable facilities and modern style, plus efficient and helpful service to help make your visit even easier.ABC Medical Center, our protocols ally. A leader in medical best practices for more than 130 years, ABC Medical Center, dedicated to caring for their patients' health, has assisted POSADAS in the development of prevention, hygiene, and disinfection protocols that allow the group to guarantee the safety of their staff and guests.100% smoke free hotel. We remind you that the check-in time is from 3:00 PM. Check-out is at 12:00 PM. We suggest you use our express check-out service
Services
This comfy work area offers private work stations for guests that need to stay productive during their visit. Each desk has a computer with complimentary high-speed Internet access, so you can easily take care of your business. There's also a private meeting room located in the hotel lobby. We know that your time is valuable. That's why we do all we can to help you achieve the objectives of your trip.
Guide Dog
Smoke Free Hotel
Free Outdoor Parking
Shuttle Service Extra Cost
Breakfast
My Stay
My Cast
Rooms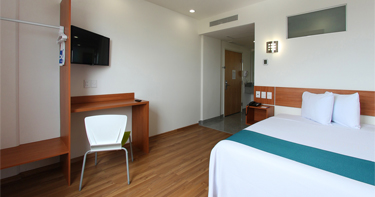 Accessible Room
This room is specially equipped with wheelchair access and hand rails throughout the restroom to help guests feel comfortable. It offers the same amenities and security as other guest rooms, with a Queen bed, restroom with shower, cable TV, work desk, climate control, wireless Internet access and telephone with voicemail. This room is located on the first floor of the hotel and can be connected to a single room via an interior door.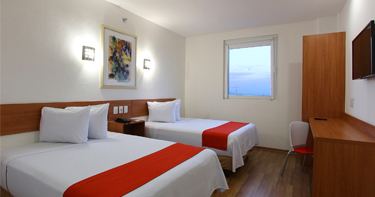 Superior Room, 2 Double
These modern and simple rooms offer the comfort and security you need during your stay. They offer a restful space with two double beds, closet, cable TV, work desk, climate control, wireless Internet access and telephone with voicemail.