ComPosadasCalificacionTripadvisor
Qualified:
ComPosadasTripadvisorModal
x
Location #4 of 207 Specialty lodging in Guadalajara
Summary of qualifications
Best comments
"Shower is not good."
The shower was not good. I asked to change rooms but on the 2nd room was the same situation. We definitely can't have a relax shower like that. In another hand, the staff and hotel location are very good.
"Clean and comfortable"
We stayed 4 nights while attending a convention. The staff was friendly, the breakfast was extensive and tasty and the rooms were clean and comfortable, even though quite small. I would stay again. My only complaint was how small the elevators are. Not a problem if there aren't many at the hotel but when it's full it can take a while.
"Basic but oustanding accommodations"
Modest hotel, but, if in a budget, can't beat this hotel. Outstanding service, very clean and comfortable rooms. Delicious breakfast. Efficient WIFI and, a plus for me, free of charge self-service laundry room. It came very handy during this trip. Highly recommended!
"Business trip"
I stayed one night at the One Expo Guadalajara with my wife for a business trip..I love the waffle maker in the breakfast..The hotel is well located for maby points of interest. Hihly recomended for business trip.
"Good Business Hotel Close to Expo"
Walking distance to Expo. Good business hotel for basics, good WiFi, very sparse furniture. Clean. Decent restaurants and convenience stores close. Have stayed on more than one occasion five block walk to Expo
Top-rated Attractions Nearby
Photos hotel and surroundings (113)
TripAdvisor_one Guadalajara Expo
During your visit to Guadalajara, don't miss the opportunity to stay with a hotel chain that is budget-friendly, safe, welcoming, and functional while offering a number of additional benefits.one Guadalajara Expo is conveniently located in Chapalita, one of the most enjoyable areas of the city where you will find bars, restaurants and shops. It is within a few streets from the Expo Guadalajara Convention Center, 15 minutes from the industrial parks, 20 minutes from the City Center, and 30 minutes from the airport.Whether you travel for business or pleasure, staying somewhere nice doesn't have to be expensive anymore. one Hotels meet the needs of any traveler's budget while ensuring a safe, reliable, comfortable stay and providing efficient service so that you can stay focused on your trip.ABC Medical Center, our protocols ally. A leader in medical best practices for more than 130 years, ABC Medical Center, dedicated to caring for their patients' health, has assisted POSADAS in the development of prevention, hygiene, and disinfection protocols that allow the group to guarantee the safety of their staff and guests.
Services
The hotel has 126 rooms, wireless high-speed Internet access, self-service washing and ironing, parking, food and beverage vending machines, as well as a meeting room and the work area, B-On. In addition, our restaurant serves a hot complimentary breakfast from 6-10 am Monday to Friday and 7-11 am on weekends. The hotel is 100% Smoke Free.
Guide Dog
Smoke Free Hotel
Indoor Parking Extra Cost
Shuttle Service Extra Cost
Breakfast
Rooms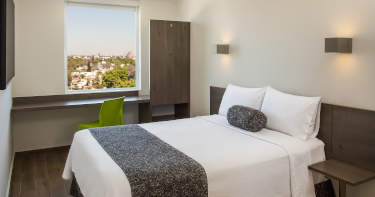 Superior Room, 1 Queen
Find the comfort you need to work or rest in this practical, up-to-date room. It is equipped with a queen bed, office work desk and chair, telephone with voicemail, wireless Internet access, air conditioning, and cable LCD TV.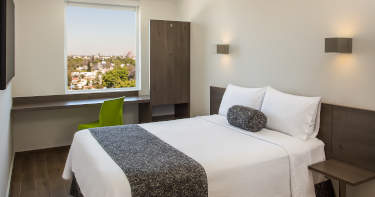 Accessible Room
This room has been carefully designed to provide our special needs guests with the comfort they need and deserve. It is equipped with wheelchair access and safety handrails in the bathtub and bathroom in addition to standard room amenities. It includes a queen bed, work desk, cable LCD TV and wireless Internet access. It is connected to a single room with a bed.