one Guadalajara Centro Histórico
ComPosadasTripadvisorModal
x
Location #38 of 169 hotels in Guadalajara
GreenLeader Silver
Summary of qualifications
Best comments
"vacation"
This hotel is right in the heart of Guadalajara. The Cathedral is next door. The museums are within walking distance. The hotel has a breakfast buffet, that was excellent. This is my Hotel for future stays. The staff wa super friendly. David went above & beyond to make sure all my needs were met, He booked all my tours.
"Very good stay!!!!"
Service at the hotel was great, since checking until checkout, the lovely lady's at the front desk Cecy and Laura were very professional and welcoming also the housekeeper was very attentive and very prompt at solving my many requests, very happy having her as my housekeeper and the security guard at night time Marco was very helpful and professional helping me with a couple requests at midnight, overall great stay ,and affordable and the location was great, amazing view to the cathedral , main square and easy access to many touristic places
"GREAT HOTEL!!"
Awesome view!! Its all close to the hotel, really basic hotel but provides all necessary to have a nice staying it is comfortable, clean and follows all covid hygiene measurements. Perfect place take a tour around all downtown area and do some shopping.
"Excellent Hotel"
Great hotel priced very reasonably. It's in the heart of Guadalajara. Access to everything. Only one complaint: The breakfast was just ok. Would like more breakfast options / better taste. Despite that, I would still stay here and recommend
"Great location but..."
Wonderful location but our room and the hallway lacked basic cleanliness. There was no remote control, no shampoo, and the breakfast options were all cold. Yhe business area consists of 2 outdated computers with no printer. I appreciated later check out time of 12pm
Top-rated Attractions Nearby
Photos hotel and surroundings (225)
ComPosadasCalificacionTripadvisor
Qualified:
TripAdvisor_one Guadalajara Centro Historico
When you visit Guadalajara, one of the cities most full of tradition and folklore in Mexico, stay at one Guadalajara Centro Histórico. An affordable hotel that guarantees your safety and comfort, just what you need to work or rest.Discover the Mexican culture of this city, with its cowboys, tequila and mariachi. In addition to being the heart of Jalisco, this modern city in continually more and more important, both in Mexico and internationally, thanks to its infrastructure of convention centers and the incredible growth of industry and commerce.An affordable hotel that provides only what you need in your travels. It's prime location is in the Historic Center, near the Teatro Degollado (Degollado Theater), the Cathedral, the Hospicio Cabañas (Cabañas Hospice) and more. Your stay here will allow you to be fully immersed in Guadalajara's traditions.ABC Medical Center, our protocols ally. A leader in medical best practices for more than 130 years, ABC Medical Center, dedicated to caring for their patients' health, has assisted POSADAS in the development of prevention, hygiene, and disinfection protocols that allow the group to guarantee the safety of their staff and guests.We remind you that the check-in time is from 3:00 PM. Check-out is at 12:00 PM. We suggest you use our express check-out service.100% smoke free hotel.
Services
The hotel offers 146 guest rooms, complimentary hot breakfast from 6am to 10am during the week and from 7am to 11am on weekends. It's a 100% smoke free hotel.Hotel services include:
Guide Dog
Smoke Free Hotel
Indoor Parking Extra Cost
Shuttle Service Extra Cost
Breakfast
My Stay
My Cast
Rooms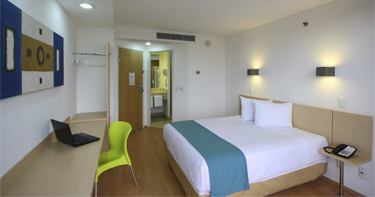 Superior Room, 1 Queen
These practical and basic rooms feature a modern decor, making them welcoming and enjoyable. Rooms feature a queen size bed, work desk, closet, air conditioning and heat, wireless Internet, phone, voicemail and cable TV.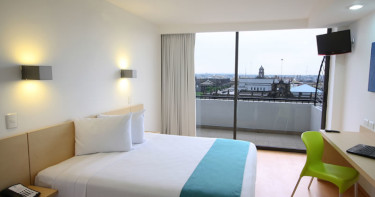 Superior Queen with terrace
Make your trip to Guadalajara comfortable and smooth. This room will surprise you because of its design and layout, which offer a special, modern, and functional space with everything you need to settle down for as long as you want. From your own balcony, you can enjoy panoramic views of the city¿s Historic Center, and once indoors, you can plan your day using our high-speed WiFi. When it is time for bed, pull down the blackout blinds and sleep soundly in a comfortable Queen Size bed.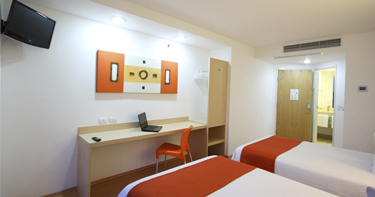 Standard Room, 2 Double
Take a break, rest and recharge in this comfortable and practical room. Featuring two beds, work desk, closet, air conditioning and heat, wireless Internet, phone, voicemail and cable TV.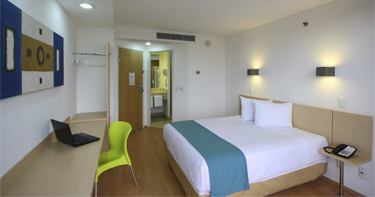 Accessible Room
This room has been specially-equipped to provide comfort to our special guests. These rooms have the same amenities as standard rooms but are wheel-chair accessible and provide safety rails for the shower, toilet and tub. They also have cable TV, Internet, a work desk and a queen size bed. This room connects with another room and has two beds.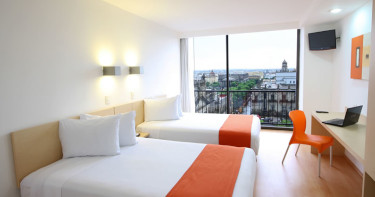 Superior Double with terrace
For those who are traveling with friends or family, this is the perfect room in which to enjoy a practical, accessible stay, as it is fully equipped with two double beds, blackout blinds, and high-speed WiFi. Its design and layout make it a modern, functional space, while its location lets guests enjoy some of the best panoramic views of Guadalajara¿s Historic Center. The room has its own balcony and sliding windows, making it more spacious, and giving it natural lighting and ventilation.