ComPosadasCalificacionTripadvisor
Qualified:
ComPosadasTripadvisorModal
x
Location #4 of 27 hotels in Durango
GreenLeader Silver
Summary of qualifications
Best comments
"It's ok"
The hotel is nice but the rooms are a little bit small also the rooms are not very clean and the bed smells like if they didn't change the sheets. They have a nice breakfast and the staff is very friendly.
"A very good value"
Small room but clean and more than adequate. Very convenient location next to large mall, with restaurants and large food court. Easy access to historical center by taxi, inexpensive. Staff at reception were friendly and helpful, some spoke English. Breakfast was satisfying, with many choices, and the staff was helpful and kept refilling the items.
"Excellent Hotel"
Driving from Denver to Lo De Marcos, Mexico. excellent hotel, English speaking staff was very helpful and friendly, convenient off the highway, connected to a shopping mall. Parking included Highly recommended
"Best location, great staff, very clean and quiet"
The room is a bit small, but that didn't bother me. The views are great! The hotel is right next to a mall, walmart, groceries stores, and Starbucks is like 100 meters away. There are taxi cabs at the door all the time of the day and night. I felt very safe around the area. The employees try their best to help you. Francisco, the breakfast guy was so sweet offering to make me eggs the way I wanted. I found hand written notes from the cleaning ladies. Very thoughtful!
"TRANQUILIDAD"
recomiendo ampliamente el hotel por ubicación, tranquilidad, amabilidad, atenciones, las habitaciones son sencillas, limpias en todo momento asi como el hotel esta muy limpio, el desayuno tiene variedad,
Top-rated Attractions Nearby
Photos hotel and surroundings (72)
When visiting Durango, don't miss the opportunity to stay with a hotel chain that is budget-friendly, safe, welcoming, and practical while offering a number of additional benefits. one Durango is conveniently located in the city's largest shopping center and is a mere 10 minutes away from the main industrial areas. Whether for business or pleasure, traveling doesn't have to be expensive anymore. one Hotels meet the needs of any traveler's budget while at the same time ensuring a safe, reliable, comfortable stay while providing efficient service so that you can stay focused on your trip.ABC Medical Center, our protocols ally. A leader in medical best practices for more than 130 years, ABC Medical Center, dedicated to caring for their patients' health, has assisted POSADAS in the development of prevention, hygiene, and disinfection protocols that allow the group to guarantee the safety of their staff and guests.Please note that check-in begins at 3pm, subject to availability. Check-out is at 12pm. Express check-out is recommended. one Durango is 100% smoke-free.
Services
The hotels has 126 guest rooms and a restaurant serving complimentary, breakfast open from 6am to 10am Monday to Friday and 7am to 11am on weekends. Guests can also enjoy high-speed wireless Internet, laundry and ironing service, parking, vending machines with food and drinks, and meeting rooms.
Guide Dog
Smoke Free Hotel
Indoor Parking Extra Cost
Shuttle Service Extra Cost
Breakfast
My Stay
My Cast
Rooms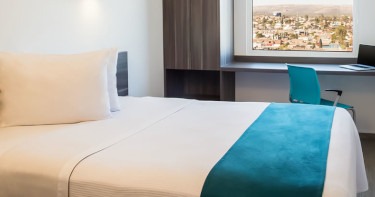 Superior Room, 1 Queen
Find the comfort and warmth that you need to work or rest in this practical guest room. It is equipped with a queen bed, cable TV, wireless Internet, work desk, telephone with voicemail, closet, and individually controlled heating and air conditioning.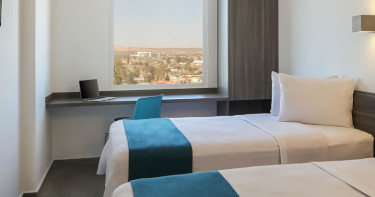 Superior Room, 2 Twin
Enjoy a comfortable and peaceful stay in this inviting room that offers exactly what you need to work or relax. It includes two twin size beds, cable TV, wireless Internet, work desk, telephone with voicemail, closet, and individually controlled heating and air conditioning.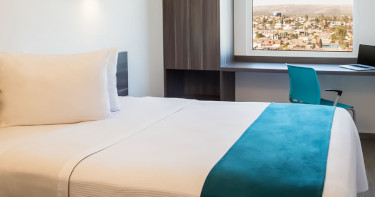 Accessible Room
This room has been carefully designed to provide our special needs guests with the comfort they need and deserve. It includes a queen bed and is entirely wheelchair-accessible, featuring safety handrails in the bathtub and bathroom, in addition to the amenities found in all other guest rooms, like cable TV, wireless Internet and a work desk.