ComPosadasTripadvisorModal
x
Location #2 of 6 hotels in Cuautitlan Izcalli
GreenLeader Gold
Summary of qualifications
Best comments
"Great value!"
Nice, clean hotel with a fantastic breakfast. I would return without any hesitation. The staff was friendly and the rooms, although smaller than what we are used to in the US, were clean and comfortable. I also felt very secure.
"Receptionist is an a-hole!"
Avoid hotel due to sarcastic, humiliating male receptionist. He rudely informed us of the regular check-in time (3 PM) eventhough there was a room available at that time. Instead of just asking us to come back later, he gave us the room, but went out of his way to make sure we knew this was a one-time thing, and that we should "NEVER even dare to arrive before that time ever again" (that's how it sounded to me, anyway). He failed to properly activate our keycard, and then talked down to me when I had to ride the elevator back down to ask for help. It seems he was upset that I has interrupted him and his coworker from looking at the security monitor and laughing.
"GOOD FOR THE SITH"
The place was very good and safe and very close to shopping center and movies everything is within walking distance also if you like to start your day with something light trust me the breakfast was good very good can complain.
"Great simple hotel"
Very nice staff, great beds, nice rooms and good breakfast. Located in Plaza San Marcos, a place with some commerce, cinema and entertainement areas, including bowling area, gaming and snooker nearby. Lots os places to eat also... The hotel is simple but very comforrable and clean... Loved the place...
"Good for a single traveler"
This hotel has great service, simple amenities as free breakfast, and clean rooms. The reason no 5 stars, the walls are paper thin. We could hear the people snoring in the room next door and in the middle of the day, the maids go around moving furniture to clean which sounds like they are in your room. Rooms are small. But adequate.
Top-rated Attractions Nearby
Photos hotel and surroundings (83)
ComPosadasCalificacionTripadvisor
Qualified:
TripAdvisor_one Cuautitlan
When visiting Cuautitlán Izcalli, don't miss the opportunity to stay with a hotel chain that is budget-friendly, safe, welcoming, and functional while offering a number of additional benefits.one Cuautitlán, located near the San Marcos Plaza, is within easy access to the main industrial parks of the area: O'Donnell, three rivers, Cuamatla, La Luz, El Trebol, Cartagena and the FORD plant, and is 10 minutes from the village of Tepotzotlán and the Xochitla ecological reserve.Whether you travel for business or pleasure, staying somewhere nice doesn't have to be expensive anymore. one Hotels meet the needs of any traveler's budget while ensuring a safe, reliable, comfortable stay and providing efficient service so that you can stay focused on your trip.ABC Medical Center, our protocols ally. A leader in medical best practices for more than 130 years, ABC Medical Center, dedicated to caring for their patients' health, has assisted POSADAS in the development of prevention, hygiene, and disinfection protocols that allow the group to guarantee the safety of their staff and guests.Please note that check-in begins at 3pm, subject to availability. Check-out is at 12pm. Express check-out is recommended.100% smoke-free hotel.
Services
The hotel has 156 guest rooms and a restaurant serving a hot complimentary breakfast from 6am-10am Monday to Friday and 7am-11am on weekends. Guests can also enjoy high-speed wireless Internet, laundry and ironing service, parking, vending machines with food and drinks, and meeting rooms. Please note that check-in begins at 3pm. Check-out is at 12pm. Express check-out is recommended. The hotel is 100% Smoke Free.
Guide Dog
Smoke Free Hotel
Free Outdoor Parking
Free Shuttle Service
Breakfast
Digital Check-in
My Stay
My Cast
Rooms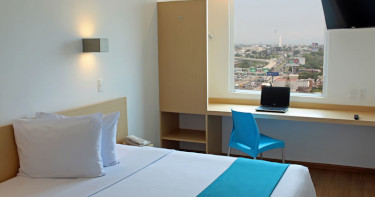 Accessible Room
This room has been carefully designed to provide our special needs guests with the comfort they need and deserve. It is equipped with wheelchair access and safety handrails in the bathtub and bathroom in addition to standard room amenities. It includes a queen bed, work desk, cable LCD TV, and wireless Internet. It is connected to a single room with a bed.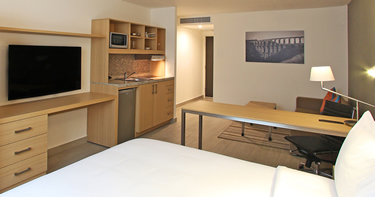 Loft
For longer stays, enjoy this comfortable, fully equipped room with everything you need within reach. It comes with a queen bed, kitchen, dining room, mini bar, and cable LCD TV in addition to standard room amenities.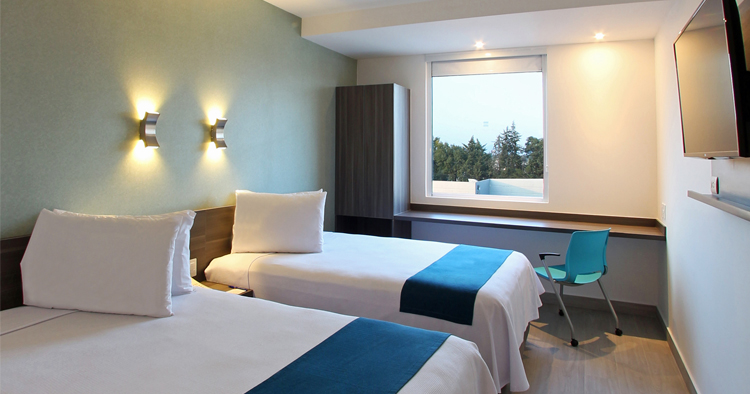 Superior Room, 2 Double
Enjoy a comfortable and peaceful stay in this inviting room that offers exactly what you need to work or relax. It includes two single beds, office work desk and chair, telephone with voicemail, wireless Internet, full bathroom, air conditioning and cable LCD TV.