ComPosadasCalificacionTripadvisor
Qualified:
ComPosadasTripadvisorModal
x
Location #2 of 20 hotels in Coatzacoalcos
GreenLeader Silver
Summary of qualifications
Best comments
"A beautiful view of Coatzacoalcos from One"
Yesssss, i liked the hotel, the breakfast was hot and sexy like the sun of Coatzacoalcos. The room was funtional but enough to make me feel at home with very comfortable beds and a efficient AC system. Every morning I enjoyed the view of coatzacoalcos.
"This Hotel is everything they claim"
One Hotel is listed as a 2 or 21/2 star Hotel. That is what I expected and in many ways they excelled. It was a late, after midnight, check in with no reservations. The midnight man knew his job and had me in my room in 10 minutes. The lobby and surrounding area was clean and modern. An elevator to my 2nd floor room, the room easy to find and all well marked. The room had two, single beds, each with two pillows (yea!). The room was clean, small flat screen TV, cable, great AC and a view of the Gulf I found out in the morning. Part of the 2 star is size, the room was small, the bathroom small but modern with plenty of hot water. I was traveling alone on business so that is all just fine. The breakfast buffet was fine, again, for the price of the room. Actually I paid nearly 3 times the amount in Monterrey for the same buffet. A couple scrambled egg dishes, cereal, juice, toast, coffee, fruit was available. Tasted fresh and fine for what I ate. This is when you see it is used mostly as a business man's hotel. Everyone up early, dressed for work or meetings. Every floor has a laundry room with washer and dryer, looked like it was free since there was no coin slots. Also an ironing board and two irons. great idea.
"good hotel and price"
I was for two weeks in ONE HOTEL and was very nice to stay there good price, good position , silent and quite , I raccomed this hotel expeccially for quality/price. Room always clean , very close to Forum mall
"Estancia en NH Coatza, Veracruz"
It is regular hotel, economic 4 star hotel. stay only business propuse, a regular rooms, regular restaurant, but really hard be there in restaurante the air condition it is no working so is hard to stay to eat.
"Good hotel near the beach, good price."
This hotel is great if you are looking for a place to sleep and rest after being out all day. The price is great. Breakfast was good based on the price of the hotel. It's near the convention center and Forum mall. if you don't mind walking there are places to eat nearby. Would invest in some outdoor lounging space, new bedding and will add natural juices to the breakfast, other than that, you can't ask for more for the place.
Top-rated Attractions Nearby
Photos hotel and surroundings (41)
Have you made up your mind about coming to Coatzacoalcos? At one, we are ready to offer you a pleasant, efficient, and safe stay in this important Veracruz port city. Whatever the reason for your trip, it will be free of complications. We have 126 guest rooms that will surprise you, not only because of their affordable rates (breakfast is included), but because of everything they have to offer: private, wide, functional spaces, and views of the sea or Plaza Fórum, you decide what you want to look at.The hotel is located inside Plaza Fórum, the city's main shopping center, and just two blocks away from El Malecón (the Boardwalk), which makes one Coatzacoalcos Fórum one of the best located hotels in town. It is close to tourist sites, the beach, the port, and the city's main industries.We are practical and functional, and we move to your rhythm. Here, you do not have to wait for anything, thanks to our self-service concept and easy access technology. Check yourself in at our Digital Kiosk, and if you are a Fiesta Rewards member and download our app, you can accumulate points to earn rewards and benefits. At one Coatzacoalcos Fórum, feel free to borrow an iron or wash your clothes in the laundry room; your work days or days off are for you to live as you want, because you can.ABC Medical Center, our protocols ally. A leader in medical best practices for more than 130 years, ABC Medical Center, dedicated to caring for their patients' health, has assisted POSADAS in the development of prevention, hygiene, and disinfection protocols that allow the group to guarantee the safety of their staff and guests.
Services
The hotel offers 126 guest rooms, hot breakfast included from 6am to 10am during the week and from 7am to 11am on weekends, snacks and sandwiches are available throughout the day. It's a 100% smoke free hotel. Hotel services include:
Guide Dog
Smoke Free Hotel
Breakfast
My Stay
My Cast
Rooms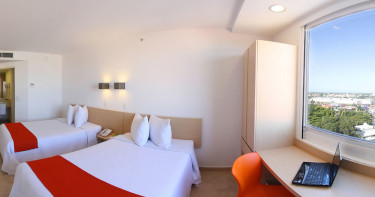 Superior Room, 2 Double
Enjoy your trip and share it with whoever you want in this pleasant room with two double beds. It is totally functional, and you can multiply the fun by watching content on your screen. Of course, it also has a desk, in case something comes up at work.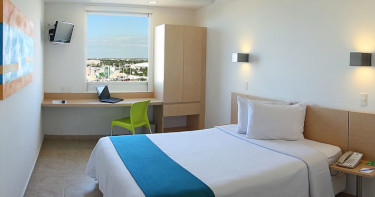 Superior Room, 1 Queen
The functional decor will make you feel comfortable as soon as you step into this room, where you will find everything you need: good lighting, a Queen Size bed for you to rest comfortably, and a screen for your free time. If you need to work, use the desk, and discover additional small details that will make your stay more joyful.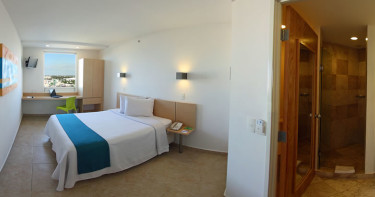 Accessible Room
This room is connected with the neighboring guest room, because we want you to feel safe at all times and have everything within reach. It's also equipped with special wheelchair access, as well as handrails in the bathroom and shower. Your stay will have every amenity and comfort: connect to the screen to stream your favorite music and digital content.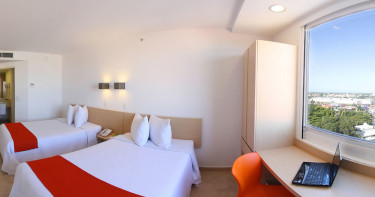 Superior Room, 2 Twin
If you are traveling alone, or better yet, with company, make sure you have the best and most practical room, just like this one. It has the amenities you need to enjoy your stay, sharing a relaxed, comfortable atmosphere. Here, you can spend some time working, then watch a TV show on the screen, and of course, have a good rest to refuel.