Banner one Ciudad de México Periférico Sur
one Ciudad de México Periférico Sur
ComPosadasCalificacionTripadvisor
Qualified:
ComPosadasTripadvisorModal
x
One Ciudad de Mexico Periferico Sur
Location #76 of 456 hotels in Mexico City
Summary of qualifications
Best comments
"this hotel robbs customers"
I have made a booking in this hotel from January 11th 2022 to January 12 2022. They did not accept the payment made during my booking as I've booked through Booking.com and they do not accept Distance Payment. I therefore made a wire transfer to them. Wire transfer got through and I provided them with a proof of the transfer. yet, when I've tried to check in they told me they did not receive the money yest and they refused to give me a room eventhough I had an other payment method to show them. Wire transfers take time and it is quite normal they did not receive it at time of check in. The worst is that they refused to refund me with the amount I had already transfered. So they robbed me and they are fine with it. I totally advise people to go to an other hotel as you might not be received well in this one. And trust me... I have done many hotels and some in very bad places. But i had never been treated this way. I am thinking about filling a complain to the police and to Booking.com...
"Rough towels"
Rough, old towels. Fairly new, clean, good service at the front desk. Young staff. No restaurant but free continental breakfast is good with no strings attached. WiFi was sometimes difficult to connect to.
"Adequate"
We stayed here on business for a few days by arrangement of our hosts. This hotel's location may be convenient for some travelers—for example, it's not far from the university (UNAM)—though otherwise there's little of interest nearby. The staff was helpful and the premises were clean. Unfortunately, the beds and pillows were a bit lumpy; our room's temperature control was unreliable, and a fan blew chilly air directly on the bed; the shower fixture was fixed at an inconvenient angle; and sound insulation was such that toilet flushes from rooms above ours were intrusively audible. The breakfast buffet was fairly good, though on a Sunday morning tea, sugar, and some food items were slow to be refilled and rubbish was slow to be removed. Worst of all, on two nights our sleep was disrupted by obnoxious revelers in the hallway, and calling the front desk drew slow and ineffectual responses. The Hotel One is nonetheless a decent choice for travelers who need basic lodging and don't expect much more.
"Worst service ever"
I stayed there for 7 nights and I left it because someone opens my bag and roped some money from it. They didn't act officially at all - nobody speaks English well. I spent three hours in the lobby trying to solve it and to understand whats going on finally, they shifted me to another hotel related to the same operator - with breakfast voucher 1000 pesos instead of my stolen money.(My room was already with free breakfast) My experience was truly humiliating and I am not satisfied with their attitude. I don't recommend this hotel to any tourist or business man
"Decent business hotel"
Stayed for two nights and the accommodations were adequate. The room was clean and spacious enough but the towels were very worn on the edges. Also, small things like tissues and hair conditioner are not supplied. The morning breakfast was adequate but both mornings had to ask staff to brew more coffee. The staff need to focus a bit more on the details.
Top-rated Attractions Nearby
Photos hotel and surroundings (90)
TripAdvisor_one Ciudad de Mexico Periferico Sur
When visiting Mexico City, don't miss the opportunity to stay with a trusted hotel chain that is budget-friendly, safe, welcoming, and functional while offering the things you need for a successful stay.one Mexico City Periférico Sur is strategically located near one of the capital city's largest shopping malls and also provides convenient access to prestigious universities, hospitals, and the largest amusement park in Latin America.Whether traveling for business or pleasure, you don't have to spend a fortune to stay somewhere nice. The one hotel meets the needs of any traveler's budget while ensuring a safe, reliable, comfortable stay, and efficient service, so that you can stay focused on your trip.ABC Medical Center, our protocols ally. A leader in medical best practices for more than 130 years, ABC Medical Center, dedicated to caring for their patients' health, has assisted POSADAS in the development of prevention, hygiene, and disinfection protocols that allow the group to guarantee the safety of their staff and guests.We remind you that the check-in time is from 3:00 PM. Check-out is at 12:00 PM. We suggest you use our express check-out service.
Services
The hotel offers 144 guest rooms, a restaurant serving complimentary hot breakfast and open from 6am to 10pm during the week and from 7am to 11pm on the weekend. It's a 100% smoke free hotel. Hotel services include:
Guide Dog
Smoke Free Hotel
Indoor Parking Extra Cost
Breakfast
Digital Check-in
My Stay
My Cast
Rooms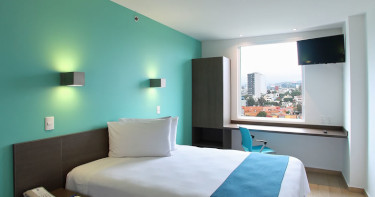 Accessible Room
This comfortable room has everything you need to work or rest. It features a queen bed, closet, cable TV, wireless Internet, work desk, individually-controlled air conditioning, and telephone with voicemail.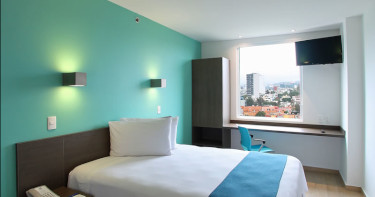 Superior Room, 1 Queen
Enjoy a comfortable and peaceful stay in this inviting room that offers exactly what you need: 2 single beds, wireless Internet, work desk, individually-controlled air conditioning, and telephone with voicemail.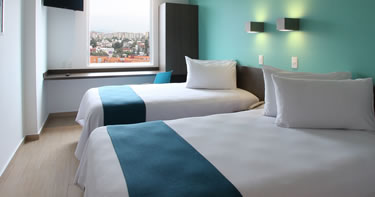 Superior Room, 2 Twin
This room has been carefully designed to provide our special needs guests with the comfort they need and deserve. It is equipped with wheelchair access and safety handrails in the bathtub and bathroom, in addition to the amenities found in all other guest rooms, like cable TV, wireless Internet and a work desk.