Banner one Ciudad de México Patriotismo
one Ciudad de México Patriotismo
ComPosadasCalificacionTripadvisor
Qualified:
ComPosadasTripadvisorModal
x
One Ciudad de Mexico Patriotismo
Location #103 of 456 hotels in Mexico City
Summary of qualifications
Best comments
"Basic, and OK.."
On a three night business trip. The company booked me into this hotel, since it's connected to our office through the shopping mall. You have to enter the hotel through the mall by TGIF's. The elevator is on the right after you walk into the mall. The room, Super basic, small, with a bed, shower, desk and four plastic hangars. But the room is clean. There is a breakfast on the lobby level, but not so great, but there is Starbucks in the mall. There is no gym, but a sport club next door in the mall, and you can get a daily pass ( great gym by the way ).... overall if you are ok with a super basic hotel, no frills, then this place is fine.
"Guest and family"
Very, very satisfied with One hotel, can not compare with other ones that I visited before staying in the one that I consider 5 stars hotel. From the person in the desk , to the person in the breakfast preparations the food for all tastes, is not only Continental breakfast is real food, plus the security no doubt, hopefully return soon, made my trip at easy.
"Business Hotel"
Usually when visiting CDMX I stay in the Santa Fe area, this time due to a business meeting One Hotel was recommend to me. It is what it is, a business hotel, just sleep have a shower a quick coffee and out you go. Don´t get me wrong it is clean and well appointed for the size and price you pay. The building is on a shopping mall and in one of the main streets in the city, so you can hear the night noice. You enter the hotel through an elevator situated on the ground floor of the shopping mall, there is no security there, you do need your room key to access your floor, but I would like a little more security at the hotel. This hotel is all about location!
"Very well situated and run hotel in Mexico City"
Excellent service and location, well-designed and practical room, very decent breakfast buffet, all in all a very good value for the money. Very conveniently located inside the Metropoli shopping mall, room was great and with a wonderful view, attention from all staff members was first-class, needs were taken care of in a well thought and practical manner. Breakfast was good quality and filling. All in all a pleasant experience.
"Use it for business purposes only!"
I was in Mexico City for the weekend, attending to my cousin's wedding. My brother was in charge of making the hotel reservations, so he picked this one which was really close to the church, and hotel is actually located in a very nice commercial plaza (loved the golf range from TGI Fridays by the way - must visit). The room is really, really, really small. It fits the description of "only for business purposes", where you just go in, take a sleep, a shower, and go out. Bed was comfortable, surprisingly. Maid service was really good. Actually I need to praise Gabriela. She was so kind to us, always making sure we had our room clean, and very willing to bring anything we needed. Breakfast service was average. Tables were constantly "dirty" because people came and left, and nobody cleaned them for the next customer. So, don't use this one as a family hotel. There are better options.
Top-rated Attractions Nearby
Photos hotel and surroundings (55)
TripAdvisor_one Ciudad de Mexico Patriotismo
Ideally situated so you'll have everything you need close by, one Patriotismo Ciudad de México is an excellent option for business and vacation travelers with a low budget.The hotel is situated on Patriotismo Avenue, one of the main boulevards of the city that connects to the Circuito Interior. It's just six blocks from the WTC, nine km from the Mexico City International Airport, two km from the Colonia Condesa and six blocks from the financial district of Insurgentes Avenue.The hotel's location inside Plaza Metropoli gives you access to restaurants, a movie theater, high-end boutiques and a gym. Choose an affordable hotel for your next trip to Mexico City and discover a safe, comfortable stay that gives you everything you need.ABC Medical Center, our protocols ally. A leader in medical best practices for more than 130 years, ABC Medical Center, dedicated to caring for their patients' health, has assisted POSADAS in the development of prevention, hygiene, and disinfection protocols that allow the group to guarantee the safety of their staff and guests.100% smoke free hotel.
Services
The hotel offers 132 guest rooms, hot breakfast included from 6am to 10am during the week and from 7am to 11am on weekends, snacks and sandwiches (additional charge) are available throughout the day. It's a 100% smoke free hotel.Hotel services include:
Guide Dog
Smoke Free Hotel
Indoor Parking Extra Cost
Shuttle Service Extra Cost
Breakfast
Digital Check-in
My Stay
My Cast
Rooms
Accessible Room
This room has been specially equipped to provide comfort to our special guests. These rooms have the same amenities as standard rooms but are wheel-chair accessible and provide safety rails for the shower, toilet and tub. They also have cable TV, Internet, a work desk and a queen size bed. The room connects with another room and is located on the first floor of the hotel.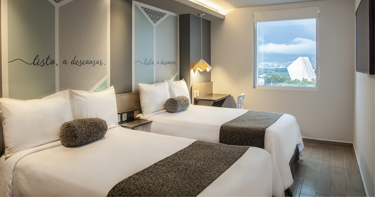 One Plus, 2 Twin
Ready to give you a full rest with just what you need and recharge. The room has cable TV, central air conditioning, internet, work desk, in the case of double rooms, it has 2 twin size beds, while the single room has a queen bed with work desk, independent air conditioning , wireless internet and telephones with data port.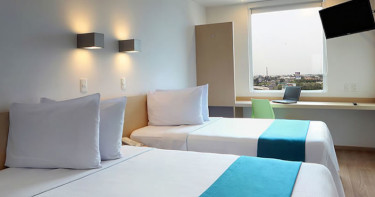 Superior Room, 2 Twin
When you need to rest and recharge, this room is perfect. Double rooms offer cable TV, central air conditioning, Internet, work desk, and 2 twin size beds. Single rooms have one queen bed, work desk, an independent air conditioning unit, wireless Internet and phones with data port.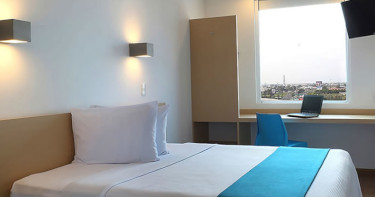 Superior Room, 1 Queen
A modern, new room that's perfectly designed for your relaxation. The room features TV, central air conditioning, Internet, phones with data port, cable TV and work desk. Double rooms have twin beds and single rooms have one queen size bed.
One Plus, 1Queen
Enjoy a room where you will feel free and comfortable, relax in the Queen Size bed and spend pleasant moments in a modern and functional atmosphere, where you can do things your own way. It is equipped with a queen size bed, desk, work chair, Wi-Fi, vanity mirror and details that will make your stay practical and creative at the same time.