one Chihuahua Norte, practical, functional, and uncomplicated.Welcome to one Chihuahua Norte, the practical, comfortable, and affordable option for you, who like to travel without complications. A casual, current, modern style awaits at this hotel, with a friendly experience that connects with your lifestyle and your taste for independence.Whether you're here for work, to relax, or for a weekend getaway, you decide how to enjoy your stay. We are a practical, functional hotel that moves to your rhythm with high quality services that guarantee a pleasant, efficient, and safe stay. With approachable technology and a self-service concept, at one, you can check yourself in at our digital kiosk; play your own content on the Cast system in your room; take an iron if you need it; wash your clothes in the laundry room at any time of day; kick off your morning with a nice breakfast at Start (included in your rate), and upgrade it with the one Start + option. You decide how to live your stay.Because you can, come to one Chihuahua Norte; you'll be surprised by everything you'll find, with a friendly environment and unexpected details.ABC Medical Center, our protocols ally. A leader in medical best practices for more than 130 years, ABC Medical Center, dedicated to caring for their patients' health, has assisted POSADAS in the development of prevention, hygiene, and disinfection protocols that allow the group to guarantee the safety of their staff and guests.
Rooms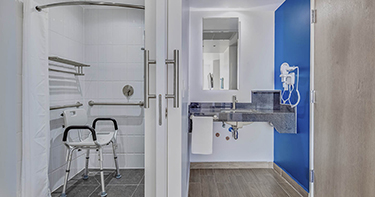 Accessible Room
Everything is within reach in this practical room, equipped with special wheelchair access, and grab bars in the bathroom and shower for your safety. Enjoy a pleasant stay with every comfort, play your music or shows on the screen, and if you need to, you can request a connecting room.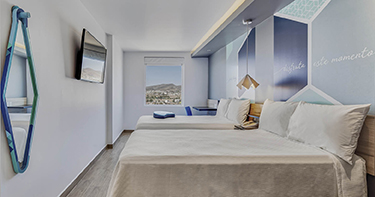 Superior Room, 2 Twin
If traveling is exciting, doing it in good company is even better. This is also true of the practical amenities you'll find in this room, with a functional style that creates a modern, pleasant environment that is perfect for sharing. Both beds are very comfortable for sleeping and watching any movie you choose to stream on your screen. You'll also find a desk in case one of you needs to work.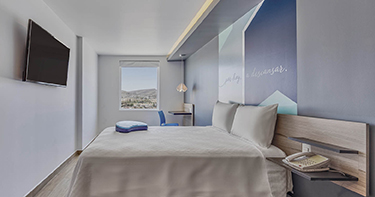 Superior Room, 1 Queen
Take your time to unpack, because you'll feel right at home as soon as you enter this room. Here, you'll find everything you need: good lighting, bright, modern decor, a Queen Size bed to rest properly, a desk in case you need to work, a screen with Cast system, and nice details that will liven your stay.