Banner one Aguascalientes Sur
ComPosadasCalificacionTripadvisor
Qualified:
ComPosadasTripadvisorModal
x
Location #12 of 63 hotels in Aguascalientes
GreenLeader Silver
Summary of qualifications
Best comments
"Not as before. "
Been staying in this hotel for several years every time I'm in town. Alway been clean. This time was very different. I was very disappointed to see a dirty Bathroom with a broken faucet. Nasty floor in the bathroom. Toilet was dirty too. Couldn't wait to leave. Breakfast was not good at all. I didn't even eat their breakfast after trying it on the first day. Didn't cancel because my room was non refundable. People were nice as before. But everything else went down the heal :(
"Dependable"
I had a business meeting in Aguascalientes and had to stay overnight. Somebody suggested One which is part of a hotel chain I had tried before. The location was unbeatable for this low-priced alternative.
"One Aguascalientes"
Overall, my stay was very pleasant. Excellent service from staff. Breakfast service has improved from my last stay. Rooms are clean. This is an excellent choice for a business trip. Highly recommended hotel.
"Friendly and efficient"
Although there was a line at check in, the solo clerk did a great job being as expedient as possible. Once it was my turn the process was fast and easy. The room was small but it was the perfect size for the price and its purpose as I only needed a one night stay after flying into Aguascalientes.
"Nice and reason priced hotel"
Hotel One is a chain hotel throughout Mexico and mainly used by business travelers as well as travelers passing by the city. The rooms are clean and comfortable, but for a family of 3, the room is a little small, but you could manage for a one night stay. Their breakfast is excellent with american style breakfast with scrambled eggs, ham and sausage, frijoles, yogurt, juice , coffee , cereals, etc. The breakfast is free. The price for one night stay is around 900 pesos. Good parking space and the staffs are very helpful and courteous to guests. Can¨t beat the free breakfast and coffee or tea during the day.
Top-rated Attractions Nearby
Photos hotel and surroundings (33)
tripadvisor one Aguascalientes Sur
When visiting Aguascalientes, enjoy the excellent location, comfort and safety that the one Aguascalientes Sur has to offer. The hotel is located in one of the main industrial development areas and is also ten minutes from the airport and ten minutes from the Villa Asuncion shopping center, where you can spend your free time exploring restaurants, movie theaters, and high-end boutiques.The hotel features a simple, modern and completely new design and is located right off José María Chávez Avenue. It's perfect for business travelers and vacationers, offering just what you need to rest and recharge.In addition to the Nissan Aguascalientes Plant, which is very close to the hotel, the city center is ten minutes away. Avenida Las Americas, home of some of the best restaurants and attractions in the city, is five minutes away. Visitors must see the City Theater, the San Marcos garden, and the Plaza de Toros Monumental Bull Arena, all very close to one Aguascalientes Sur.ABC Medical Center, our protocols ally. A leader in medical best practices for more than 130 years, ABC Medical Center, dedicated to caring for their patients' health, has assisted POSADAS in the development of prevention, hygiene, and disinfection protocols that allow the group to guarantee the safety of their staff and guests.We remind you that the check-in time is from 3:00 PM. Check-out is at 12:00 PM. We suggest you use our express check-out service.100% smoke free hotel.
Services
The hotel offers 126 guest rooms, hot breakfast included from 6am to 10am during the week and from 7am to 11am on weekends. It's a 100% smoke free hotel.
Smoke Free Hotel
Free Outdoor Parking
Free Shuttle Service
Breakfast
My Stay
My Cast
Rooms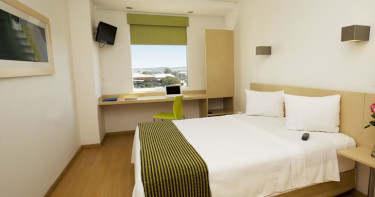 Superior Room, 1 Queen, 1 Twin
The cozy atmosphere of this room ensures a deep rest. It has one Queen size bed and one Twin size bed, a desk, a closet, air conditioning and heating system, wireless Internet, telephones with voice mail and cable TV.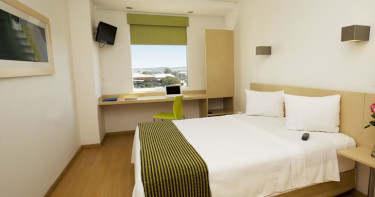 Superior Room, 1 Queen
A modern room that provides exactly what you need, making it a perfect base for your endeavors. It has one queen size bed, desk, independent air-conditioning unit, wireless Internet, phone with voicemail and cable TV.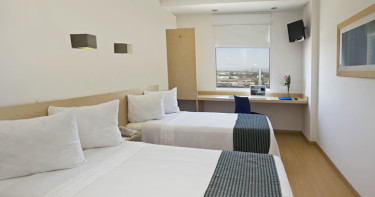 Superior Room, 2 Double
The cozy atmosphere of this room ensures a deep rest. It has two double beds, a desk, a closet, air conditioning and heating system, wireless Internet, telephones with voice mail and cable TV.
Accessible Room
This room has been specially equipped to provide comfort to our special guests. These rooms have the same amenities as standard rooms but are wheel-chair accessible and provide safety rails for the shower, toilet and tub. They also have cable TV, Internet, a desk and a queen size bed.