ComPosadasCalificacionTripadvisor
Qualified:
ComPosadasTripadvisorModal
x
Location #19 of 195 hotels in Acapulco
GreenLeader Bronze
Summary of qualifications
Best comments
"Terrific hotel - great value,location, breakfast"
A great hotel which delivers on all counts. It is only one long block from the golden sands of Acapulco Bay. My room had a view of the swimming pool and Acapulco Bay. They serve the best breakfast-included breakfast I have ever tasted - and it's not a continental breakfast. It's the real deal. Service was very good; check-in was easy. There is a taxi-stand in front with friendly drivers that charge a reasonable rate. I especially recommend taxi #4010. Good value - I was charged just under $54@, which included everything, including a buffet breakfast. A couple of minor quibbles. Nearly everything is electronic, including the door and room lights. A friendly maid showed me how it worked. Also, when it rains, the front is extremely slippery. Tread carefully. Enjoy!
"Good hotel for the price, clean, basic, and cheap"
One hotel is an excellent hotel vs the price, the rooms are tiny, but for 2 people is ok, they offer hot breakfast, eggs, beans, potatoes, bread, juice, fruit, yoghurt, cereal, etc. They have a good pool, is only 2 blocks from the beach, and is near to many restaurants, stores, etc. is on the main avenue, the staff is kind and polite. The rooms are clean and they have housekeeping service every day.
"excellent price to experience ratio"
I spent only 2 days for a business trip, and it allowed me to visit the sea walking at most 300mts and spend the afternoon drinking a beer in front of the sea. Is well located and you have access to many different business around.
"One and only"
Great hotel with awesome service. Got everything one might want, a clear suitable room, pool, breakfast, getting in\out not via the lobby, even after checkout you still can get everything you need for a day on a beach and leave your luggage in the hotel. Almost perfect.
"Adequate, but nothing "fancy"."
I had the opportunity to try Hotel One Acapulco Costera in June 2017. One of the main reasons I chose that property, is, that it is one of the very few hotels in the Costera zone that is relatively new. The majority of hotels are between 30-40 years old in the Costera zone, and are in desperate need of renovations. So Hotel One, met my need of a place to stay that wasn't so old. In spite of that, it did not appear to be as new as it is, mainly because the floor tiling detracts from that, as it is an overused design, from many years ago, used in many properties. And, the rooms are small, especially for an extended stay, would feel cramped. My stay was when there was a 30% off sale, so it came in under US $50.00 per night, which is reasonable, all things considered.
Top-rated Attractions Nearby
Photos hotel and surroundings (75)
Tripadvisor_one_Acapulco_Costera
ComPosadasDesWeb
With its brand-new simple and modern design, one Acapulco Costera offers you a comfortable stay and has just what you need to work and/or rest. Its strategic location in Acapulco's Zona Dorada(Golden Zone) on the Costera Miguel Aleman.The hotel's architecture creates a fresh, bright environment ideal for resting after a work meeting or sightseeing through the harbor. So many top attractions are easily accessible including restaurants, clubs, supermarkets, El Rollo Water Park, the Jai Alai Game Center, high-end stores and more. It's also twenty minutes from the Juan N. Alvarez International Airport and five minutes from the Convention Center.one Acapulco Costera is an Eco-friendly hotel, so it is a 100% smoke free hotel.ABC Medical Center, our protocols ally. A leader in medical best practices for more than 130 years, ABC Medical Center, dedicated to caring for their patients' health, has assisted POSADAS in the development of prevention, hygiene, and disinfection protocols that allow the group to guarantee the safety of their staff and guests.We remind you that the check-in time is from 3:00 PM. Check-out is at 12:00 PM. We suggest you use our express check-out service.
Facilities
Services
The hotel offers 126 guest rooms, hot breakfast included from 6am to 10am during the week and from 7am to 11am on weekends, snacks and sandwiches are available throughout the day. Hotel services include:
Guide Dog
Smoke Free Hotel
Indoor Parking Extra Cost
Outdoor Pool
Breakfast
Digital Check-in
My Stay
My Cast
HabitacionesMinisite
Rooms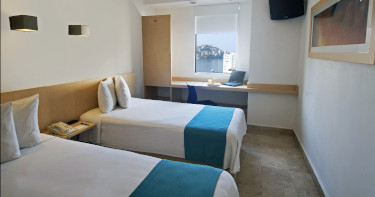 Superior Room, 2 Double
The cozy atmosphere of this room ensures a deep rest. It has two double beds, a desk, a closet, air conditioning and heating system, wireless Internet, telephones with voice mail and cable TV.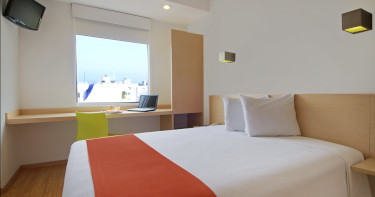 Accessible Room
This room has been specially equipped to provide comfort to our special guests. These rooms have the same amenities as standard rooms but are wheel-chair accessible and provide safety rails for the shower, toilet and tub. They also have cable TV, Internet, a work desk and a queen size bed.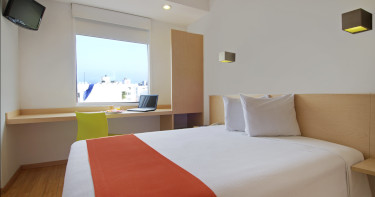 Superior Room, 1 Queen
A cool and comfortable room, ideal for recharging your batteries and continuing the adventure. Here you'll find everything you need. It has one queen size bed, work desk, independent air-conditioning unit, wireless Internet, phone with voicemail and cable TV.