If you're visiting Querétaro for a business trip or just to enjoy the city's tourist attractions, choose to stay at the One Querétaro Centro Sur. This affordable hotel is strategically located and offers the security and comfort you need to rest, recharge and stay productive.

The hotel offers a privileged location for business travelers and is only 5 minutes from the city's major industrial parks, including Querétaro, Benito Juárez, Bernardo Quintana and El Marques. It is less than 20 miles from the Querétaro International Airport and is close to the downtown district with its nightlife, restaurants and tram service to the area's historic sites. 

The hotel offers private parking, guest loyalty program, laundry and ironing service, hot breakfast, wireless Internet access and Business Corner to stay productive during your stay.

One Queretaro Centro Sur proves that traveling to this great city doesn't have to be expensive. Guests at the One enjoy secure surroundings, comfortable facilities and modern style, plus efficient and helpful service to help make your visit even easier.

100% smoke free hotel.
We remind you that the check-in time is from 3:00 PM. Check-out is at 12:00 PM. We suggest you use our express check-out service.
Services
The hotel offers 126 guest rooms, a restaurant serving complimentary hot breakfast and open from 6am to 10pm during the week and from 7am to 11pm on the weekend. It's a 100% smoke free hotel. Hotel services include:
Business center
Guests access with guide dogs
100% smoke free hotel
Free Wi-Fi access
Breakfast Only
Handicapped access
Outdoor parking
Pets are not allowed
Laundry service
Qualified:
x
Location #16 of 93 hotels in Queretaro City
GreenLeader Silver
Summary of qualifications
Best comments
"Great hotel for weekend getaway!"
The hotel's main attribute is the location as it is beside one of Queretaro's main avenues, but comfort and practicality are two very important factors that must be taken into account. The category is mainly business but I travel for Mexico Independence Day with my wife and although it was fully booked the hotel rooms had enough equipment and no noise during the night, bed was very comfortable and shower without issues and all new and clean. For no additional charge you enjoy of "chilaquiles y huevos" and some fruit and coffee for the breakfast and plenty space to autopark the cars (yes free) and without having to give the keys to anyone, something not common in Mexico but great if you don't like to leave the car t be parked by strangers. I really enjoy my I really enjoy my stay at the hotel and if I return to Queretaro I will not hesitate to stay here. I do not give the rating "excellent" because I think the breakfast should improve as well as the plates and cutlery. Everything else great!
"9 months and still no refund for a non-used room in Hotel One Querétaro Plaza Galerias"
End of November last year I booked a room for three guests for 2 nights in this hotel. After having checked in, it turned out that the organization who had invited us for a conference in Querétaro also made a reservation in another hotel. So one hour after checking in we cancelled our three rooms in Hotel One, and paid separately half the price for one night for each of the unused rooms as a penalty. So far no problem. However, would I have known that the hotel took both payments for my room from my credit card, but did not correctly transfer the reimbursement for the 2 nights on my credit card. To date the hotel has not reimbursed me the fee for the unused 2 nights. On many occasions we have exchanged telephone calls and emails about the failure to reimburse me, but every time I´ve tried to get the reimbursement, the hotel administration finds another mistake somewhere (the bank, my credit card). Never has the administration been able to show proof that the cancelled payment was effectively transferred onto my credit card. Obviously the administration is unwilling to recognize something went wrong on their side (possibly fraud). So this is certainly not a hotel to recommend. Jaap Schoorl
"One is great for business traveler"
Sometimes I feel bad about the fact that I really like one and City Express Hotels when I need to get some work done. They are consistently modern, clean and hassle free. Most of the time, I prefer to stay in family run hotels, but you're much more interesting and give you a window into local culture. But if you've been on the road as long as I have, sometimes it's nice to be in an environment where you don't have to worry about anything. 1 hotels are all well run. Note that they have an on call taxi driver or two at this hotel that work just for the hotel - - very convenient.
"Quick business visit to Queretaro"
A quick non programmed visit to Queretaro during a busy weekend allow me to discover and stay at this One Hotel, brand new, well located without being in the downtown area, pretty well communicated and easy access, several restaurants near by and excellent service, including standrad breakfast with very good taste. the only inconvenience is the parking lot; it is somehow limited; no more than 40 cars fit in there, if you arrive late night it may be a little difficult to park; everything else is very good in accordance with the Hotel style (minimalist).
"Gran Experiencia"
Grata experiencia de hospedaje en el hotel en Queretaro, excelente servicio, habitacion muy limpia, se agradece la bienvenida, desayuno muy sabroso y surtido. La ubicacion excelente, facilidad para llegar al lugar.
Top-rated Attractions Nearby
Photos hotel and surroundings (59)
Rooms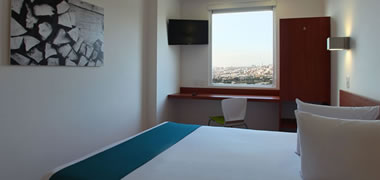 Accessible Room
This room is specially equipped with wheelchair access and hand rails throughout the restroom to help guests feel comfortable. It offers the same amenities and security as other guest rooms, with a Queen bed, restroom with shower and tub, cable TV, work desk, climate control, wireless Internet access and telephone with voicemail. This room is located on the first floor of the hotel and can be connected to a single room via an interior door.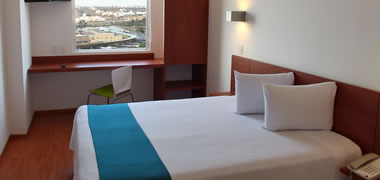 Superior Room, 1 Queen
These comfortable and secure rooms allow guests to rest and recharge for their next activity. They are simple and practical and equipped with a Queen bed, cable TV, work desk, climate control, wireless Internet access and telephone with voicemail.