If you're visiting Guadalajara for a business trip or just to enjoy the city's tourist attractions, choose the One Guadalajara Tapatio. This affordable hotel is strategically located and offers the security and comfort you need to rest, recharge and move ahead.

The hotel is located on the Chapala Highway and offers easy access to the city's key points of interest, including universities, businesses and tourist attractions. It is just 10 minutes from the airport, 15 minutes from the VFG Events Center and 5 minutes from the Central Bus Station. It is also close to the city's most important industrial parks, the Guadalajara Expo Center, 15 minutes from the Historic Downtown District, 20 minutes from the Medical Center, 25 minutes from the City Zoo, 5 minutes from downtown Tlaquepaque and 10 minutes from Tonala.

Guests of the One Guadalajara Tapatio enjoy the modern and comfortable facilities, plus efficient and helpful service to help make your visit even easier.

100% smoke free hotel.

We remind you that the check-in time is from 3:00 PM. Check-out is at 12:00 PM. We suggest you use our express check-out service
Services
The hotel offers 126 guest rooms, hot breakfast included from 6am to 10am during the week and form 7am to 11am on weekend, snacks and sandwiches are available throughout the day. It's a 100% smoke free hotel. Hotel services include:


Business center
Free local calls
Guests access with guide dogs
100% smoke free hotel
Indoor parking
Safe in reception
Free Wi-Fi access
Breakfast Only
Handicapped access
Meeting Room
Pets are not allowed
Laundry service
Qualified:
x
Location #5 of 105 Specialty lodging in Guadalajara
Summary of qualifications
Best comments
"Perfect place to rest before travel"
I was only in the city of Guadalajara for a day visiting a friend. I needed an affordable place to stay that wasn't too far from the city or the airport (early flight the next morning). This place was perfect. It had free parking for my rental, I felt very safe, it was affordable, simple, and clean. Perfect place to stay if you are on a budget but still want a nice place to stay.
"noisy area"
The hotel is clean and has all the essential items. The snack bar at the first floor is nice... However, I can barely sleep at night... The hotel is right next to a busy street where I'm still hearing buses and cars driving by around 2AM... Also, the door is not fully sealed too so any noise on the hallway can wake you up.... It's an ok hotel if you have a pair of earplug with you...
"FIVE stars in every Category !!!!"
Trip advisor friends. I am sitting on the third floor of the ONE guadalajara tapitio. This is a small section of town called tapatio, so they tack that on to the name. I think there is 3 of these hotels in town. First off its easy to find. From the picture you can see its 7 floors or more tall, Its like 4 stories over everything else around it. THEN its painted blue on the front, so that jumps out at you. So just driving down the street, you can find it, an there are even signs. Next is the person at the front desk. Knows English, and will take the time to teach you Spanish. Very nice person. She calls a bellboy, who carries your stuff up to your room. He shows you how to work the lights. the room is spotless. The hotel is very quiet. I am here on 10/12/16, the tenth, so no one is here. I payed 809 paseos, with the exchange rate right now, that was pretty cheap. it was easy to find from the airport. The room in clean, the bathroom is clean, the bed is clean. People are nice. I am not sure what else you need. There is a store across the parking lot, so you can buy all kinds of stuff, and a pizza place there too. I do not feel like I am even in mexico by the looks of this room and this hotel. So give it a try, if you need a place to sleep close to the airport, this is a win. I was in room 317. Good luck. dr. darrell of Michigan.
"Never again!!!"
I don't mean to be a pain in the neck, but this place SUCKS!!! We lost our flight back to town so we decided to stayed at a hotel near the airport for that last night as we were going to flight back the next day at 6:00 am, but this hotel was for Smurfs, and believe me, I am not tall at all hehe. I understand this is a cheap hotel, but to be honest considering the place, the size of the room, the location and the fact that it was not clean, then it turned into an expensive one, I paid only 35 USD more for a very nice hotel in downtown Guadalajara and considering the price difference which wasn't much, the contrast was abysmal. Definitely not staying there in future visits.
"Good for a short stay in Guadalajara"
Decent access to the center and convenient located close to the airport. This locations is next to a supermarket and close to restaurants. The room is quite small but clean. There is a lot of traffic as one of the hotel faces one of Guadalajara's main highways. The bathroom are newly renovated and the breakfast (continental) is not a bad option to keep hunger away until lunch.
Top-rated Attractions Nearby
Fox in a Box
Tequila Tour by Mickey Marentes
Expiatory Temple
Instituto Cultural Cabanas
Teatro Degollado
Tlaquepaque and Tonala Artisans Tour
Plaza Andares
Guadalajara Cathedral
Bosque Colomos
Basilica de Zapopan
Photos hotel and surroundings (61)
Rooms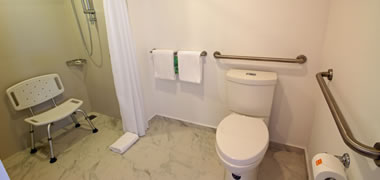 Accessible Room
This room is specially equipped with wheelchair access and hand rails throughout the restroom. It offers the same comfort and security as other guest rooms, with a Queen bed, restroom with shower and tub, cable TV, work desk, climate control, wireless Internet access and telephone with voicemail. A room with two single beds can be connected through an interior door.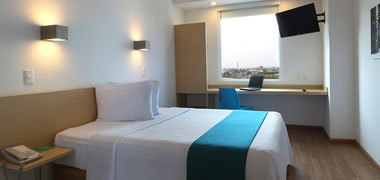 Superior Room, 1 Queen
These comfortable and secure rooms allow guests to rest and recharge for their next activity. They are simple and practical and equipped with a Queen bed, cable TV, work desk, climate control, wireless Internet access and telephone with voicemail.