When you visit Guadalajara, one of the cities most full of tradition and folklore in Mexico, stay at One Guadalajara Centro Histórico. An affordable hotel that guarantees your safety and comfort, just what you need to work or rest.

Discover the Mexican culture of this city, with its cowboys, tequila and mariachi. In addition to being the heart of Jalisco, this modern city in continually more and more important, both in Mexico and internationally, thanks to its infrastructure of convention centers and the incredible growth of industry and commerce.

An affordable hotel that provides only what you need in your travels. It's prime location is in the Historic Center, near the Teatro Degollado (Degollado Theater), the Cathedral, the Hospicio Cabañas (Cabañas Hospice) and more. Your stay here will allow you to be fully immersed in Guadalajara's traditions.
We remind you that the check-in time is from 3:00 PM. Check-out is at 12:00 PM. We suggest you use our express check-out service.

100% smoke free hotel.

Services
The hotel offers 146 guest rooms, complimentary hot breakfast from 6am to 10am during the week and from 7am to 11am on weekends. It's a 100% smoke free hotel. Hotel services include:

Business center
Free local calls
Guests access with guide dogs
100% smoke free hotel
Indoor parking with cost
Safe in reception
Free Wi-Fi access
Breakfast Only
Handicapped access
Meeting Room
Pets are not allowed
Laundry service
Qualified:
x
Location #37 of 129 hotels in Guadalajara
GreenLeader Silver
Summary of qualifications
Best comments
"Average Hotel with Astonishing Sunrise (excellent location) "
I can't get enough sunrises at this hotel. The front view is marvelous. As for the hotel service, it is average. In my opinion, a lot can be improved. The most important thing for me would be to make it cleaner. It is not that they don't clean it, but they just do it superficially. Maybe since it is always full there is no time for it, or they are short of personnel. Either case, it can be improved.
"Economical Room with a Breakfast Buffet"
If you want to stay in a small, cheap, but clean hotel in Central Guadalajara then HotelOne Centro is for you. I stayed when I had an appointment in Guadalajara and wanted something close to all the turist sites. HotelOne Centro is directly across the main square and Cathedral. It has queen size beds and the shower/Bathroom are compact. This is a no frills room for cheap. But, the hotel has a great breakfast buffet that is included. If you are visiting then you only need your room to sleep and shower. Just outside the front entrance are outdoor restaurants, shops, tours, Cathedral, and the horse drawn carriages. You do not need cab fair and just pack a pair of comfortable shoes!
"Do not go while the constuction of the metro 2018"
The hotel is very well situated, but the noise 24/7 is unbearable. The staff is very polite, the breakfast is ok but for the money it is not worth the location. Every room winch can accommodate 2 people as ONLY one chair, so the other person needs to lay on the bed. So this is very annoying and uncomfortable. The rooftop seems very nice, but you need to ask the key at the front desk to open the door, and there are no chairs just to read and what not. Also my sheets were thorn and there are holes in the curtains. This is a new hotel, just a couple of years old new but it ages not well.
"Nice modern hotel by the Cathedral "
This hotel is not for the,usual tourist,it's more for the real locals. Comfortable beds,clean rooms.Good free breakfast,and most public areas are clean. Best thing is the veiw to the main square where the beautiful Cathedral is located,as well as the other 16 century historic buildings are. The only thing that's bad is no parking if you have a car it's not good,parking is 3 blocks away.
"2.5* Average Hotel in the Heart of Guadalajara"
This hotel is located in the heart of Guadalajara, literally next to the Cathedral and surrounded by museums, department stores and many inexpensive restaurants. The room was average at best with little storage or amenities. Furnishings are Spartan at best. Issues for us in the room included (1) the shower head is fixed in place and points up to an upper corner of the small shower - meaning you can't get water all over your body, just your head, (2) card for electronic door locks failed on 4 of 7 days meaning a trip to the reception to have them re-set (3) towels were thread bare - no fluff left, (4) ac seemed to blow the same cold tempo no matter what setting you selected, (5) there is no safe in the room for storage of values such as a laptop, but front desk apparently have safety deposit boxes, which we find inconvenient. On the plus side, room cleaning service was very good. The complimentary breakfast is served buffet style - and the only hot items on our 7 mornings are Mexican dishes. We were content to have coffee, fruit with a splash of yogurt and toast. There is some dry cereal and fruit drink (not juice) is available if you want that or tea. Access to rooms during the daytime is direct from the street level - meaning anyone can enter the hotel and go right up to your room door. In our opinion, this is a safety issue. At night, the front door on street level is electronically locked and you need a room card to get in ... if your card is working or call reception on the intercom. This hotel is really 2.5/5 but Expedia only allow whole digits so we are forced to give it 3/5 which it is not.
Top-rated Attractions Nearby
Fox in a Box
Tequila Tour by Mickey Marentes
Expiatory Temple
Instituto Cultural Cabanas
Teatro Degollado
Tlaquepaque and Tonala Artisans Tour
Plaza Andares
Bosque Colomos
Guadalajara Cathedral
Guadalajara Food Tours
Photos hotel and surroundings (173)
Rooms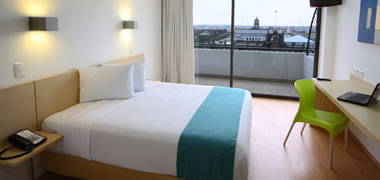 Superior Room, 1 Queen
These practical and basic rooms feature a modern decor, making them welcoming and enjoyable. Rooms feature a queen size bed, work desk, closet, air conditioning and heat, wireless Internet, phone, voicemail and cable TV.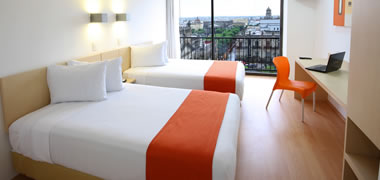 Standard Room, 2 Double
Take a break, rest and recharge in this comfortable and practical room. Featuring two beds, work desk, closet, air conditioning and heat, wireless Internet, phone, voicemail and cable TV.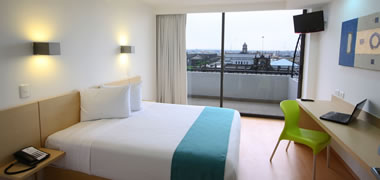 Accessible Room
This room has been specially-equipped to provide comfort to our special guests. These rooms have the same amenities as standard rooms but are wheel-chair accessible and provide safety rails for the shower, toilet and tub. They also have cable TV, Internet, a work desk and a queen size bed. This room connects with another room and has two beds.