When you visit Guadalajara, one of the cities most full of tradition and folklore in Mexico, stay at One Guadalajara Centro Histórico. An affordable hotel that guarantees your safety and comfort, just what you need to work or rest.

Discover the Mexican culture of this city, with its cowboys, tequila and mariachi. In addition to being the heart of Jalisco, this modern city in continually more and more important, both in Mexico and internationally, thanks to its infrastructure of convention centers and the incredible growth of industry and commerce.

An affordable hotel that provides only what you need in your travels. It's prime location is in the Historic Center, near the Teatro Degollado (Degollado Theater), the Cathedral, the Hospicio Cabañas (Cabañas Hospice) and more. Your stay here will allow you to be fully immersed in Guadalajara's traditions.
We remind you that the check-in time is from 3:00 PM. Check-out is at 12:00 PM. We suggest you use our express check-out service.

100% smoke free hotel.

Services
The hotel offers 146 guest rooms, complimentary hot breakfast from 6am to 10am during the week and from 7am to 11am on weekends, snacks and sandwiches are available throughout the day. It's a 100% smoke free hotel. Hotel services include:

Business center
Guests access with guide dogs
100% smoke free hotel
Indoor parking with cost
Free Wi-Fi access
Breakfast Only
Handicapped access
Pets are not allowed
Laundry service
Qualified:
x
One Guadalajara Centro Historico
Location #29 of 128 hotels in Guadalajara
GreenLeader Silver
Summary of qualifications
Best comments
"Clean, cheap, nice, in downtown and breakfast included"
Honestly this hotel was a surprise; I booked because it is close to downtown but I had a good experience in the checkin, everything is close, room in front to the cathedral and room was amazing very nice and clean...like an alotf sheraton hotel + hilton hamtomp inn because the breakfasts. 4 start because is not 5 stars and lobby and hotel is not 5 start but Honestly this is a very nice hotel and I loved the location and room. U will not disappointed!! Book here! Check the price vs others without breakfast. Hope to book again here in the future
"One Guadalajara Historico Hotel"
We enjoyed our stay at this hotel. Everything was to our preference and could not improve on anything. The friendliness of the staff and their ability to speak English made me very comfortable. Location could not be better and the rooms were very clean. We also felt very safe in the hotel because of the way it is set up with the elevator and key card.
"Not my favorite "
Ok so obviously it's not the hotels fault but the construction is so bad. We did like 5 circles around it just trying to find the hotel entrance. Turns out you can't get to the entrance by car. You have to park elsewhere and walk 3 blocks w all your luggage. This wouldn't have been a big deal but after the traffic and the circling my husband was late for his meeting so it was a huge pain. When we got to the hotel there were like 70 people in line waiting to use the elevator so that was another 25 min. When we finally got upstairs our room wasn't ready. Seriously wouldn't stay here again. The staff is nice. And if you like downtown then I guess it's ok. And it's definitely cheap. Personally I think downtown is super dirty and ghetto. I much prefer Monraz area or near Sao Paolo. Anyways we stay in Gdl twice a month for my husbands job and I've stayed at literally all the hotels so if you want to know about a hotel or area just ask.
"Real Poor Hotel."
First night smoke detector went off at 2. They came and remove the unit. Never replaced it. Second night air broke at 2. Horrible night. They offer work space..ask to make a copy. The machine was broke. Free breakfast, same thing every morning powered eggs over cooked. Really hard fried beans. Yes free but really bad. The carpet in the hallways were dirty and the floors always smelled like a sewer. Now the rooms were clean. But most of the time the room was not cleaned until 6. After a long day out you do not want to have to wait for room service. BUT THE WORST, they did not tell us they were building a tunnel outside the front of the hotel and would be building for two years. The main problem is they work all night. 24/7. Try to sleep with huge flood lights in your window, welding flashes like thunder bolts and steam shovel digging all night. All the staff was delightful except the young man at the check in counter. He needs at attitude adjustment. Great location but because of all the work out front getting around is not easy. I would not stay here again. They need a complete overhaul.
"Pros and cons here, but no complains"
Excellent wifi, excellent and delicious breakfast, but a bit rundown. Also, the center of Guadalajara is under construction for another metro/subway station which will end in December 2017. The hotel is completely sound-proofed, and I commend them for that, but the surrounding area is really busy with all the detours. One more good point: they have security day and night.
Top-rated Attractions Nearby
Instituto Cultural Cabanas
Expiatory Temple
Teatro Degollado
Fox in a Box
Guadalajara Cathedral
Tlaquepaque and Tonala Artisans Tour
Zoologico Guadalajara
Bosque Colomos
Basilica de Zapopan
Estadio Omnilife
Photos hotel and surroundings (132)
Rooms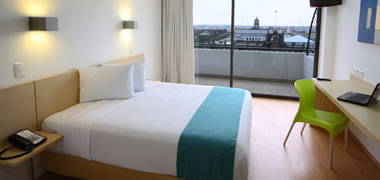 Superior Room, 1 Queen
These practical and basic rooms feature a modern decor, making them welcoming and enjoyable. Rooms feature a queen size bed, work desk, closet, air conditioning and heat, wireless Internet, phone, voicemail and cable TV.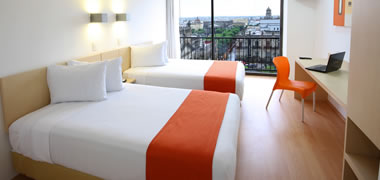 Standard Room, 2 Double
Take a break, rest and recharge in this comfortable and practical room. Featuring two beds, work desk, closet, air conditioning and heat, wireless Internet, phone, voicemail and cable TV.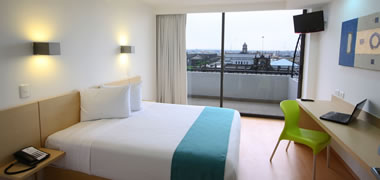 Accessible Room
This room has been specially-equipped to provide comfort to our special guests. These rooms have the same amenities as standard rooms but are wheel-chair accessible and provide safety rails for the shower, toilet and tub. They also have cable TV, Internet, a work desk and a queen size bed. This room connects with another room and has two beds.