One Ciudad de México
Periférico Sur
One Ciudad de México Periférico Sur
When visiting Mexico City, don't miss the opportunity to stay with a trusted hotel chain that is budget-friendly, safe, welcoming, and functional while offering the things you need for a successful stay.
One Mexico City Periférico Sur is strategically located near one of the capital city's largest shopping malls and also provides convenient access to prestigious universities, hospitals, and the largest amusement park in Latin America.
Whether traveling for business or pleasure, you don't have to spend a fortune to stay somewhere nice. The One hotel meets the needs of any traveler's budget while ensuring a safe, reliable, comfortable stay, and efficient service, so that you can stay focused on your trip.
We remind you that the check-in time is from 3:00 PM. Check-out is at 12:00 PM. We suggest you use our express check-out service.
Services
The hotel offers 144 guest rooms, a restaurant serving complimentary hot breakfast and open from 6am to 10pm during the week and from 7am to 11pm on the weekend. It's a 100% smoke free hotel. Hotel services include:
Business center
Free local calls
100% smoke free hotel
Guests access with guide dogs
Indoor parking with cost
Safe in reception
Free Wi-Fi access
Handicapped access
Meeting Room
Pets are not allowed
Laundry service
Qualified:
x
One Ciudad de Mexico Periferico Sur
Location #69 of 312 hotels in Mexico City
Certificate of Excellence 2018
Summary of qualifications
Best comments
"Decent business hotel"
Stayed for two nights and the accommodations were adequate. The room was clean and spacious enough but the towels were very worn on the edges. Also, small things like tissues and hair conditioner are not supplied. The morning breakfast was adequate but both mornings had to ask staff to brew more coffee. The staff need to focus a bit more on the details.
"Ok place, not personnel"
The place was fine. As the pictures on the webpage show, the room was small and with no additional firniture as a couch or sofa. We're OK with that. The problem was with the personnel's attitude. It also took the ballet parking 15 minutes to show up and he literally didn't know where to put the car while our baggages were still in it. One thing to keep in mind is that you can't order room service and have it charged to your room since the restaurant belongs to the hotel beside this one.
"Visiting Family"
First time staying at this hotel. The rooms are a little bit small but super clean and comfortable. You have a nice clean bed, a good size bathroom, television in your room and excellent Wifi. They have free continental breakfast every morning. The staff is pleasant and very helpful. I was able to rest all night since I hardly heard any noise. The hotel is next to a shopping center and other small stores. They have food stands on the streets and you can buy tamales, tacos and fresh squeeze orange juice and other drinks. I will return next time to this hotel.
"Early check-in"
i made a last minute reservation, it was quick and early check in... That was exactly what we where looking for after long flights we took a quick nap and survived a concert by the price it was awesome
"Outstandingly clean"
While this is no way the kind of small romantic hotel I would stay for pleasure this fits the bill for business. Well almost Good staff on reception and very helpful when I had s few questions . The entire building is spotless and I only wish all hotels had such cleaning staff who are clearly dedicated to their job, for which I thank them. Absolutely every inch of the hotel that I saw was spotless. Rooms s good size, perfectly adequately equipped for a three star hotel ( it wouldn't have hurt to introduce s mini bar) and ample desk space from where I wS able to work and enough electrical sockets. Breakfast was not my choice of European but I've no doubt by the way the Mexicans were tucking into platefuls of the stuff, that this was what Mexicans would expect. I just find tacos and shredded pork with scrambled eggs that were overlooked and contained meat ( which would have upset my many vegetarian friends) not what I'm looking for at 7.00 am. Appalling coffee from a dated vending machine which was far too weak! Now to my main complaint. The bedroom walls are far too thin, especially for a business hotel where one is far more likely to want to catch up with s business e mail than take s lover for a romantic tryst. In the 5 days I spent the night there I was woken on at least 4 Occasions by people returning to the room next door . Of course I have learned to grin and bear it but I do find it's taking liberties to return to your room, with s lover, at 3.00 am and go through the entire book of the Kama Sutra, as my neighbours did last night. Just when I thought they must have dropped off they entered into a review of their relationship which kept me awake until 3.00 am. While there is nothing the hotel can do about such couples I just wish they weren't Placed in s room next to me!!
Top-rated Attractions Nearby
National Museum of Anthropology (Museo Nacional de Antropologia)
Eat Mexico Culinary Tours
Museo del Tiempo Tlalpan
Eat Like a Local Mexico
Journeys Beyond the Surface Popular Culture Tours
Mexico City Urban Adventures
Mexcity Tours- Day Tours
Sabores Mexico Food Tours
Casa Jacaranda
Estacion Mexico Free Tours
Photos hotel and surroundings (69)
Rooms
Superior Room, 1 Queen
This comfortable room has everything you need to work or rest. It features a queen bed, closet, cable TV, wireless Internet, work desk, individually-controlled air conditioning, and telephone with voicemail.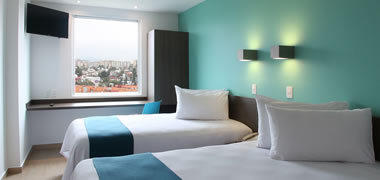 Superior Room, 2 Twin
Enjoy a comfortable and peaceful stay in this inviting room that offers exactly what you need: 2 single beds, wireless Internet, work desk, individually-controlled air conditioning, and telephone with voicemail.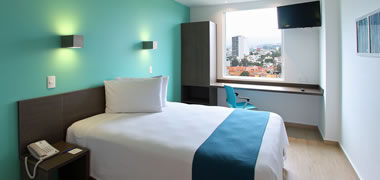 Accessible Room
This room has been carefully designed to provide our special needs guests with the comfort they need and deserve. It is equipped with wheelchair access and safety handrails in the bathtub and bathroom, in addition to the amenities found in all other guest rooms, like cable TV, wireless Internet and a work desk.