If you're visiting Cancun for business or leisure, choose to stay at the One Cancun Centro (Downtown). This affordable hotel is strategically located close to all the resort town's main attractions and offers the security and comfort you need to rest, recharge and stay productive.
The hotel is located in Downtown Cancun, just 15 minutes from the Cancun International Airport, 5 minutes from the Beach Hotel Zone and 2 minutes from Malecon Americas, the largest and most important business and shopping center in the city.
One Cancun proves that traveling to this great city for business or pleasure doesn't have to be expensive. Guests at the One enjoy secure surroundings, comfortable facilities and modern style, plus efficient and helpful service to help make your visit even easier.

100% smoke free hotel.

We remind you that the check-in time is from 3:00 PM. Check-out is at 12:00 PM. We suggest you use our express check-out service
Services
The hotel offers 126 guest rooms, a restaurant serving complimentary hot breakfast and open from 6am to 10pm during the week and from 7am to 11pm on the weekend. It's a 100% smoke free hotel. Hotel services include:
Business center
Free local calls
100% smoke free hotel
Guests access with guide dogs
Outdoor pool
Free Wi-Fi access
Safe in reception
Breakfast Only
Outdoor parking
Handicapped access
Meeting Room
Pets are not allowed
Laundry service
Qualified:
x
Location #57 of 177 hotels in Cancun
Certificate of Excellence 2017
Summary of qualifications
Best comments
"Review ! "
Very organized & close to everything. Rooms aren't that spacious tho! The room even tho wasn't that big, it has everything required for a well stay. Very clean hallways and free breakfast! The pool is also very nice.
"Way overpriced. Doesn't meet the international standards; pick another hotel!"
I am giving two starts for two reasons; the hotel is very clean and the staff and WIFI are great. The only situation you might want to stay in this hotel is if you are having a treatment at Galenia Hospital, but still you might consider two other hotels close by like Four points by Sheraton or Ibis. This hotel is way over priced and doesn't have the international standards we as travellers think might find in there. I booked through Booking.com and I picked this hotel as I have to flight for an emergency treatment at Galenia hospital. The price was already converted from $USD to $CAD, when I got there the lady at the counter told me that, the actual price was $23CAD more per night as the booking price I had in my reservation was in USD. They converted again making this stay over there very expensive. I contacted Booking.com and they said to deal with hotel directly and told me to speak with a manager. Not manager not help, I was sick so take it or leave it. The room; I love the cleanliness of the bedding and the room as whole. I could hear every time the neighbours took a shower, went to the toilet, laughing, coughing, their alarm clock ETC. DOESN'T HAVE FREDGE!!! and they give you one mini bottle of water per day. So you can't buy extra water, drinks or beer or food or anything as per there is not place to put it; that is very frustrating. Doesn't have closet, doesn't have save, doesn't have balconies, neither windows to open to get fresh air (it does have a nice big window) Breakfast included!!! Scramble eggs, nachos, tortilla, beings, bred, a bit of cereal, coffee, pancakes, papaya, water melon. EVERY DAY THE SAME THING. Nothing else. I could take it for two days then I bought my own almond mild and kept myself on cereal every day. There are close by only two very pricey restaurants, so basically there is not place to eat. I had to walk to the closest malls Plaza las Americas for the food court. In this hotel you are isolated. I spent there two weeks due to my treatment. To make things worse I, by mistake booked one day shorter. When I came back to my room from hospital, the access car was blocked. Went to the counter and I asked why, a not very helpful gentleman told me that I was supposed to check out at that moment. Well I said my mistake can you please add this night to my reservation. The person told me, I can't do that, I can't guarantee availability, rates or any discounts at all. Then told me to contact the reservation central. I called them I explained that I needed a little bit of help or so at least extending my booking with another night at the same price. They didn't even hear that and told me for that night I have to pay the expensive rate already plus $30 more. They don't have the most minimal idea of customer experience or customer satisfaction not at all. I don't blame the employees entirely per say, as they are just employees but the owners. Clearly you see there philosophy TAKE IT OR LEAVE IT! they just take your money and don't talk to us. Booking.com should take very serious this review as per I suffered this experience and I don't want any other of my fellow travellers to go through this. And I don't need a manager replying to this post saying anything because when I need a manager to help there was none...
"Clean room good breakfast"
This hotel was perfect for a one-night stay as we passed through Cancun. We got a taxi straight from the airport and checked in late in the evening, but everything went smoothly. We had a good breakfast in the morning and the reception staff called us a cab to the bus station the next day. It was very convenient. The room was a good size and very clean and the hotel was quiet in the evening. No frills, but perfect for what we needed.
"They changed my room after I paid and was staying in it!!!"
One Centro Hotel was paid for a week for a business trip. I was required to stay intermittently here; some nights elsewhere per business. But the hotel was paid and essentially my jumping off point, not that that is any of the Hotels business. The room was paid and mine. I did not have my belongings in the room for the first few days, though the room was paid for and I had checked in at the beginning of the week and stayed there during the day. I come in from long day one night to find that they moved me rooms. They told me- "we saw that you weren't staying in the room so we moved you up a floor." I was appalled! What if I had hid my passport or money under the mattress? Who moves you rooms after you've paid and already checked in?! It's my business what I do with the room I paid for and not their decision to move me. There was zero acknowledgement by management that this was unacceptable to do. There was zero effort to make it right or even apologize and recognize it was wrong. Only pro: Rooms were small and simple, but clean. American/Mexican nice breakfast. Absolutely unprofessional and I'm wondering if illegal(?!) that they canceled my key and moved me rooms after three days of having been paid for the room. Ridiculous. Watch your back here.
"Hotel/ house for druggies , dirty, rude staff"
We stayed here for one night. Beware they charge for any extra person,the breakfast is egg, nachos, and bread. Not good. The water completely turns off once you use "too much". They determine what too much is. I was brushing my teeth and then suddenly no water. People live here and hang out downstairs smoking. Its pretty gross. Luis and Alexander are the guys at the check in. EXTREMELY RUDE. They are rude, sarcastic, unhelpful,and demeaning,
Top-rated Attractions Nearby
Photos hotel and surroundings (100)
Rooms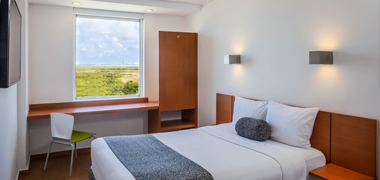 Accessible Room
This room is specially equipped with wheelchair access and hand rails throughout the restroom to help guests feel comfortable. It offers the same amenities and security as other guest rooms, with a Queen bed, restroom with shower and tub, cable TV, work desk, climate control, wireless Internet access and telephone with voicemail. This room is located on the first floor of the hotel and can be connected to a room with two single beds via an interior door.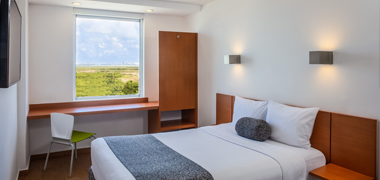 Superior Room, 1 Queen
These comfortable and secure rooms allow guests to rest and recharge for their next activity. They are equipped with a Queen bed, cable TV, work desk, climate control, closet, wireless Internet access and telephone with voicemail.