If you're visiting Cancun for business or leisure, choose to stay at the One Cancun Centro (Downtown). This affordable hotel is strategically located close to all the resort town's main attractions and offers the security and comfort you need to rest, recharge and stay productive.
The hotel is located in Downtown Cancun, just 15 minutes from the Cancun International Airport, 5 minutes from the Beach Hotel Zone and 2 minutes from Malecon Americas, the largest and most important business and shopping center in the city.
One Cancun proves that traveling to this great city for business or pleasure doesn't have to be expensive. Guests at the One enjoy secure surroundings, comfortable facilities and modern style, plus efficient and helpful service to help make your visit even easier.

100% smoke free hotel.

We remind you that the check-in time is from 3:00 PM. Check-out is at 12:00 PM. We suggest you use our express check-out service
Services
The hotel offers 126 guest rooms, a restaurant serving complimentary hot breakfast and open from 6am to 10pm during the week and from 7am to 11pm on the weekend. It's a 100% smoke free hotel. Hotel services include:
Business center
Free local calls
100% smoke free hotel
Guests access with guide dogs
Outdoor pool
Free Wi-Fi access
Safe in reception
Breakfast Only
Outdoor parking
Handicapped access
Meeting Room
Pets are not allowed
Laundry service
Qualified:
x
Location #51 of 177 hotels in Cancun
Certificate of Excellence 2017
Summary of qualifications
Best comments
"Clean room good breakfast"
This hotel was perfect for a one-night stay as we passed through Cancun. We got a taxi straight from the airport and checked in late in the evening, but everything went smoothly. We had a good breakfast in the morning and the reception staff called us a cab to the bus station the next day. It was very convenient. The room was a good size and very clean and the hotel was quiet in the evening. No frills, but perfect for what we needed.
"They changed my room after I paid and was staying in it!!!"
One Centro Hotel was paid for a week for a business trip. I was required to stay intermittently here; some nights elsewhere per business. But the hotel was paid and essentially my jumping off point, not that that is any of the Hotels business. The room was paid and mine. I did not have my belongings in the room for the first few days, though the room was paid for and I had checked in at the beginning of the week and stayed there during the day. I come in from long day one night to find that they moved me rooms. They told me- "we saw that you weren't staying in the room so we moved you up a floor." I was appalled! What if I had hid my passport or money under the mattress? Who moves you rooms after you've paid and already checked in?! It's my business what I do with the room I paid for and not their decision to move me. There was zero acknowledgement by management that this was unacceptable to do. There was zero effort to make it right or even apologize and recognize it was wrong. Only pro: Rooms were small and simple, but clean. American/Mexican nice breakfast. Absolutely unprofessional and I'm wondering if illegal(?!) that they canceled my key and moved me rooms after three days of having been paid for the room. Ridiculous. Watch your back here.
"Hotel/ house for druggies , dirty, rude staff"
We stayed here for one night. Beware they charge for any extra person,the breakfast is egg, nachos, and bread. Not good. The water completely turns off once you use "too much". They determine what too much is. I was brushing my teeth and then suddenly no water. People live here and hang out downstairs smoking. Its pretty gross. Luis and Alexander are the guys at the check in. EXTREMELY RUDE. They are rude, sarcastic, unhelpful,and demeaning,
"Why is this place so highly rated?!"
I have no idea why people like this place. There are no safe boxes in the rooms. You can't even borrow one. The walls are paper thin - I can hear every conversation in the hallway and the room next door. The hotel is far from everything important in Cancun. Most of the front desk staff do not speak English. I asked for my room to be changed to a room away from the elevator. They just put me on a different floor, right next to the elevator. I was too tired to argue. They will not help you book tours and can't even really tell you how to get around. The breakfast is mostly Mexican food, like tacos or taco ingredients (I do not want to eat that for breakfast). I would not stay here again.
"Better than expected for the price"
Being in July I figured all the hotels would be over priced. But this one was cheap and very nice. Free Hot buffet breakfast, pool, and very clean room. Safe hotel as you have to use your room key to use the elevator. It's also next to a hospital. There were always police and taxis around.
Top-rated Attractions Nearby
Photos hotel and surroundings (96)
Rooms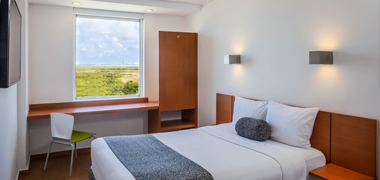 Accessible Room
This room is specially equipped with wheelchair access and hand rails throughout the restroom to help guests feel comfortable. It offers the same amenities and security as other guest rooms, with a Queen bed, restroom with shower and tub, cable TV, work desk, climate control, wireless Internet access and telephone with voicemail. This room is located on the first floor of the hotel and can be connected to a room with two single beds via an interior door.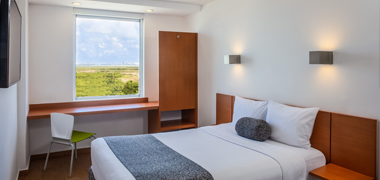 Superior Room, 1 Queen
These comfortable and secure rooms allow guests to rest and recharge for their next activity. They are equipped with a Queen bed, cable TV, work desk, climate control, closet, wireless Internet access and telephone with voicemail.