If you're visiting Cancun for business or leisure, choose to stay at the One Cancun Centro (Downtown). This affordable hotel is strategically located close to all the resort town's main attractions and offers the security and comfort you need to rest, recharge and stay productive.
The hotel is located in Downtown Cancun, just 15 minutes from the Cancun International Airport, 5 minutes from the Beach Hotel Zone and 2 minutes from Malecon Americas, the largest and most important business and shopping center in the city.
One Cancun proves that traveling to this great city for business or pleasure doesn't have to be expensive. Guests at the One enjoy secure surroundings, comfortable facilities and modern style, plus efficient and helpful service to help make your visit even easier.

100% smoke free hotel.

We remind you that the check-in time is from 3:00 PM. Check-out is at 12:00 PM. We suggest you use our express check-out service
Services
The hotel offers 126 guest rooms, a restaurant serving complimentary hot breakfast and open from 6am to 10pm during the week and from 7am to 11pm on the weekend. It's a 100% smoke free hotel. Hotel services include:
Business center
Free local calls
100% smoke free hotel
Guests access with guide dogs
Outdoor pool
Free Wi-Fi access
Safe in reception
Breakfast Only
Outdoor parking
Handicapped access
Meeting Room
Pets are not allowed
Laundry service
Qualified:
x
Location #47 of 175 hotels in Cancun
Certificate of Excellence 2017
Summary of qualifications
Best comments
"Affordable, practical, a little small"
The building is very new and a part of a larger chain of hotels throughout Mexico. We checked in during the evening. Two women were at the front desk. One of them helped us check in by giving us the room key. She mentioned breakfast was included and pointed to where it took place, but did not inform us of the timeframe (which we deduced ourselves by looking at the wall), or what time check out was. Overall, practical, but felt their friendliness was not genuine at that we were being judged based on class appearance (we dress for comfort - we are on vacation and do not care for presentation at home or abroad). Parking in the back and having to walk around to the front was a bit annoying. A back entrance would be appreciated or clearer signage indicating whether we could use the pool entrance or not (it was never clear and we didnt stay long enough to check). The room was very nice, the queen bed was comfortable, the A/C worked very well. Considering the price range, location, free parking, free breakfast (which was quite good) and newness of the building, we would come back. The most significant downside that stands out to us is the smallness and tightness of the space. The elevators are really small, so if you have luggage you might have to go up alone. For some reason the bathroom door goes inward, making it challenging to get to the toilet, and the shower door, which is glass, does not close properly and so water will leak onto the rest of the bathroom floor. We never ended up using the pool so cant comment. Small flat screen TV was nice. The coat hanger/"closet" set up was really weird and strangely inaccessible. They sell snacks at the front desk with some familiar and unfamiliar options which is handy. The Wi-Fi worked well. Again, it worked well for us, and we would come back in a pinch, although fat folks (big fat and super fat) will have to look elsewhere or ask if there are rooms with bigger bathrooms.
"We will stay again ..."
this is not a top of the range luxury hotel - but then again neither are the prices. Absolutely perfect for what we needed. Great staff - always willing to help re taxi's/more towels etc WE LOVED THE POOL. Really enjoyed breakfast too. Ideal location for airport and we walked to Downtown Cancun. Great bar just up the road to sit outside and enjoy the place. Taxi's are cheap once you have taken the official taxi from the airport to your hotel and been ripped off! Only get a single from the airport to your hotel .. or better still get a bus!
"Cancun vacation"
My sister and I decide to come a few days earlier before we transferred to our beach resort. We were pleasantly surprised, because we prepaid on the internet and the rate was extremely affordable. I am a BnB owner, so I am particular about cleanliness, bed and bathroom quality and the breakfast. All of the above were very acceptable. The staff was very friendly and helpful. The breakfast is a homemade hot breakfast(Mexican style), but with fruits, yogurt, cereal, rolls, etc. Internet is good and there were computers to use. A very nice swimming pool, surrounded by pleasant landscaping. This is not a negative comment, but we enjoyed having the company of other Mexican citizens around us and not being surrounded by tourists. The staff spoke English, but put up with our poor Spanish! Taxis are cheap and come quickly if you need them,. I would come back to this hotel again.
"Pleasant stay"
We stayed here for a night. The staff was very friendly and professional. The room was decent size and had a clean and updated bathroom. I was pleasantly surprised with the variety in breakfast buffet.
"IMMACULATE, PRISTINE, NICELY-PRICED GEM!"
Sola, 75 yo woman @ Cancun. Chk'd popular hotel w/costs = 3 rooms! @ ONE, room immaculate! Conservative towel distribution, YES! Décor cheerful, no frills, WI-FI & TV. Yum (free) breakfast; fine pool.
Top-rated Attractions Nearby
Photos hotel and surroundings (89)
Rooms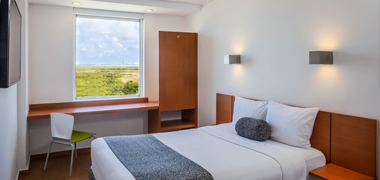 Accessible Room
This room is specially equipped with wheelchair access and hand rails throughout the restroom to help guests feel comfortable. It offers the same amenities and security as other guest rooms, with a Queen bed, restroom with shower and tub, cable TV, work desk, climate control, wireless Internet access and telephone with voicemail. This room is located on the first floor of the hotel and can be connected to a room with two single beds via an interior door.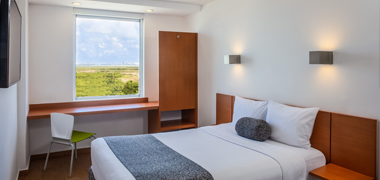 Superior Room, 1 Queen
These comfortable and secure rooms allow guests to rest and recharge for their next activity. They are equipped with a Queen bed, cable TV, work desk, climate control, closet, wireless Internet access and telephone with voicemail.