If you're visiting Silao, Guanajuato, for a business trip or just to enjoy the city's tourist attractions, choose to stay at the One Silao.
This affordable hotel offers the security and comfort you need to rest, recharge and stay productive. The hotel offers a strategic location at Km 153+500 of the Leon Highway, one of the primary thoroughfares of the central Mexico valley. It is just 4 minutes from the airport and close to several local industrial parks (7 minutes from the Puerto Interior, 10 minutes from Las Colinas, and 15 minutes from Fipasi). It is also 32 minutes from downtown Leon, 21 minutes from the capital city of Guanajuato, and 30 minutes from Irapuato. Other area attractions include Cubilete Hill, the highest point in Guanajuato, and site of the Christ King statue, plus the magical towns at the surrounding foothills.
One hotels prove that business or leisure travel doesn't have to be expensive. Guests at One Silao enjoy secure surroundings, comfortable facilities and modern style, plus efficient and helpful service to help make your visit even easier.

100% smoke free hotel.
We remind you that the check-in time is from 3:00 PM. Check-out is at 12:00 PM. We suggest you use our express check-out service.
Services
The hotel offers 126 guest rooms and a restaurant serving complimentary hot breakfast from 6am to 10pm during the week and from 7am to 11pm on the weekend. It's a 100% smoke free hotel. Hotel services include:
Business center
Free local calls
100% smoke free hotel
Guests access with guide dogs
Free Wi-Fi access
Safe in reception
Breakfast Only
Outdoor parking
Handicapped access
Meeting Room
Pets are not allowed
Shuttle service
Laundry service
Qualified:
x
Location #4 of 13 hotels in Silao
Certificate of Excellence 2017
Summary of qualifications
Best comments
"Hotel, starbucks and oxxo."
This was a good place to wake up. Clean room, great price, safe parking lot and starbucks next to it. The place is right next to the highway. They also offer complementary breakfast before 10am. If you do not want to pay for starbucks...they offer free coffee 24/7.
"All You Need in an Airport Hotel"
If all you are looking for is a modern no frills airport hotel then this fits the bill. I wouldn't want to stay more than a night or two but it it's perfect as a reasonably priced modern over-nighter.
"Close to airport, but that's it..."
Hard to find details on their website, thus it wasn't until we arrived that the airport shuttle didn't run on Sunday until 7am, and we needed to leave at 6. Same with breakfast. Hoping to get dinner when we arrived, we found there are no restaurants anywhere nearby, just Starbucks (also doesn't open until 7) and a convenience store (which didn't sell beer). Room was simple but fine for our needs, and certainly affordable. There was a sound of dripping water, like rain, that seemed to come from the AC registers; but it stopped some time during the night. Staff doesn't speak English, and they seemed to note our need for a 6am taxi on a clipboard, but when we came down at 6 and asked for a taxi, the man asked for 5 minutes. 10 minutes later he was still chatting away with housekeeping staff until we reminded him of our need, and he finally called. A "just OK" stay......
"Solid for Lay Over on Trip to Guanajuato"
This hotel was solid for a layover before going to Guanajuato. Flight got in late, and it's only five minutes from the airport at a very low price. Hotel has clean rooms that are small but modern. Great cost cutter to spend more money on fancier places in Guanajuato and San Miguel. Includes free breakfast with a few hot items, not the best, but good enough to start the day on continuing with your journey. When I was there, there was also a large contingent of federal police also staying there. Gave it a 5 based it being a great value.
"Great for short stay. Nice breakfast."
Perfect location to stay overnight before or after leaving from the airport. Bed was comfy and breakfast was a wonderful surprise: eggs, beans, chilaquiles, yogurt, fresh fruit and more! I peeked in the kitchen and saw a tidy space with "real" cooking (no microwaves!). Food was hot and delicious! Rooms are small, but adequate for one night. There's a convenience store and a Starbucks in the same spot, which was awesome for late night snacks and early morning coffee. Price (about $50 USD) was right; I'd definitely stay there again!
Top-rated Attractions Nearby
Parque Bicentenario Guanajuato
Cerro del cubilete
Ce Kalli Temazcal Spa
Photos hotel and surroundings (55)
Rooms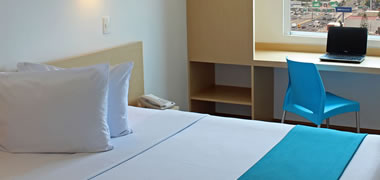 Accessible Room
This room is specially equipped with wheelchair access and hand rails throughout the restroom to help guests feel comfortable. It offers the same amenities and security as other guest rooms, with a Queen bed, restroom with shower, cable TV, work desk, climate control, complimentary wireless Internet access and telephone with voicemail. A room with two single beds can be connected through an interior door.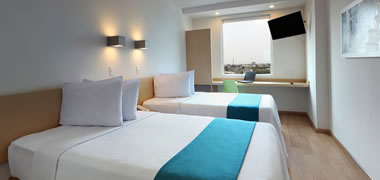 Superior Room, 2 Twin
These modern and simple rooms offer the comfort and security you need during your stay. They offer a restful space with two twin size beds, closet, cable TV, work desk, climate control, complimentary wireless Internet access and telephone with voicemail.