When visiting Salamanca, don't miss the opportunity to stay with a hotel chain that is budget-friendly, safe, welcoming, and functional while offering a number of additional benefits.
One Salamanca Oriente is strategically located close to the Mazda assembly plant and the Antonio Manuel Amor Pemex refinery.
Whether traveling for business or pleasure, being comfortable doesn't have to be expensive. One Hotels meet the needs of any traveler's budget while ensuring a safe, reliable, comfortable stay, with efficient service that allows you to stay focused on your trip.
We remind you that the check-in time is from 3:00 PM. Check-out is at 12:00 PM. We suggest you use our express check-out service.
100% smoke free hotel.
Services
The hotel has 126 guest rooms and a restaurant serving complimentary breakfast 6am-10am Monday to Friday and 7am-11am on weekends. Guests can also enjoy high-speed wireless Internet, laundry and ironing service, parking, vending machines with food and drinks, and meeting rooms.
Business center
Free local calls
Guests access with guide dogs
100% smoke free hotel
Safe in reception
Free Wi-Fi access
Breakfast Only
Handicapped access
Meeting Room
Outdoor parking
Pets are not allowed
Laundry service
Qualified:
x
Location #4 of 8 hotels in Salamanca
GreenLeader Silver
Summary of qualifications
Best comments
"Necesio contar con carro"
Para hospedarse aquí es necesario contar con carro ya que muchos taxistas aprovechan que se encuentra en la orilla de la carretera para cobrar mucho mas del costo y su "base" los respalda, con el pretexto de que tienen que ir a dar la vuelta hasta valtierrilla para regresar a salamanca lo cual es mentira.
"Excelencia"
Gracias por su calidad humana, servicio y carisma. Es un honor estar hospedado en este hotel. El servicio en el sentido amplio de la palabra es muy bueno, muy atentos y sobre todas las cosas excelente actidud de servicio
"Excelentes habitaciones y buen servicio"
Servicio recomendable para la ubicación que se encuentra, buen internet y habitaciones comodas. Fácil de encontrar/ubicar a través de Smartphones y con seguridad al estar cerca de la Policia Federal, por lo que da la sensación de tranquilidad.
"Excelente en relación Valor-Precio"
Cumple perfectamente con las necesidades de un viaje de negocios. Personal atento enfocado a satisfacción del cliente. Las instalaciones practicas, funcionales y en buen estado. El Internet con buen desempeño.
"Excelente el servicio en el hotel mas no en la reservación"
Excelente servicio desde la recepción y facilidad para resolver los inconvenientes al momento ya que hubo un mal entendido con la reservación, yo solicite vía telefonica 2 habitaciones con 2 camas para 2 personas y al llegar solo habia 1 habitación para 2 personas, en ese momento nos apoyaron en la recepción y afortunadamente había disponibilidad y nos pudieron asignar una habitación más, cabe señalar que la reserva no se hizo directamente con el hotel si no con otra empresa y fue aqui donde hubo el mall entendido, recuerdo perfecto porque al preguntarle el horario en el que podíamos tomar el desayuno me dijo no saber
Top-rated Attractions Nearby
Ex convento San Agustin
Via Alta Centro Comercial
Circuito del Nopal
Passus Liberi
Parroquia del Senor del Hospital
Parroquia de Nativitas
Plaza Civica
Parroquia del Sagrado Corazon de Jesus
Via Alta Centro Comercial
Plaza Galerias
Photos hotel and surroundings (24)
Rooms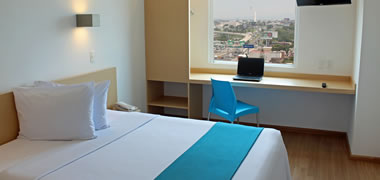 Superior Room, 1 Queen
This comfortable room has everything you need to work or rest. It features a queen bed, closet, cable TV, work desk, wireless Internet, telephone with voicemail, cable TV, and heating and air conditioning.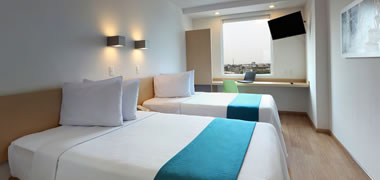 Superior Room, 2 Twin
Enjoy a comfortable and peaceful stay in this inviting room that offers exactly what you need. It comes with two twin size beds, closet, work desk, wireless Internet, telephone with voicemail, cable TV, and heating and air conditioning.
Accessible Room
This room has been carefully designed to provide our special needs guests with the comfort they need and deserve. It is equipped with wheelchair access and safety handrails in the bathtub and bathroom, in addition to the amenities found in all other guest rooms, like cable TV, wireless Internet and a work desk.