One Puerto Vallarta
Aeropuerto
One Puerto Vallarta Aeropuerto
If you're visiting this tropical paradise on the Pacific Coast, choose to stay at the One Puerto Vallarta. This affordable hotel is strategically located close to all the main attractions and offers the security and comfort you need to rest, recharge and stay productive.

The hotel is located on one of the main thoroughfares of Puerto Vallarta, just 2 minutes from the International Airport, 8 minutes from the International Convention Center, and 12 minutes from the Central Bus Station. Next to the hotel is the Plaza Marina business and shopping center, with a variety of restaurants, craft shops, boutiques, banks, beauty salons, medical clinics, and corporate and government offices. Three blocks away is the Marina del Puerto recreational marina, with more than 500 luxury yachts and boats from around the world, plus a wide range of international restaurants, golf course, tennis courts, mall, water sports center and nightlife. The hotel is also conveniently located to the city's industrial parks, home to many large corporate distribution centers.

One Puerto Vallarta proves that traveling to this great city for business or pleasure doesn't have to be expensive. Guests at the One enjoy secure surroundings, comfortable facilities and modern style, plus efficient and helpful service to help make your visit even easier.

We remind you that the check-in time is from 3:00 PM. Check-out is at 12:00 PM. We suggest you use our express check-out service.
Services
The hotel offers 126 guest rooms, a restaurant serving complimentary hot breakfast and open from 6am to 10pm during the week and from 7am to 11pm on the weekend. It's a 100% smoke free hotel. Hotel services include:
Business center
Guests access with guide dogs
100% smoke free hotel
Outdoor pool
Free Wi-Fi access
Breakfast Only
Handicapped access
Outdoor parking
Pets are not allowed
Laundry service
Qualified:
x
One Puerto Vallarta Aeropuerto
Location #48 of 125 hotels in Puerto Vallarta
GreenLeader Bronze
Certificate of Excellence 2016
Summary of qualifications
Best comments
"Budget and Basic -- a Good Value"
This is a very basic hotel, but perfect if you are getting into PV late, or needing to take off early as it's walk to the airport. Rooms are small but clean. Staff is friendly and helpful - many speak English. Breakfast is Mexican buffet, but as good as any budget hotel.
"Great for overnighters"
This is a Mexican hotel and the clients are mostly one nighters...5 minutes to the airport...The breakfast is quite good and healthy choices....The rooms are small but very clean and the room attendants very pleasant and hard working ..We were there for 28 nights and knew the neighbourhood....A 10 minute walk to the marina with high end restaurants and bars ..try the Sonora grill for cocktails and huge steaks...The pool was very good and the sun usually hot by 10am.....This is a basic hotel and no frills but the cleanliness impressed us.....Downstairs try the Vancouver Wings - very reasonable drinks -draught ales -ask for Eric as your server who will pander to your needs....check out the Chinese restaurant in the mall car park-very reasonable good fresh food..buffet style...2 casinos 10 minutes away by cheap bus.....(7and half pesos to downtown Centro)....Special mention to Jonvey in the breakfast area always attentive and a real asset to the hotel team....
"Buyer be aware"
Upon discovering 3 $20.00 US currancy bills missing from my bag I notified the front desk. After 42 hours they had no solution to make me whole. The rooms are secured by electronic key. Someone on the staff stole $60.00. My attempts to talk with management have fallen on deaf ears. There is a thief on the premises.
"Where is the main entrance to the lobby?"
Handy to the airport but not user friendly if you have suitcases! It took us a least five minutes to find the reception. The staff looked like pros but we had to have our room cards reprogrammed every time we used them. Very cold atmosphere perhaps the electric blue didn't help. Good value for the money though but not for me!
"Small plan rooms"
We got to PV a day earlier that we had planned, so we needed a place to stay for a night. This place foot the bill. The place is clean, close to the airport, and about a mile to the marina, where we had dinner. The breakfast was good. More than like a super 8, but not anything to get to exited about. The rooms are small with kind of a Ikea look. It looked like a nice pool, but we didn't go. It is a great place to stay before if you travel a while to get to the place you are going or getting ready to fly out. I would do it again, I just wouldn't want to stay a week.
Top-rated Attractions Nearby
Outdoor Adventure by Vallarta Adventures
Extreme Zip Line Adventure
Rhythms of the Night by Vallarta Adventures
Los Veranos Canopy Tour
Vallarta Eats Food Tours
Vallarta Food Tours
Canopy River
Puerto Vallarta's El Malecon Boardwalk
Vallarta Adventures
Estigo Tours
Photos hotel and surroundings (66)
Rooms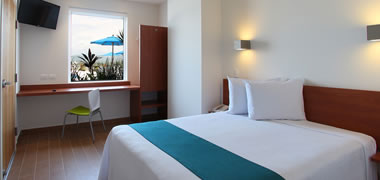 Accessible Room
This room is specially equipped with wheelchair access and hand rails throughout the restroom to help guests feel comfortable. It offers the same amenities and security as other guest rooms, with a Queen bed, restroom with shower and tub, cable TV, work desk, climate control, wireless Internet access and telephone with voicemail. This room is located on the first floor of the hotel and can be connected to a single room via an interior door.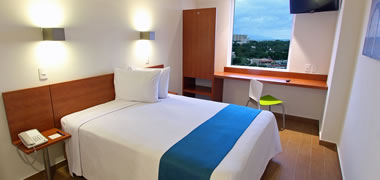 Superior Room, 1 Queen
These comfortable and secure rooms allow guests to rest and recharge for their next activity. They are equipped with a Queen bed, cable TV, work desk, climate control, closet, wireless Internet access and telephone with voicemail.