One Puerto Vallarta
Aeropuerto
One Puerto Vallarta Aeropuerto
If you're visiting this tropical paradise on the Pacific Coast, choose to stay at the One Puerto Vallarta. This affordable hotel is strategically located close to all the main attractions and offers the security and comfort you need to rest, recharge and stay productive.

The hotel is located on one of the main thoroughfares of Puerto Vallarta, just 2 minutes from the International Airport, 8 minutes from the International Convention Center, and 12 minutes from the Central Bus Station. Next to the hotel is the Plaza Marina business and shopping center, with a variety of restaurants, craft shops, boutiques, banks, beauty salons, medical clinics, and corporate and government offices. Three blocks away is the Marina del Puerto recreational marina, with more than 500 luxury yachts and boats from around the world, plus a wide range of international restaurants, golf course, tennis courts, mall, water sports center and nightlife. The hotel is also conveniently located to the city's industrial parks, home to many large corporate distribution centers.

One Puerto Vallarta proves that traveling to this great city for business or pleasure doesn't have to be expensive. Guests at the One enjoy secure surroundings, comfortable facilities and modern style, plus efficient and helpful service to help make your visit even easier.

We remind you that the check-in time is from 3:00 PM. Check-out is at 12:00 PM. We suggest you use our express check-out service.
Services
The hotel offers 126 guest rooms, a restaurant serving complimentary hot breakfast and open from 6am to 10pm during the week and from 7am to 11pm on the weekend. It's a 100% smoke free hotel. Hotel services include:
Business center
Free local calls
100% smoke free hotel
Guests access with guide dogs
Outdoor pool
Free Wi-Fi access
Safe in reception
Breakfast Only
Outdoor parking
Handicapped access
Meeting Room
Pets are not allowed
Laundry service
Qualified:
x
One Puerto Vallarta Aeropuerto
Location #53 of 125 hotels in Puerto Vallarta
GreenLeader Bronze
Certificate of Excellence 2016
Summary of qualifications
Best comments
"Simple yet has all the amenities"
This place is great! It's clean, simple, good location for a layover. The staff are very friendly here as well! The breakfast is free and has a decent selection. Very excellent value. The WiFi is free and available in all rooms so that made it very convenient. It was also quiet here during the night.
"stop over"
We stayed here 1 night, waiting to catch a flight home. Room was small as other people have stated but very comfortable. Pillows soft bed firm but good comfort. No issues with anything missing as other people posted.Helpfull staff ( Julio Fonseca) was very informative. They have other One Hotels in Mexico . We will check out Mexico City as we are planning a trip there next winter.
"all the cash i had was stolen from wallet from my room"
We checked into this hotel about 6:30 on March 25th. We took a couple of suitcases room, 512. I put my purse down and another bag i had and we went down to the parcking to get the rest of our suitcases. We were gone maybe 5 mins. however long it takes to go down the elevator get our stuff and go back up. We took the stuff back up to the room and then left to take the rental car we had back to fox. I took my purse with me. We then took the car back and we ate supper and came back to the room. We then went down to the lobby to print our boarding passes. Again I left my purse for those few mins in the room. My purse goes over my head and shoulder and i had it with me at every point except the above 2 times when i left it in my room. When we got to the airport the next morning at 445 am, i noticed that all my cash was gone. I knew exactly how much i had as i had just counted it before we checked in. I sent the hotel a message Monday and they said they would check into and get back to me. but it is now Wed evening and nothing. I am know reading reviews and see this happened to a person in january and nothing was done. Do not stay here! It had to be a staff member as the other person mentioned.
"OK Ten-Day Stay --- nothing fancy but some plusses"
I stayed at the hotel for 10 days by myself, on a business trip, I've stayed at the two other airport hotels in PV in the past also. Hotel was clean and staff was friendly and courteous. It's a new-ish airport hotel. For those who want to, it takes 8-10 minutes to walk to the hotel (with light luggage) from the airport, once you clear Customs. The issue, at that point is ---- where is the lobby of the One Hotel? It's two floors above the sidewalk. You go up a large escalator (can't miss it) and into a sub-lobby. Then, take the elevator and go up another floor to the actually Lobby, to check in. There are signs to direct, This place is much more *spartan* (basic) than the other two airport hotels I've stayed in, near PVR. There is no decor to speak of. It's stark. Particle-board furniture. No real desk. The hallways are bare. There is no safe, no Kleenex, no coffee pot, no alarm clock, no closet (there is a pole behind a panel), no comfy side chair or desk chair (as the other airport hotels have ---- all chairs in the hotel are hard plastic), no space (room was the size of a large walk-in-closet --- half the size of our room at another PV airport hotel), and ---- for two days of maid service ---- no toilet paper. Two days in a row, the toilet paper roll was left empty by the maid. First time, I went downstairs and they gave me 1/4 roll. Second time it happened, I went downstairs again and the desk staff found a full roll. When the maid misses (two days in a row) replacing the TP, it's inconvenient. On the good side, there is a nice pool (didn't use it but looked down on it and read on a lounger next to it) and it is walking distance to a grocery store and to the Marina Vallarta restaurant/commercial complex and the bus stop going south. Wi-fi worked fine and the daily breakfast was quite good. Lots of fresh fruit, cereal, toast/bread, yogurt, eggs, chilaquiles (unless they are gone, which they were several days), coffee, juice, etc. The breakfast was the best part of the hotel. Best to go early as it gets very crowded later, and then there is a wait for food. The shower was good and there was a new hairdryer. Nice. Bathroom was so small though, that the bathroom door (when opened) almost hit the shower door and you had to squeeze by it to get to the toilet. Enjoyed my view of the mountains across the main highway ---- had some beautiful sunrises. Also, even though the hotel is on the main drag (my view was Carl's Jr and the El Coyul liquor store), it wasn't noisy. Never heard the sound of a plane, though I could see the airport. Large parking lot down below the building and three operating restaurants in the business complex. There are several empty storefronts in the complex which may be restaurants or shops in the future. I would stay there again, for one night. Little bed was semi-comfortable, for a firm bed. Ten days there was too many, being such a basic place.
"Great value and location "
This hotel is great for a bunch of reasons. There are bars and car rentals in the same building. Also it's a 5 min walk from the airport. It's in the bus line (200). And there are supermarkets, tacos stands and a gas station all within a block. Not to mention there is a great rooftop pool. The rooms are smaller but have a great staff.
Top-rated Attractions Nearby
Outdoor Adventure by Vallarta Adventures
Los Veranos Canopy Tour
Rhythms of the Night by Vallarta Adventures
Extreme Zip Line Adventure
Vallarta Eats Food Tours
Vallarta Food Tours
Canopy River
Puerto Vallarta's El Malecon Boardwalk
Vallarta Adventures
Estigo Tours
Photos hotel and surroundings (67)
Rooms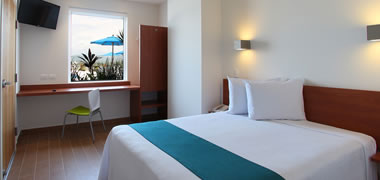 Accessible Room
This room is specially equipped with wheelchair access and hand rails throughout the restroom to help guests feel comfortable. It offers the same amenities and security as other guest rooms, with a Queen bed, restroom with shower and tub, cable TV, work desk, climate control, wireless Internet access and telephone with voicemail. This room is located on the first floor of the hotel and can be connected to a single room via an interior door.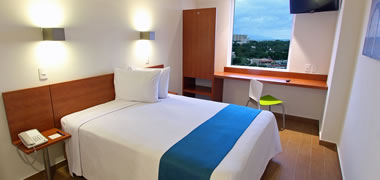 Superior Room, 1 Queen
These comfortable and secure rooms allow guests to rest and recharge for their next activity. They are equipped with a Queen bed, cable TV, work desk, climate control, closet, wireless Internet access and telephone with voicemail.