Please be advised that from January 1st 2017, an official Sanitation tax of $20.00 mxn per night will be charged in our hotels located in Solidaridad, Quintana Roo (Playa del Carmen).
Enjoy the Caribbean Sea and the Mayan Riviera with its stunning flora and beautiful beaches. Playa del Carmen, a popular tourist destination strategically located between Cancun and Tulum, is one of the most beautiful spots in the region. Choose to stay at One Playa del Carmen, an affordable hotel that guarantees a safe and comfortable stay.

One Playa del Carmen is located within the Xop Inn Shopping Center on Calle 12 Norte (12th North Street), behind the ADO Alternate bus station, only a few streets away from Playa Mamitas and four blocks from la Quinta Avenida. A fabulous location that will let you easily discover the most beautiful spots in the city.

The hotel is located on a street that connects to Playa del Carmen's most popular restaurants, bars, and night clubs. The ferry to Cozumel, an island that's a water-sport destination, is also located very close by.

We remind you that the check-in time is from 3:00 PM. Check-out is at 12:00 PM. We suggest you use our express check-out service.

100% smoke free hotel

Services
The hotel offers 108 guest rooms, hot breakfast included from 7am to 11am everyday. It's a 100% smoke free hotel. Hotel services include:


Business center
Free local calls
Guests access with guide dogs
100% smoke free hotel
Indoor parking with cost
Safe in reception
Free Wi-Fi access
Breakfast Only
Handicapped access
Meeting Room
Pets are not allowed
Laundry service
Qualified:
x
Location #74 of 214 hotels in Playa del Carmen
GreenLeader Gold
Summary of qualifications
Best comments
"Great location"
The staff was friendly and helpful. The breakfast was very good. Wifi free. Next to the Walmart and ADO bus station. Close to beach, Coco Bongo and 5th Avenue. The room was small bur comfortable. The room are not so big but comfortable.
"Simple, clean, great location "
Almost next to the bus terminal and just a short walk to all the fun of 5th Avenue and the beach. Its quiet and the staff were helpful. Breakfast was fine but not extraordinary. There are limited security boxes in reception.
"Good, clean accommodations"
It was exactly what I needed. A simple, clean room, nice and quiet. Staff were very friendly. There are a good number of fantastic restaurants within a few blocks of it, and of course, a short walk to 5th avenue.
"Too average, in-personal and to be avoided especially in high season !"
Whilst i appreciate this is a chain hotel in Mexico, it seems to have fallen in standard over time. In the past, having used the hotel quite frequently over the last few years, i relied upon it to be clean and uncluttered. Furthermore, i had always paid less to stay there but given it was high season this was not to be the case on this particular visit. What we discovered ( myself and my partner) was that with the hotel being busier, breakfast was crowded and uncomfortable. The hotel struggles to facilitate a simple breakfast in a nice way when the hotel is fuller. My partner noted that the reception staff were unable to answer basic questions about the local area and displayed no interest in finding out the answers from other sources. When we did make minor requests in the hotel, they also failed to respond and we found ourselves having to chase them up or do it ourselves ( ie appropriate an extra towel from the laundry room!). We had stayed here last year and surmised that the hotel manager had changed and this reflected the lower standards. My partner also felt the hotel was dirtier and once again when we asked for our room to be cleaned more thoroughly we were assured it would be and then we found it wasn't and the promise had been unfulfilled. Bizarrely, we also discovered the much advertised self service laundry room ( a great idea in practice) only had one machine and one dryer in it and was limited between the inconvenient hours of 9am -7pm. I know, having stayed in other hotels of the same brand in Mexico that they have it conveniently open for 24 hours...so why not here ??? In essence, the hotel does not provide a feel in keeping with other hotels around it in the Playa del Carmen area any longer, especially with standards increasing elsewhere over time. Luckily, i had booked one week only and was staying a further week in Playa del Carmen and when i saw the hotel price had increased further there was no interest in staying there further. Sadly, i will not be returning to the hotel in the future I would also like to note to the manager an important point ! I have already raised this before and you had told me you would deal with it for the safety of your customers. The paving outside the hotel is extremely slippery when it rains and is very dangerous !!!! when are you going to take heed of this and change it !!!?!?!
"Too small room with bad WIFI"
I am disappointed with too small room although is was supposed to be a superion room with two queen beds. I couldn't come in and go out through the door easily. I kept banging at corners of our beds when I struggled to go out of the room. The bathroom is also a little tiny. I was also angry with the service of WIFI. I was continually disconnectedI. I was happy with great breakfast, though.
Top-rated Attractions Nearby
Photos hotel and surroundings (144)
Rooms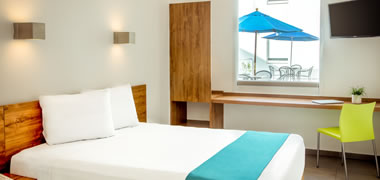 Accessible Room
This room has been specially equipped to provide comfort to our special guests. These rooms have the same amenities as standard rooms but are wheel-chair accessible and provide safety rails for the shower, toilet and tub. They also have cable TV, Internet, a work desk and a queen size bed.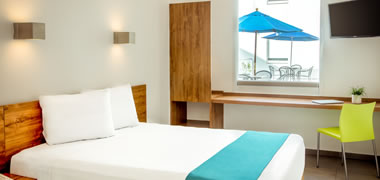 Superior Room, 1 Queen
A modern and comfortable room, ideal for recharging your energy and starting anew. It has one queen size bed, work desk, independent air-conditioning unit, wireless Internet, phone with voicemail and cable TV.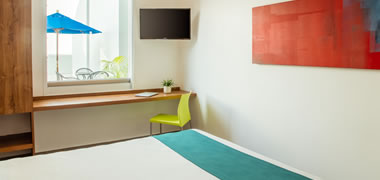 Superior Room, 2 Double
Relax in your room, featuring a modern design, two double beds, work desk, an independent air-conditioning unit, wireless Internet, a phone with voicemail and cable TV.