If you're visiting Oaxaca for a business trip or just to enjoy the city's tourist attractions, choose the One Oaxaca Centro. This affordable hotel is just 5 minutes from the city's beautiful downtown, 10 minutes from the main commercial districts, and just 15 miles from the airport.

If you'd like to take a moment to explore the city's attractions, you will find a rich cultural heritage, regional arts and crafts, and a pleasant climate throughout the year. The city's architecture is one of its main features and can be discovered by walking across downtown to visit the Temple of Santo Domingo de Guzmán, the Rufino Tamayo Museum of Pre-Hispanic Art, and the Museum of Culture. Outside the city, you can discover the ancient archaeological sites of Monte Albán and Mitla.

100% smoke free hotel.
We remind you that the check-in time is from 3:00 PM. Check-out is at 12:00 PM. We suggest you use our express check-out service.
Services
The hotel offers 109 guest rooms, hot breakfast included from 6am to 10am during the week and from 7am to 11am on weekends, snacks and sandwiches are available throughout the day. It's a 100% smoke free hotel. Hotel services include:


Business center
Guests access with guide dogs
100% smoke free hotel
Indoor parking
Free Wi-Fi access
Breakfast Only
Handicapped access
Pets are not allowed
Laundry service
Qualified:
x
Location #11 of 111 hotels in Oaxaca
GreenLeader Bronze
Certificate of Excellence 2016
Summary of qualifications
Best comments
"Good value unless you need to sleep with no sound at all"
Pros: - Nice - Clean - Not far from downtown and the ADO bus station - Free breakfast Cons: - The rooms are not soundproofed at all, at all - The employee are nice but cannot help you if you have question about some activities Still a good value and will recommend it
"Average"
Pros: - There are always offering free coffee, hot tea and water. - Clean room. - They offer transportation to center Zócalo. Cons: - Soundproofed of the room is not good. - Speed of Wi-Fi is unstable. Sometimes is quick and sometimes isn't. - Bathroom is really small. Others: - Buffet breakfast is average. There are scramble egg, tortilla, fresh fruit, cereal, sweet breads, toast, etc…
"Comfortable and clean"
The place was good to stay. It was clean and the staff was very friendly. In general it was a nice place to stay. The beds were comfortable and you have a good free breakfast, not only coffee and muffins. Only thing is that the towels were a bit too old and the bathroom extraction fan was not working.
"Good value, clean rooms"
After reading the many reviews on One Oaxaca Centro, I was a little skeptical about the noise issues and they are right, there is very little sound proofing between the rooms. We were in room 105 so we only had one room next door. (We never heard anything from the room above. We did hear the neighbors next door one evening. Glad when they finally finished and went to sleep...;) A white noise machine helps with neighboring and outside noise. The rooms are plain and simple. No carpeting and the hardwood floors are kept clean. Bathrooms are small but had reasonable counter space. Plenty of hot water and flow. There is no closet but there is a counter area along one wall and a small rod with hangars at one end and a couple of shelves. The bed was good and the air conditioning worked well. Breakfast was ample the one day we ate there. Looks like there was a good variety of foods and fruits, etc. Similar to many hotel breakfasts. Always lots of people enjoying the options. About 7 blocks walk from the zocalo, very easily done in just a few minutes. We walked both day and night and never felt unsafe. It is also a couple of blocks form the min Oaxaca cemetery, which made a late night trip for Dia de Muertos and quick and easy option. There isn't a whole lot close by as far as food or other options. You'll need to walk or taxi to see much. Though there are a couple of restaurants within close walking distance: Patio Luvina and Marisqueria Playa del Carmen. I would consider the option again in the future.
"Good for the price"
This is a good place that caters to business travellers. The price is very inexpensive and there is free underground parking. There is also a laundry facility and a business center. The rooms are clean, but sparse and small, but for the price, you can't complain. I do have one observation though. The walls are made out of sheetrock and you can hear EVERYTHING in the room next to you.
Top-rated Attractions Nearby
Monte Alban
Templo de Santo Domingo de Guzman
Fundacion En Via
Mezcal Educational Tours - Distillery Single Day Excursion
Museo de las Culturas de Oaxaca
Andador de Macedonia Alcala
Rufino Tamayo Museum of Pre-Hispanic Art
Hierve el Agua
Ethnobotanical Garden
Benito Juarez Market (Mercado de Benito Juarez)
Photos hotel and surroundings (59)
Rooms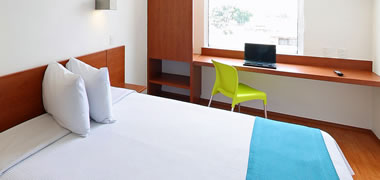 Accessible Room
This room is specially equipped with wheelchair access and hand rails throughout the restroom. It offers the same comfort and security as other guest rooms, with a Queen bed, restroom with shower and tub, cable TV, work desk, air conditioning, complimentary wireless Internet access and telephone with voicemail. A room with queen size bed can be connected through an interior door.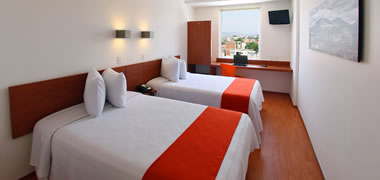 Superior Room, 2 Double
These modern and simple rooms offer the comfort and security you need during your stay. They offer a restful space with two double beds, closet, cable TV, work desk, air conditioning, complimentary wireless Internet access and telephone with voicemail.