If you're visiting La Paz for a business trip or just to enjoy the city's tourist attractions, choose to stay at the One hotel.
This affordable hotel is strategically located and offers the security and comfort you need to rest, recharge and stay productive. The city of La Paz is located along the shores of Mexico's Gulf of California and has become a hotspot for national and international tourism. The city is served by the Manuel Marquez de Leon International Airport, with regular flights from Los Angeles, Guadalajara, Monterrey, Mazatlan, Culiacan, Tijuana, Mexico City and other gateway cities across the U.S. and Mexico.
The hotel offers a privileged location in the city's historic downtown district and offers easy access to the region's key points of interest. It is just 6 miles from the city's major industrial parks and 10 minutes from the airport.
One La Paz proves that traveling to this seaside city doesn't have to be expensive. Guests at the One enjoy secure surroundings, comfortable facilities and modern style, plus efficient and helpful service to help make your visit even easier.
100% smoke free hotel.

We remind you that the check-in time is from 3:00 PM. Check-out is at 12:00 PM. We suggest you use our express check-out service.
Services
The hotel offers 126 guest rooms, a restaurant serving complimentary hot breakfast and open from 6am to 10pm during the week and from 7am to 11pm on the weekend. It's a 100% smoke free hotel. Hotel services include:
Business center
Free local calls
100% smoke free hotel
Guests access with guide dogs
Outdoor pool
Safe in reception
Free Wi-Fi access
Breakfast Only
Outdoor parking
Handicapped access
Meeting Room
Pets are not allowed
Shuttle service
Laundry service
Qualified:
x
Location #5 of 39 hotels in La Paz
GreenLeader Platinum
Certificate of Excellence 2017
Summary of qualifications
Best comments
"Short stay"
This hotel was perfect. Although we only stayed one night as we stayed with family the rest of our visit, this hotel met our needs. It was very clean and had a tasty breakfast! Staff was also friendly and helpful. I would definitely stay again!
"Nothing fancy yet very good "
Great place if you are not looking for anything else than a good place to sleep and shower. This is our third visit to this place since every time we go to La Paz we only need somewhere clean to spend the night. It is close to the malecon and has very easy access, private parking and is a relatively new place which provides with simple rooms with a clean line design. Definitively great value.
"Back to Basics"
This is a clean, modern, basic hotel away from the tourist area but within a healthy walk of it. The room is fairly small with no luggage shelf or rack. The shower was very nice. Only 2 English channels: Edge (movies) and CNN news makes TV pretty limited unless your Spanish is fluent. The only mild breakfast items were fruit & cold cereal. A coffee maker in the room would have been delightful. I tried to bring a cup back to my room from the lobby but the elevator (which we nicknamed "QuickDraw") closed on my arm & knocked the cup out of my hands. Parking was not explained well and we drove around for 15 minutes before realizing it was not an interior garage as the receptionist told us over the phone, but the outdoor lot in the shopping center off the side street (no signage for the hotel). I will return for short stays for business or dental work (Cosmident is right across the street).
"Interesting Late Checkout Fee"
The place is generally good, the location is good. The room was on the small side but clean and modern enough. It has a plastic chair to sit on if you don't want to sit on the bed. The pool is nice upstairs, although an attendant stands watch just feet from the pool (it's a small pool so he's right next to you). I don't know, maybe someone drowned recently. Breakfast was good, although my native friend thought otherwise. But it was definitely better than an average American continental breakfast. A few things I think are worth mentioning: Elevator is slow and small. It packs 3 people with luggage, so be prepared to wait about 10-15 minutes each time you need to leave. We didn't realize the stairs were an alternative because the sign on the stairwell says "use only in case of emergency." We finally asked one of the maids and she nodded that we could use it. The bathroom is shaped in a way that you have to move around the door if you want to go from the sink to the toilet. Neither the towels nor bathmat were replaced for us. More or less no closet or drawer space. You have to live out of the suitcase. And the late checkout fee. We checked out late (but before the check-in hour), earning our well-deserved fee. However, the fee is a half night's fare at the current night's rate. I paid double the rate at which I made my reservation because the rate was higher on my checkout day. I realize why a hotel might want to do this, but that's a poor policy and here's why: (1) there is realistically no way for me to have known what the fee would fee since I wasn't aware of rates for nights I wasn't staying and (2) what if the next night's rate were an exorbitant rate? What if the rate were whatever the manager decided in that moment? Do I have to pay 50 percent of that for my late checkout? The fee should be based on the rate that I paid, or, at the least, this detail should be disclosed ahead of time. It wasn't. When I mentioned this to the manager he repeatedly pointed at the checkout time is 12pm sign, which was his best point: you violated the contract, so deal with it. He was pleasant about it at first, but became uncomfortable and agitated after I suggested the policy was a bit unfair. He asked me if I needed another night, suggesting that he had availability, and also that the discussion was over. So a final comment on it: if the hotel wasn't at capacity, and if they had not been forced to re-accommodate the next guests (seems there were none), the manager could have shown so leniency on the fee (we were not bad guests and had had pleasant exchanges with the front desk prior to that). Of course he doesn't have to, but now you know. Spent the next two nights at Hotel Mediterrane. Charming hotel.
"for one night okay"
just like big hotels are... if you like it it is okay. However - if you are not last minute - there are various places which offer more individualized rooms. However, the view - in particular from the roof (where the pool is) is great!
Top-rated Attractions Nearby
Isla Espiritu Santo
Balandra Beach
Tailhunter International Sportfishing
La Paz Whale Sharks VIP Tours
Sea & Adventures
Baja Adventure Co.
Baja Desconocida
Malecon
Espiritu & Baja Tours
Playa El Tecolote (Tecolote Beach)
Photos hotel and surroundings (111)
Rooms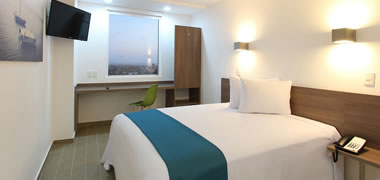 Accessible Room
This room is specially equipped with wheelchair access and hand rails throughout the restroom to help guests feel comfortable. It offers the same amenities and security as other guest rooms, with a Queen bed, restroom with shower and tub, cable TV, work desk, climate control, wireless Internet access and telephone with voicemail. This room is located on the first floor of the hotel and can be connected to a single room via an interior door.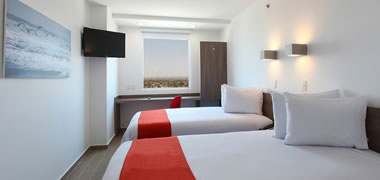 Superior Room, 2 Double
These modern and simple rooms offer the comfort and security you need during your stay. They offer a restful space with two hotel double beds, closet, cable TV, work desk, climate control, complimentary wireless Internet access, telephone with voicemail and city view.