During your visit to Guadalajara, don't miss the opportunity to stay with a hotel chain that is budget-friendly, safe, welcoming, and functional while offering a number of additional benefits.
One Guadalajara Expo is conveniently located in Chapalita, one of the most enjoyable areas of the city where you will find bars, restaurants and shops. It is within a few streets from the Expo Guadalajara Convention Center, 15 minutes from the industrial parks, 20 minutes from the City Center, and 30 minutes from the airport.
Whether you travel for business or pleasure, staying somewhere nice doesn't have to be expensive anymore. One Hotels meet the needs of any traveler¿s budget while ensuring a safe, reliable, comfortable stay and providing efficient service so that you can stay focused on your trip.
Qualified:
x
Location #8 of 94 Specialty lodging in Guadalajara
Summary of qualifications
Best comments
"Stay somewhere else"
Rooms are nice but tiny you can hardly circulate around the bed. The shower will provide the same amount of water that the faucet in the sink, you will 45 need minutes to shower. The Front desk is handled by a handful of kids that have no training at all. Check in will be painful and check out too, so be ready. My keys didn't work twice and had to go the Front Desk 2 additional times and offer no sympathy for being locked out of my room. The windows in the room nor the lobby area open, there's a funky smell. There are so many other places to stay I will not recommend to stay here.
"Excellent reception service!"
We stayed a week at this hotel. The room was accommodating, bed was very comfortable and though the bed & linens were clean, the room itself could have been cleaner. The included breakfast was fair with the room price. The best part of our stay was the excellent staff at the reception, especially Ms. Marcela Munoz, Mario and Marcela...they went above and beyond to make our stay most pleasant. I recommend this hotel, it's nothing fancy but its location is convenient and will meet all your needs to rest and spend quiet nights.
"Excelente atención y calidad"
Muy buen hotel, lo recomiendo totalmente. Es un hotel con estilo moderno, desde el area de restaurante hasta en las habitaciones, las cuales son muy bonitas, y tienen una vista genial de la ciudad! Muy aseado, la comida buena, el staff muy amable y servicial, puntuales en todo momento, me resolvieron el extravío de una de mis maletas olvidada en un taxi de guadalajara a lo cual yo nunca pensé volver a encontrarla, sin embargo el staff de este hotel me solventó el incidente y lograron devolverme mi maleta!! Por eso y todo lo demás les doy 5 estrellas. Definitivamente vale la pena hospedarse en este hotel. La ubicación también es buena. Felicidades!!
"Muy cómodo "
Nos llevamos buena impresión del alojamiento, las chicas de recepción muy amables, las habitaciones micro Minis pero suficientes. Todo muy limpio. El hotel si cuenta con estacionamiento pero tiene costo extra de $30 pesos por noche. El desayuno continental tiene buen sabor y buena variedad. Muy bien ubicado, vale la pena.
"Buena ubicación "
Hotel extremadamente limpio. Sencillo con habitaciones pequeñas pero cómodas. No hay un restaurante pero cerca (1km) del hotel hay una gran variedad. Tiene lavandería donde puede lavar uno mismo. Desayuno incluido, pero solo ofrece lo básico.
Top-rated Attractions Nearby
Instituto Cultural Cabanas
Expiatory Temple
Teatro Degollado
Fox in a Box
Guadalajara Cathedral
Tlaquepaque and Tonala Artisans Tour
Zoologico Guadalajara
Estadio Omnilife
Bosque Colomos
Basilica de Zapopan
Photos hotel and surroundings (53)
Rooms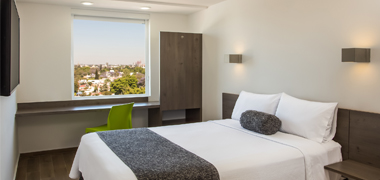 Superior Room, 1 Queen
Find the comfort you need to work or rest in this practical, up-to-date room. It is equipped with a queen bed, office work desk and chair, telephone with voicemail, wireless Internet access, air conditioning, and cable LCD TV.
Superior Room, 2 Twin
Enjoy a comfortable and peaceful stay in this inviting room that offers exactly what you need to work or relax. It includes two twin size beds, office work desk and chair, telephone with voicemail, wireless Internet access, full bathroom, air conditioning and cable LCD TV.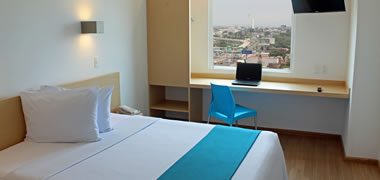 Accessible Room
This room has been carefully designed to provide our special needs guests with the comfort they need and deserve. It is equipped with wheelchair access and safety handrails in the bathtub and bathroom in addition to standard room amenities. It includes a queen bed, work desk, cable LCD TV and wireless Internet access. It is connected to a single room with a bed.