During your visit to Guadalajara, don't miss the opportunity to stay with a hotel chain that is budget-friendly, safe, welcoming, and functional while offering a number of additional benefits.
One Guadalajara Expo is conveniently located in Chapalita, one of the most enjoyable areas of the city where you will find bars, restaurants and shops. It is within a few streets from the Expo Guadalajara Convention Center, 15 minutes from the industrial parks, 20 minutes from the City Center, and 30 minutes from the airport.
Whether you travel for business or pleasure, staying somewhere nice doesn't have to be expensive anymore. One Hotels meet the needs of any traveler¿s budget while ensuring a safe, reliable, comfortable stay and providing efficient service so that you can stay focused on your trip.
x
Location #8 of 86 Specialty lodging in Guadalajara
Summary of qualifications
Best comments
"Reconfortante"
Tanto la atención del personal como las instalaciones son formidables. Estos elementos inspiran confianza y seguridad cuando te encuentras solo y alejado de tu hogar. Totalmente recomendable acercarse a este espacio y espero que se mantenga dicho estándar de calidad.
"Una grata experiencia"
Muy buen hotel, excelente ubicación para ir a la expo caminando, hay transporte accesible y varias tiendas de conveniencia y una plaza comercial cercana (plaza del sol) en general si recomiendo la estancia en este lugar :D
"Excelente estancia en el One Expo Guadalajara"
Cómodo, agradable, silencioso, limpio y con un excelente servicio, el Hotel One Expo Guadalajara hizo de mi estancia una de las mejores en esa ciudad. Sin duda, volvería a hospedarme en él cada vez que viaje por motivos del negocio.
"Económico y céntrico"
Bueno y económico muy cercano a Expo Guadalajara, nuevo y tiene la facilidad de una terraza con algunas opciones de comida, adicional a las que ofrece el Hotel. Personal amable y con buena actitud de servicio.
"Pobre servicio y limpieza. Costo no justificado."
La limpieza de las instalaciones no era la deseable, me refiero a que el pasillo del piso 7 donde nos hospedamos claramente no había sido barrido en algunos días desde nuestra llegada y pudimos notar que tampoco lo fue durante nuestra estancia. Las mesas del area de desayuno también estuvieron sucias. Además de esto la actitud del personal de mostrador no fue la de un anfitrión, hablo de atención con desdén y respuestas de "a ver si se puede". Reservé una habitación a través de Kivac "Habitación - Superior Room, 1 Queen - 2 adultos" cuando llegamos con urgencia de descansar a las 5 AM se nos asigno una habitación doble que tuvimos que pedir cambiar "a ver si hay porque el hotel está lleno" (si "hubo"). Pedi una silla extra para trabajar con mi novia en el escritorio "a ver si hay" me hicieron esperar, tuve que volver a llamar para que me la enviaran. Finalmente pudimos ver los intentos de recorte de gastos del concepto pero no los sentimos reflejados en el precio. El café es malo.
Top-rated Attractions Nearby
Instituto Cultural Cabanas
Expiatory Temple
Teatro Degollado
Fox in a Box
Guadalajara Cathedral
Tlaquepaque and Tonala Artisans Tour
Zoologico Guadalajara
Bosque Colomos
Estadio Omnilife
Basilica de Zapopan
Photos hotel and surroundings (51)
Qualified:
Rooms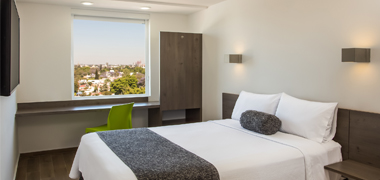 Superior Room, 1 Queen
Find the comfort you need to work or rest in this practical, up-to-date room. It is equipped with a queen bed, office work desk and chair, telephone with voicemail, wireless Internet access, air conditioning, and cable LCD TV.
Superior Room, 2 Twin
Enjoy a comfortable and peaceful stay in this inviting room that offers exactly what you need to work or relax. It includes two twin size beds, office work desk and chair, telephone with voicemail, wireless Internet access, full bathroom, air conditioning and cable LCD TV.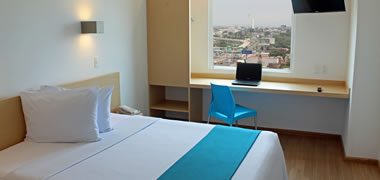 Accessible Room
This room has been carefully designed to provide our special needs guests with the comfort they need and deserve. It is equipped with wheelchair access and safety handrails in the bathtub and bathroom in addition to standard room amenities. It includes a queen bed, work desk, cable LCD TV and wireless Internet access. It is connected to a single room with a bed.