For your next visit to Culiacán, choose a hotel that puts you in the middle of the city's most important industrial parks and tourist attractions. The One Culiacán Fórum is the perfect home base, where you will feel secure and comfortable, with everything you need to rest and recharge for your next activity.
The One Culiacán Fórum is located on Jose Diego Valadez Boulevard, inside the Plaza Forum Commercial Complex, just 40 minutes (15 miles) from the airport. The hotel is surrounded by the city's most popular restaurants, boutiques, luxury shops and other key attractions.
Hotel guests have easy access to the city's main industrial parks, the historic downtown district, the Sinaloa Science Center, Botanical Gardens, Sanctuary of Guadalupe, La Lomita, the city Cathedral and the Zoo. The Cortez Island Beach Club is just 45 minutes away. At the end of a busy day, guests are happy to return to the One Culiacan for some rest and relaxation in a comfortable and secure atmosphere. 100% smoke free hotel.
We remind you that the check-in time is from 3:00 PM. Check-out is at 12:00 PM. We suggest you use our express check-out service.
Services
The hotel offers 119 guest rooms, hot breakfast included from 6am to 10am during the week and from 7am to 11am on weekends, snacks and sandwiches are available throughout the day. It's a 100% smoke free hotel. Hotel services include:


Business center
Guests access with guide dogs
100% smoke free hotel
Free Wi-Fi access
Breakfast Only
Handicapped access
Outdoor parking
Pets are not allowed
Laundry service
Qualified:
x
Location #6 of 29 hotels in Culiacan
Summary of qualifications
Best comments
"Good B&B when you are on a budget"
This hotel compites with Ibis and maybe Cityexpress or Microtel. Far better than Ibis. Decently equiped altough you might feel a warmer enviroment on the others (City/Micro), but the price is more convenient here. The staff is friendly period. You are profesionally treated, but do not expect to feel at other Posadas administrated facilities like Inn or Americana. TV is very small but again, if you are here that is because you only want a place to sleep at night. They could be faster refilling the hot breakfast pan.
"Terrific Hotel & Location at a Terrific Price!"
One Culiacan Forum is part of a small chain of Mexican hotels in Mexico geared toward the busy business traveler and Millenial alike. Modern in design and simple in its accommodations, it offers a hip atmosphere with good amenities. Staff is friendly, helpful and does speak some English. The hotel is clean clean clean all the time. Breakfast is a simple Mexican fare. Lots of parking. Best thing about this inexpensive hotel? LOCATION LOCATION LOCATION. It is literally part of the hipster Forum Mall and El Centro - an area full of class restaurants like Cabanna, Cayenne, Cevicheria Jez, and much more. Most within short walking or short taxi ride away. Great views of the city from upper floors.
"Just one night"
The organization put me up here for the one night I was in Culiacan. The lobby was hot as heck because the doors were left open so I'm sure meals there would not be fun in the summer. Breakfast was Ok, and that was the only meal I had there. The room, on the 7th floor, was large, cold, and the bed was softer than most Mexico beds so I didn't mind the hotel at all. I liked the location, near a mini mart, and across from some restaurants and a mall with a food court. I would stay there again if it was noticeably cheaper then the two next door.
"Great service and location"
The hotel is in great shape - like new. The staff is friendly, the complementary breakfast is excellent, the rooms are comfortable and clean. I travel to many business hotels and for the price, this has to be one of the better deals I have encountered anywhere. The location is also very good. There is an amazing restaurant across the street called Cabanna. Looks fancy, but it has the best seafood tacos around very decently priced. Was disappointed that I my reservation of a full size bed was changed to two twins at the last moment. But other than that, it is a great deal. Make sure you reserve via their website as the prices are even better.
"Básico, buen precio, buena ubicacion"
De la misma linea de hoteles básicos pensados para viajeros por trabajo como el City Express, pero que también funciona para viajeros por turismo, como fue mi caso. El hotel ofrece servicio de hospedaje y punto (no hay restaurant, alberca, spa), las habitaciones son de buen tamaño y limpias. El personal es cordial y funcional. La ubicación es muy buena, justo en Plaza Forum, en principal centro comercial de la ciudad y con muchos negocios y restaurantes en los alrededores. El precio de la habitación es muy razonable e incluye desayuno (no hay restaurante, solo se usa una zona de recepción como area para el desayuno). Para un hospedaje de un par de días seria mi opción a elegir.
Top-rated Attractions Nearby
Jardin Botanico Culiacan
Parque de la Riberas
Zoo Culiacan
Classico Culiacan
Opera Nightclub
Espiral Jugueteria/Ludoteca
Cayenna Bar
Cinepolis VIP Culiacan
D'garheti Gallery Boutique
Reyes Cantina CLN
Photos hotel and surroundings (31)
Rooms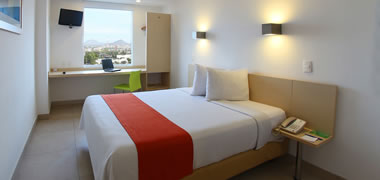 Superior Room, 1 Queen
Rest easy and refresh for the next activity in this practical and efficient room, with modern design, queen bed, work desk, independent climate control, wireless Internet access, telephone with voicemail and cable TV.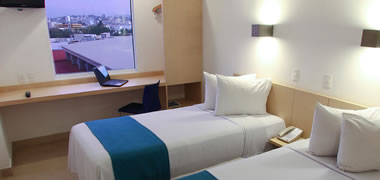 Superior Room, 2 Twin
Rest easy and refresh for the next activity in this practical and efficient room, with modern design, two beds, work desk, independent climate control, wireless Internet access, telephone with voicemail and cable TV.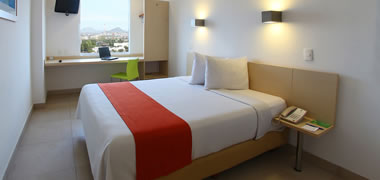 Accessible Room
This specially equipped room is practical and efficient, with modern design, queen bed, work desk, independent climate control, wireless Internet access, telephone with voicemail and cable TV. It is outfitted for the comfort of guests with special needs, with wheelchair access, and safety rails and handles in the restroom.