When visiting Cuautitlán Izcalli, don't miss the opportunity to stay with a hotel chain that is budget-friendly, safe, welcoming, and functional while offering a number of additional benefits.
One Cuautitlán, located near the San Marcos Plaza, is within easy access to the main industrial parks of the area: O'Donnell, three rivers, Cuamatla, La Luz, El Trebol, Cartagena and the FORD plant, and is 10 minutes from the village of Tepotzotlán and the Xochitla ecological reserve.
Whether you travel for business or pleasure, staying somewhere nice doesn't have to be expensive anymore. One Hotels meet the needs of any traveler's budget while ensuring a safe, reliable, comfortable stay and providing efficient service so that you can stay focused on your trip.
Please note that check-in begins at 3pm, subject to availability. Check-out is at 12pm. Express check-out is recommended.
100% smoke-free hotel.
Services
The hotel has 156 guest rooms and a restaurant serving a hot complimentary breakfast from 6am-10am Monday to Friday and 7am-11am on weekends. Guests can also enjoy high-speed wireless Internet, laundry and ironing service, parking, vending machines with food and drinks, and meeting rooms. Please note that check-in begins at 3pm. Check-out is at 12pm. Express check-out is recommended. The hotel is 100% Smoke Free.
Business center
Free local calls
100% smoke free hotel
Guests access with guide dogs
Indoor parking
Free Wi-Fi access
Safe in reception
Handicapped access
Meeting Room
Outdoor parking
Qualified:
x
Location #2 of 4 hotels in Cuautitlan Izcalli
GreenLeader Gold
Summary of qualifications
Best comments
"Good for a single traveler"
This hotel has great service, simple amenities as free breakfast, and clean rooms. The reason no 5 stars, the walls are paper thin. We could hear the people snoring in the room next door and in the middle of the day, the maids go around moving furniture to clean which sounds like they are in your room. Rooms are small. But adequate.
"Excelente servicio"
habitación muy limpia y cómoda, muy bien servicio. cerca de la ubicación donde me encontraba por trabajo. rapida atencion. es un hotel muy recomendable para descansar, señal de wi fi excelente. lo volveré a utilizar
"Muy buena estancia"
Recomendaría este hotel, volvería a hospedarme aqui. Excelente opcion para ir a trabajar en la FESC UNAM CUautitlan. El personal super amable y tratan de dar solución a cualquier inquietud del huésped.
"Servicio"
En mi opinión creo que es uno de los dos mejores hoteles ONE en los que me quede en los últimos tiempos el primero seria el de Cancun, ya que los espacios son amplios, las camas comodas y limpios. A diferencia de otros donde el ingreso luce mas cálido a tu legada este se ve mas industrial y en las mañanas el desayuno que ofrecen es un poco limitado en cuanto a su variedad de platillos sin embargo bueno para ser gratuito no así el servicio con la señora que se encarga de la cocina quien a primera oportunidad externa su inconformidad por bajar un poco tarde a desayunar por que ya quiere lebantar los alimentos.
"Bueno"
Esta bien, la u, servicios, limpieza, etc, Solamente les falta escaleras, porque las únicas son para emergencias y cuando hay evento tardar varios minutos en subir aunque sea un piso y posiblemente el jabon y shampoo debería de ser de mejor calidad el que ponen es muy corriente.
Top-rated Attractions Nearby
Pocket's Billiards & Fun
Plaza Estado De Mexico
Dvar Club
Perimagico
Rockets
Rockets
Bol Perinorte
Photos hotel and surroundings (81)
Rooms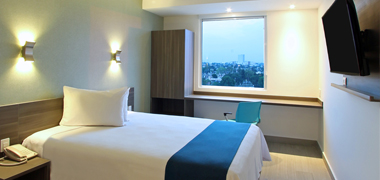 Superior Room, 1 Queen
Find the comfort you need to work or rest in this practical, up-to-date room. It is equipped with a queen bed, office work desk and chair, telephone with voicemail, wireless Internet, air conditioning, and cable LCD TV.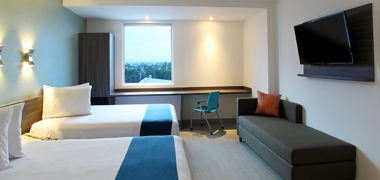 Superior Room, 2 Double
Enjoy a comfortable and peaceful stay in this inviting room that offers exactly what you need to work or relax. It includes two single beds, office work desk and chair, telephone with voicemail, wireless Internet, full bathroom, air conditioning and cable LCD TV.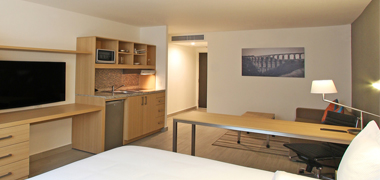 Loft
For longer stays, enjoy this comfortable, fully equipped room with everything you need within reach. It comes with a queen bed, kitchen, dining room, mini bar, and cable LCD TV in addition to standard room amenities.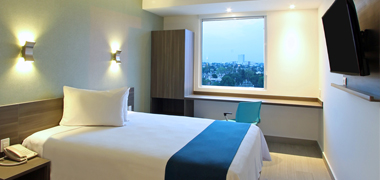 Accessible Room
This room has been carefully designed to provide our special needs guests with the comfort they need and deserve. It is equipped with wheelchair access and safety handrails in the bathtub and bathroom in addition to standard room amenities. It includes a queen bed, work desk, cable LCD TV, and wireless Internet. It is connected to a single room with a bed.