One Ciudad de México
Periférico Sur
One Ciudad de México Periférico Sur
When visiting Mexico City, don't miss the opportunity to stay with a trusted hotel chain that is budget-friendly, safe, welcoming, and functional while offering the things you need for a successful stay.
One Mexico City Periférico Sur is strategically located near one of the capital city's largest shopping malls and also provides convenient access to prestigious universities, hospitals, and the largest amusement park in Latin America.
Whether traveling for business or pleasure, you don't have to spend a fortune to stay somewhere nice. The One hotel meets the needs of any traveler's budget while ensuring a safe, reliable, comfortable stay, and efficient service, so that you can stay focused on your trip.
We remind you that the check-in time is from 3:00 PM. Check-out is at 12:00 PM. We suggest you use our express check-out service.
Services
The hotel offers 144 guest rooms, a restaurant serving complimentary hot breakfast and open from 6am to 10pm during the week and from 7am to 11pm on the weekend. It's a 100% smoke free hotel. Hotel services include:
Business center
100% smoke free hotel
Guests access with guide dogs
Indoor parking with cost
Free Wi-Fi access
Handicapped access
Pets are not allowed
Laundry service
Qualified:
x
One Ciudad de Mexico Periferico Sur
Location #60 of 303 hotels in Mexico City
Summary of qualifications
Best comments
"Great value"
I stayed for 1 week. Fine setup for a business trip. Clean, conveniently located next to a large mall & near the research institutes I was visiting. The room pictures are completely accurate (a bit like an Ikea setup.) Only weaknesses were that the shower water pressure was rather low (one of those rain-like shower heads may explain it). Also, it was a bit loud because the hallways & rooms are all tile. Breakfast has yogurt choices, eggs every day, shredded meat & refried beans, fruit, juice, breads. Quite enough options & good taste. I would chose this hotel again.
"Nice but basic. Clean but noisy"
Great price. Convinient location. Very basic hotel but quite ni e. Staff very polite. Problem? Paper walls. You can hear everything happening outside your room and it was noisy!! Very noisy. All very clean but shower with no pressure whatsoever. Shame on that. But will stay again gladly.
"Comfortable stay"
The rooms are a bit small but comfortable. The Internet conecction was not good in the 8th floor. The personnel seemed to be attentive and helpful. Breakfast was not that good. Excellent location in the south of Mexico City. Very close to a mall.
"Great location for a quick visit"
I had to travel to Mexico City to do some paperwork so was only staying for two nights. I had originally planned to stay in the center of the city however my visit coincided with that of the pope so I decided to stay away as I had been warned that the traffic and streets would be crazy. I decided upon this hotel as it was in a good location for a decent price. The rooms are small but well equipped. They have everything you could need for a short visit. I was very excited to see that the hotel was right next to a Bed, Bath & Beyond (tragic I know).. I was given a room on the 8th floor which looked out over the city and the Azteca football stadium! My room also faced the sun which meant great sunrise views every morning! The front desk team were pleasant and helpful upon check in and check out and were nice enough ti help me print some papers that I had forgotten to print prior to arrival. The complimentary breakfast was decent, I went late on the first morning there and even though there were plenty of food still, a lot of it was cold. Not a big deal though as they also offered fresh fruit, cereal and toast which was more than sufficient. The only reason I'm not giving the hotel 5/5 and this may not seem like a big deal but it was kinda gross was that there was still a lot of hair in the room when I checked in. It was obvious that the room had been cleaned prior to my arrival but I found several long dark hairs around the room, including in the bed itself as well as the bathroom sink. All in all I would definitely return here for any future visits to Mexico City!
"Mala impresión..."
Pues... El aire acondicionado no enfriaba la primera noche, según lo reportaron pero no, tuvimos que volver a informar en la segunda noche. Las puertas rechinan mucho, la llave se desprogramó 3 veces. El desayuno demasiado simple.
Top-rated Attractions Nearby
National Museum of Anthropology (Museo Nacional de Antropologia)
Palacio de Bellas Artes
Chapultepec Castle
Coyoacan
Eat Mexico Culinary Tours
Basilica de Santa Maria de Guadalupe
Journeys Beyond the Surface Popular Culture Tours
Murales de Diego Rivera en la Secretaria de Educacion Publica
Paseo de la Reforma
Frida Kahlo Museum
Photos hotel and surroundings (36)
Rooms
Superior Room, 1 Queen
This comfortable room has everything you need to work or rest. It features a queen bed, closet, cable TV, wireless Internet, work desk, individually-controlled air conditioning, and telephone with voicemail.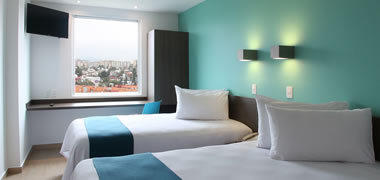 Superior Room, 2 Twin
Enjoy a comfortable and peaceful stay in this inviting room that offers exactly what you need: 2 single beds, wireless Internet, work desk, individually-controlled air conditioning, and telephone with voicemail.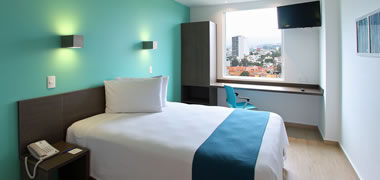 Accessible Room
This room has been carefully designed to provide our special needs guests with the comfort they need and deserve. It is equipped with wheelchair access and safety handrails in the bathtub and bathroom, in addition to the amenities found in all other guest rooms, like cable TV, wireless Internet and a work desk.